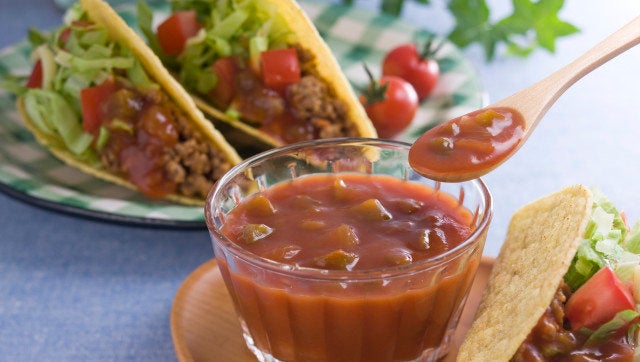 Which one doesn't belong on a list of the top 10 big money businesses in terms of growth: generic brand Viagra, University of Phoenix style colleges, home solar panels or "Cholula" hot sauce? If you picked Cholula, or anything else, you'd be wrong and should be ashamed of yourself for underestimating America's budding affair with hot-sauces. According to IBIS, the U.S. hot-sauce racket was the 8th fastest growing industry in the country last year. With all the food data being crunched at whatsGood (50 million dishes), we have some interesting data to help you decide which of the top 5 sauces to use. The top 5 were chosen based on menu mentions across the country, as well as positive sentiment in social media.
This sauce is the "Rolling Stones" of the list. They've been around since time began (1868 to be exact) and can claim die-hard fans across multiple generations. The Tabasco taste can be described as a quick kick followed by a bit of a tang. The slow drip of the bottle often leads to hard shaking, which leads to tabasco on your shirt and on the table. Consider yourself warned.
Interesting Fact: It is aged in barrels originally used for Jack Daniels Whiskey
Best On: Pizza and Popcorn
Best Tweet: "Tabasco my god. X" by @Jamiebower
Spiciness: 4 of 5
A spring chicken when compared to Tabasco, Frank's Red-Hot Sauce got its start in 1920. Now based out of Missouri, the brand has become as known for its geriatrically racy commercial series as it has its sauce. Frank's dominates menu counts and conversation around "wings", easily being the most correlated hot sauce with the fowl appendage. Not surprisingly so, the majority of Frank's popularity comes from the Midwest where the wings flow freely.
The company founder originally sold Tapatio to fellow co-workers at a Los Angeles aero-space manufacturer. The sauce quickly became a hit, and upon being laid off, he began peddling it to grocery stores on consignment. The rest is history. Tapatio, along with our first and second place entrants, maintains a very strong west coast following. It was also interesting that Tapatio was mentioned most in Spanish language tweets relative to the other hot-sauces. If you like spicy and a bit of sweet, Tapatio is for you.
The only true Mexican export on the list has a major cult following both on the west coast and in the Texas area. With Cholula's natural ingredients, the taste is light then hot. Cholula's kick lasts longer than any of the other hot sauces on this list. Famous for its old school wooden cap, Cholula has seen a slow trickle to the east coast, and is quickly becoming a true American favorite.
"The Rooster" is my top choice and hails from the humble backstreets of Los Angeles's Chiantown. Recently profiled in BusinessWeek as a $1b business, Sriracha is spicy, sweet and high addictive. With no social media presence at all, Sriracha still is the most mentioned hot-sauce outside of Tabasco on our list. Chefs and eaters are obsessed with the fact that Sriracha can not only go on any food, but is an incredible addition when spicing dressings and sauces.
This sauce has as similar brand profile to Sriracha a decade ago. Produced in Guadalajara, by a bunch of "Tapitos," Valentina is mentioned positively all over social media. It has much greater notoriety in the Mexican community, but might soon find itself amongst the mainstream. Personally, I recently fell in love with the sauce while spending a week in Playa Del Carmen, and see it as on par with Sriracha from a quality perspective. Watch out for this one.
These are only one geniuses opinion's based on supporting data. If you disagree let me know in the comments or let me have it @BKsenior.