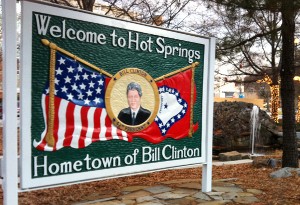 I'm revealing the big secret that the locals have begged me not to divulge: Hot Springs National Park, Arkansas is one of the most magical places in the United States. People visit, and they never leave. In fact, I intended to pass through the city for a three day stop during my current road trip, and over five weeks later, I am still here. I embarked on this cross-country road trip over three months ago with my dog Yoda in order to reclaim my life from the corporate grind. 15 years in the rat race had just about destroyed me and I found myself no longer liking the woman I had become. All too often we get lost in the non-stop stress of our lives and forget to take care of ourselves. That is what my road trip is about: nurturing myself by letting the road teach me the lessons I need to learn in order to live the life I'm meant to live. Over the years I've found my favorite way to nurture myself is to soak in natural mineral springs. Many tout the many medicinal benefits to be obtained by soaking in natural thermal waters. However for me, taking the waters means a temporary physical and mental respite from my lifelong unhealthy practice of carrying the world on my shoulders. Trust me, as a result I have some wicked tight trapezius muscles! In the spirit of a bit of self love, my road trip has taken me to several hot springs, including some outside of Boise, Idaho, others in Lava Hot Springs, Idaho, and now to Hot Springs National Park, Arkansas.
The magic of Hot Springs was evident as soon as I drove into the historic downtown area of President Bill Clinton's hometown. The city is nestled in the Ouachita Mountain Range and steam from the 47 natural hot springs pours from the street vents and floats out much like a light fog rolling across the road. The springs are all located in Hot Springs National Park, which is the nation's only national park located within city limits (in this case, within the city limits of the city which, confusingly, is also named Hot Springs National Park). The national park has over 20 miles of well-groomed hiking trails and a few free flowing natural springs, including a beautiful hot water cascade in the downtown area. Be sure to take a stroll on the ½ mile brick Grand Promenade for a spectacular view of downtown amidst the beauty of the national park. Hot Springs offers plenty of culture too: it's host to the annual Hot Springs Documentary Film Festival, it recently earned the Number 4 spot in the book Top 100 Small Art Towns in America, and it's home to the celebrated Oaklawn Park Horse Race Track.
3,000 years ago Native Americans who discovered Hot Springs named it "Valley of the Vapors." Today most of the springs are capped, however originally all 47 springs bubbled up pure, natural, mineral-enriched 147-degree water. During those times when the springs flowed freely, each morning the lush valley would be filled with steam. I imagine this made for some breathtaking rainbows as the sun broke through each day. Today the city has five public fountains offering hot and cold natural spring drinking water. Often there will be a line of people waiting to fill up a trunk-load of water jugs with what many say is a health elixir. The city claims the water is some of the cleanest and purest in the world. It's certainly some of the tastiest I've ever had, and I've made stops at the fountains every single morning of the past five weeks to fill up my three SIGG bottles.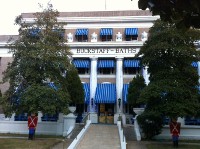 A visit to Hot Springs wouldn't be complete without taking in Bathhouse Row and soaking in the waters. Bathhouse row is an architectural delight. Although the first bathhouses were crude wooden structures built in the early 1800s, the current eight historic bathhouses were built in the late 1800s and were so luxurious at the time that they rivaled the bathhouses at European spas. Today only two are currently used for bathing.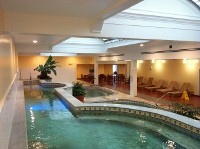 Quapaw Bathhouse reopened in 2008 and is now a modern bathhouse featuring large-capacity pools with fountains and whirlpools and a day spa area.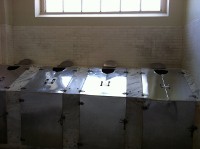 An absolute must is indulging oneself in a traditional bathing experience at Buckstaff Bathhouse. Buckstaff is the oldest bathing facility in operation on Historic Bathhouse Row, operating continuously since 1912. A traditional bath involves being scrubbed with a loofah mitt by a personal attendant while soaking in a whirlpool mineral spring bath, followed by a sitz bath, a sit in a vapor cabinet (which incidentally looks much like a mini torture chamber), relaxing while wrapped in hot packs, and then cooling off in a needle shower.
For the first three nights in Hot Springs I stayed in the historic Arlington Hotel, which originally opened its doors in 1875 and sits majestically in the center of town. Everyone from Al Capone to Babe Ruth to American Presidents have stayed there. My reasons for choosing the Arlington were very simple: it's an elegant hotel rich with history...and I'm always a sucker for having a private mineral spring bathtub in my room.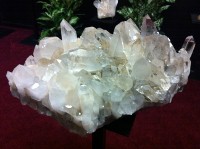 Just as exciting to me as the hot springs was discovering that that Ouachita Mountains are packed with crystal deposits. I've twice gone mining for crystals at Ron Coleman Crystal Mines, a commercial mining operation. The thrill of digging up a clear cluster of faceted quartz crystals has become my drug, to the point of dreaming about crystals almost every night I've been here. It's mind boggling to me that something so beautiful is created naturally in the earth.
The crystals and the thermal waters were why Hot Springs was originally a sacred gathering place for Indian tribes from around the world. They designated the area as a neutral ground to be shared in peace by all tribes. It turns out that healers and metaphysicists from all over the world are also drawn to this area for the same reasons as all those ancient Indian tribes: crystals, hot springs and allegedly, seven energy vortexes. I never dreamed I'd encounter such a rich community of healers in Arkansas, but I did, and that is the reason I am still here over five weeks after arriving. I've learned a lot from this community at a time in my life when I needed them, in particular from a well-respected world-renowned 72-year-old curandera and master healer who now almost feels like an adoptive mom to me. It's going to be hard to tear myself away from these new friends when I leave in a couple days to continue on my road trip.
Yet I will most definitely be back. And now that I've let you all in on the best kept secret in America, perhaps I'll see you here when I return.

Related