Wellness - noun - The state or condition of being in good physical and mental health.
At Hot Springs National Park in Arkansas, stop #5 on our epic road trip, wellness is part of the DNA. It can reversely be said that Hot Springs formed the DNA of American wellness. This is where achieving greater health in a modern sense originated in America, and it is appropriately called The American Spa.
You won't find here modern spas with cedar wood saunas, overpriced deep-tissue massages, meditation mats, and soft spoken attendants hopped up on raw food diets, but a street lined with historic bathhouses once fueled by a naturally occurring spring of thermal waters living beneath Central Ave., the main street in town and the most widely traveled road in the park.
To really get to know this park, as it is so very unique from all the others, we had to read up quite a bit on the history of it. This is a snapshot of what we learned...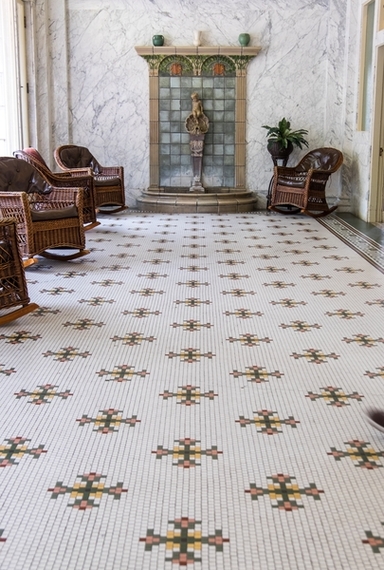 Beautifully ornate tile work (laid by hand) flourishes throughout the Fordyce Bathhouse and National Park Visitor Center. | Image credit: Stefanie Payne
American Indians traveled here for millennia to quarry novaculite from the mountainside to be made into tools and weapons (arrowheads can still be found at Balanced Rock on Sugarloaf Mountain.) Natives named the area "the Valley of the Vapors," after the thermal springs that rose in the valley. Spanish explorer Hernando de Soto rediscovered it in 1541 then brought word back to Europe that there was a fountain of youth in the new world. Seeing that this precious land and unique resource was of immense value to the United States, President Andrew Jackson designated in 1832 the Hot Springs Reservation as an area to be preserved for later use, stating:
"...four sections of land including said (hot) springs, reserved for the future disposal of the United States (which) shall not be entered, located, or appropriated, for any other purpose whatsoever."
That was 40 years before Yellowstone National Park was established as the first official National Park in the U.S.--America's best idea was already in motion long before when Hot Springs became the first National Park unit.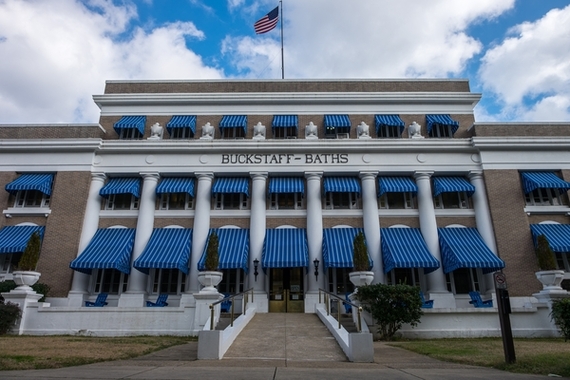 The last remaining fully-operating bathhouse on Hot Springs' famed Bathhouse Row. | Image credit: Stefanie Payne
During the 1860s, the area morphed from a rough frontier town into an elegant spa city centered on a row of attractive Victorian-style bathhouses welcoming the American and European elite to partake in waters sourced from the said fountain of youth. It was also a healing center where the tired, meek, ill, disfigured, and diseased could come seek cure for their ailments. Advances in modern medicine ultimately put the bathhouses out of business, and ironically, we again seek wellness through visits to spas as an alternative to visits to physicians offices. Today, the National Park Visitor Center is located inside what was once the most luxurious spa of its day--the Fordyce Bathhouse--and just three doors down lives the only bathhouse still operating in its original form: the Buckstaff Bathhouse.
Jon and I went there to seek cure for our 21st century ailments--wired in constantly, busting our butts planning logistics and trying to keep on schedule getting from one park to the next, soreness from the hike the day before--and we ultimately found respite in the same running water that bathed former presidents, prohibition-era gangsters, celebrities, major league baseball players, and the upwardly mobile of America's past. It is the kind of place that feels incredibly sterile yet not sterile at all. Jon went into the gentlemen's quarters, and I, into the ladies quarters for individual classic experiences, which as I understand it, deviates very little from how it's always been. It went something like this:
Strip down completely. There is no point in modesty here. As my attendant, Mattie told me, "Do you know how many naked people I have seen in my 30 years here? Strip!"
Slip into a tub filled with thermal waters upwards of 100 degrees. Soak. Sip on hot, Hot Springs water to regulate your body temperature. Listen to the drip from the faucet. Watch the second-hand on the wall clock tick as you once did in school, counting every second until you are removed from the tub (20 minutes in that tub is very hot!) Survey the walls around you for identifiers to pass the time--white marble walls, wear and tear on the plumbing and piping, pasty mint-green wall paint ala Girl Interrupted...
Exit the tub and move to a padded table where scalding hot towels are draped on your back, abdomen and legs. This separates the men and the boys, so to speak. If others can hang, you can hang too. "No pain no gain--no pain, no gain!"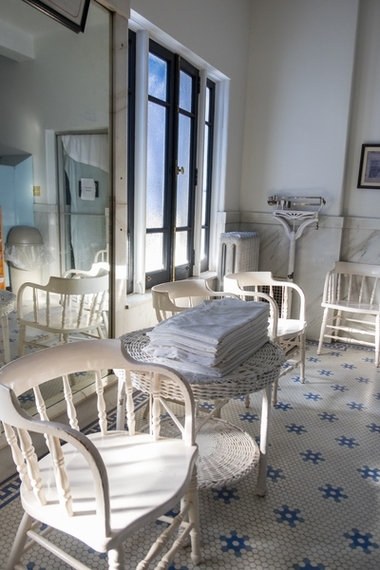 Old school charm, and more incredible tile work, in the ladies quarters at Buckstaff. | Image credit: Stefanie Payne
Move into a steam chamber. Created by a guillotine-like contraption that settles atop your shoulders at the base of your neck, this is a steam room for your body alone. Weird.
Plunk into a sitz tub. This scalding soak occurs in sort of a chair-like bath tub, enfolding only your midsection. This segment of the ritual is maxed out at ten minutes because of various reasons that I failed to unearth.
Cool down in a needle shower. A modern spa-goer might call this a Hungarian shower, with all-encompassing faucets spraying frigid water from all angles and levels.
Wrap yourself in a sheet and sit until you are returned to your normal, albeit more relaxed state of being.
There you have it, a typical service at the original spa just two doors down from the Hot Springs National Park Visitor Center on Bathhouse Row. What an amazing experience! Jon confessed that he felt recharged from it too.
This will sound as an aside but it is really worth noting--while the bathhouses are the most sought after experience in this park, there is an endless amount of other scenery to explore. Our 'big adventure' consisted of a moderately strenuous 12 mile hike through the Sunset Trail, which I idiotically thought would be a good time to break in my new hiking boots. My ankles are still recovering. We wandered an additional trail or two, hung out by the river, dipped our fingers into the steaming hot springs fountains off of Central Avenue, and attended our park ritual of meeting the rangers at the visitors centers while buying park medallions, patches, and stamping our passports with Centennial ink. Then, there was Barbecue!