There's a movement a foot of women entrepreneurs leaving corporate positions to establish important businesses all across this country. Many of them have a purpose in their lives, some have lacked a purpose, most want to do something meaningful for themselves. Purpose is important for the individual, as Dan Buettner points out in his book "Blue Zones" because, as he says, having one helps you live a longer, healthier life. What motivates these women to do what they are doing? And what they are doing are some remarkable things.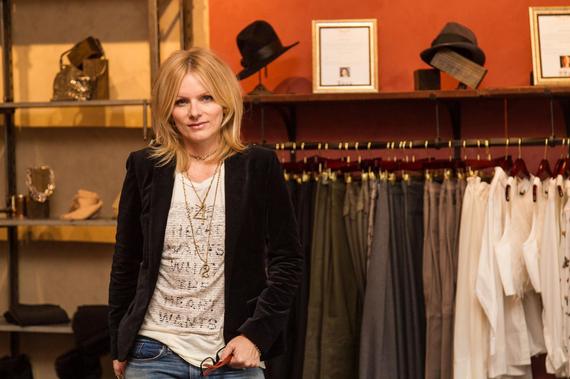 One prodigious example of this is happening in Westchester, north of New York city where a former advertising executive has left the adworld to start one of the hottest fashion boutiques in the county. "North" boutique opened up almost six months ago in a somewhat surprising part of the northern suburbs of New York City--no, the not the notoriously swank neighborhood of Greenwich or the roving mall of White Plains. Rather, North is squirreled away in one of the lesser-known glamorous towns north of Manhattan, down the bucolic main street in Bronxville.
Through North, Tammy Ehrenfeld, has found a way to curate independent fashion brands and designers with an audience eager to find distinctive, American-made goods. With wildly popular shopping events, her store has already made a mark.
The fashion is on trend, but not trendy. Rather, North is populated by items that are meant to be timeless, and items that serve as humble canvasses for braver more charismatic style statements for a new generation of women living in Westchester.
Tucked away in the store, are New York brands Gary Graham and Tess Giberson as well as European labels such as Annette Gortz and Zadig & Voltaire. Her jeans are all U.S. made from the brands 6397 and Robin's Jean for women. She also carries American made Japanese selvage denim for men. In the back is a display case filled with jewelry that's whimsically feminine, and ranges from feminine steam punk of Alkemie to the flat-out bling of Avante Garde's beautifully intricate jewelry - again both made in Los Angeles. You'll also find the super-original and chic bags of Moss Mills, hand made in Los Angeles (beginning at $180), as well as glam and lightweight bags from Whiting & Davis.
I asked Tammy what her motivations were for her new store.
Scott Goodson: So why North? Why start a fashion store in Bronxville, New York 14 miles north of the city?
Tammy Ehrenfeld: I wanted to be more in control of my destiny, which is a tall order working in advertising. My passions have always included fashion and style - and even more so culture. And honestly, I love women. Women are inspiring. We rock. And because we deserve it, I want every woman who comes into my boutique to feel good about herself. And if I can play a part in that, I feel good. Over the past 50 years women have changed - we have done so much adapting. We give life and we nurture, as we have always done; but now we do so much more. And modern women of substance don't settle for average. This is the kind of person I wanted to build the boutique around.
SG: Why did you decide to open your store in the village of Bronxville?
TE: To answer that you should understand why we moved here from Los Angeles in the first place. Where we lived in Hollywood, there was no sense of "place". We had a small cluster of people in the hills where we lived who attempted it, but at the end of the day, it boiled down to that: no sense of place. And that lack of place did not in turn create the kind community we wanted to be part of. So, after much research, we went with Bronxville, which is centered around Tuckahoe and Eastchester, Scarsdale and Rye. So, when I decided to open North, Bronxville was the only place I considered...as this community is now part of who I am. And if I'm going to work hard at building something, it's going to be in a place I feel invested in.
SG: What kind of store is North?
TE: It focuses on fine women's clothing and accessories - clothing that will be kept and enjoyed. Also, a small selection for men and boys, because I feel they are being underserved locally. There are mid-range to upscale lines for women who are sophisticated, and appreciate style and fine clothing. North is also a store that is about revitalizing the village of Bronxville. Bronxville currently has an unrealized potential. Hopefully, in 20 years, people will say they were glad I helped revitalize the town, and also helped make shopping locally more of a habit for local women. This is a point I'm pounding all the time - and I did before I was in retail. Local businesses matter. Communities only thrive through active support. Bronxville has the foundation of terrific, community-minded people; now we just need to keep building on that. And for the women? My goals are to make women feel good about themselves. Don't get me wrong, this is fairly superficial and our appearance only reflects a layer of who we are. But if I can put a spring in their step ...make them feel positive when they look in the mirror that would be wonderful. I sold a stunning cashmere scarf from Pas de Calais to a woman last week and she loved it so much she had me cut the tag off so she could wear it on the spot. She wrapped it around her neck, and as I watched her leave, and walk down the sidewalk, I could really see how lovely she felt. She had an inner smile and her head was that much higher. It made me feel warm to play a part in bring her that happiness.
SG: I have learned to really appreciate the power of a purpose when you are an entrepreneur. What is your higher purpose with North?
TE: In addition to wanting to make a living, I want to have a space that feels like a meeting place - a space that women feel comfort in and they are a part of. I don't want them to feel that I'm just selling them things... I want to know them, and to be helpful.
SG: Why did you decide to disrupt your corporate advertising career?
TE: Because I wasn't happy, and wanted to do something I felt passionate about. I had lost my passion for advertising. I don't know if it's because I didn't feel inspired by my accounts, or if I was just burnt out, but I wasn't feeling it anymore. And ultimately, I wanted to be closer to my sons.
SG: How did this change you?
TE: I feel liberated. It is still stressful, but the stress I'm feeling is different. In advertising, you work endless hours and the there is always the threat of losing an account or the emotional roller coaster of connecting with new business - and it is a constant cycle that no matter how many campaigns you ace, there is never a comfort zone; it is never within your control. Every once in a while you get a dream client, but that is not the norm. Now, I work long hours for sure, but they are for something I'm building. So, while stressful for different reasons, I'm no longer jumping through hoops for futility, I'm doing it for my own future, and it is satisfying.
Likewise Louise Fischer, another former Advertising Executive also left her position at the top of a major ad firm to start her own online store, north of Manhattan. Called Kontrast, Louise's store sells curated Danish design.
Scott Goodson: Why did you open your store Louise?
Louise Fischer: I am a Dane but I've lived in the US half my life, and had a strong urge to create something that brought me 'back to my roots', something that could also make sense from a business perspective. The time for an adventure of this nature seemed right, after having spent 20+ amazing years in the NY advertising industry.
LF: A desire to create my own business, be my own boss, on my own terms. Something where I could leverage my marketing & 'brand building' expertise and combine with my love for design and for my native country's Nordic aesthetic. A wish to learn something new - and I have - my learning curve is [and continues to be] so steep I have to hold on with both hands sometimes.
SG: What are your passions?
LF: Being with family and friends and creating HYGGE [it's a hard to translate Danish word but it has to do with togetherness, conviviality and being in the moment with loved ones]. Aided by beautiful home accessories and candles of course! Bring what I love of Denmark to the US [I only select what I absolutely adore, I made that promise to myself]. Lots of other passions of course not related to my business [family/3 daughters, tennis crazed super-fan, always dreaming of time in the tropics].
SG: What are you trying to do?
LF: To help create that HYGGE and happiness for others in my own humble little way. To bring both classic and new Danish designed home accessories and furniture to the US, at very reasonable price points. Convince people in the US that you don't have to have a 'modern' home to embrace what I offer - my items can create gorgeous contrast in any interior style [hence my brand name, Kontrast]. To build my web-store and perhaps also create physical store[s]. To offer exclusive designs tailored to US measurements without compromising the designs of course. To be fulfilled, successful, more in touch with Denmark.
Scott Goodson is the author of Uprising, a book about how individuals and businesses build marketing movements.