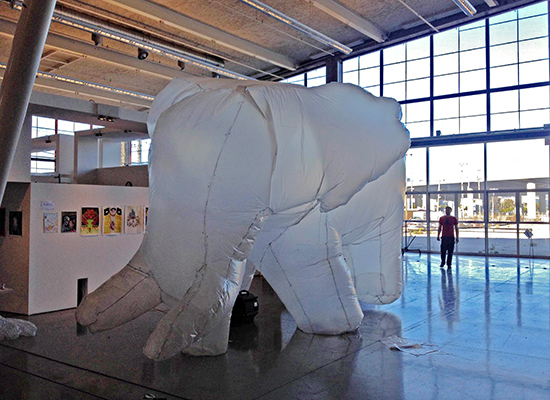 A life-sized elephant weighing less than 10 lbs by artist/designers Seth D'Ambrosio, Rafi Aji, Brooke Francesi, and Dustin Tilsdale
The ambitious and always evolving Thursday Night "Nightlife" series at the California Academy of Sciences has proven itself to be one of the Bay Area's most entertaining and richly rewarding ways of spending a Thursday night. Every week, music (a live band or DJ), creatures and cocktails come together to offer a new 21+ adventure set amidst the lion dioramas, stingrays, and a multi-storied rainforest. You can escape to the aquarium to hang with the sharks, converse with Claude (the albino alligator), or travel through space in the planetarium. For even more excitement, experience what it was like to be in two of the biggest earthquakes in San Francisco.
And that's only the beginning. Every week the Academy features a clever conceptual theme centered around science and nature -- like "Sharktoberfest" (complete with beer garden and shark cage) or "BiteLife," an upcoming exploration of the science of eating.
So don't miss this Thursday's "METAMORPHOSIS," when the talented artist/designers from the California College of the Arts transform the Academy (and possibly you) into something unexpected. Explore a multitude of industrial, interaction, illustration, fashion, furniture and graphic designers from CCA as they showcase an amazing, cutting-edge array of work, highlighting new technologies and innovative ideas that explore the concept of metamorphosis. Metamorphose into a creature yourself by donning one of the funky "wearables" for an Instagram portrait. Check out the life-sized inflated elephant in the African Hall, or immerse in bringing the stars closer to you with the interactive constellation in the Forum.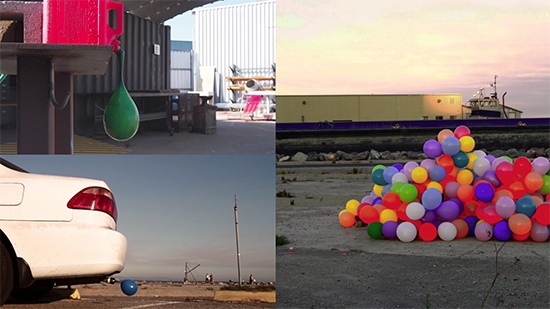 "State Change," a film by Jared Bogrett, Matt Pearson, and Hamish Tennent visualizes actually produced volumes of fossil fuel emissions through hundreds of balloons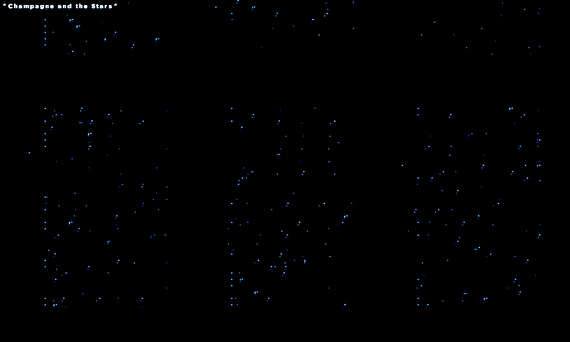 "Champagne & The Stars," an interactive film by Christopher Yamane enables you to access the "stars" from the novel "The Great Gatsby"
Artist/Designers showing new work include:
Brooke Francesi
An Interactive riddle game using UV backlight ink
Maria Carrion Lopez & Cristina Gaitan
Building a module that emulates coral reef formations
Alejandra Valenzuela
A Thread sculpture influenced by music
Mark (Yu-Wen) Liang
A Visualization of music and movement
Lawrence Lander
A Diorama inspired by American Frontier mythology
Ramune Rastonis
An Interactive mapping experience
Rui Zeng, He Zhang & Zhiyu Fu
An Interactive puzzle
Seth D'Ambrosia, Rafi Ajl, Brooke Francesi, Dustin Tisdale
A Life sized inflatable elephant exhibit
Sam Bertain, Leslie Greene & Neil Schultz
An installation from recycled material
Sarah Goodin, Rachel Sakai, Vida Riadhl
Interactive visuals with animal faces
Video Screenings in the East Pavilion
6:00-10:00 pm, check out the work of Beth Abramson, Jared Bogrett, Matt Pearson, Hamish Tennent, Alejandra Valenzuela, Agustin Plancarte Fexas, Chuyue Huang, Xiaoxiao Zeng, and Mengya Zhang.
Steam Bending in the East Garden
6:30-10:00 pm, Learn about the woodworking technique of steam bending with Mateo Hao to make furniture and jewelry.
Music & CCA Alumni Projects in the East Pavilion
6:00-10:00 pm, Check out CCA installations including a giant Icosahedron, a display of custom bike projects, and a free standing animal display.
6:00-10:00 pm, Live music with DJ's Manitous and Mophono.
7:30 pm: Jam to the beat of Oakland based producer, engineer, & sound designer Shortcircles in the Coral Reef
8:30 pm: Enjoy the soundscapes of multimedia guitarist Christopher Willits in the Coral Reef
Immersive Films in the Forum
6:30-10:00 pm, Check out large-scale immersive films designed by Vida Riahi, Wioleta Kaminska, Hongsun Yoon, Jared Bogrett, Matt Pearson, Hamish Tennent, and Agustin Plancarte Fexas. And from 7:30-8:30pm, you can bring the stars closer to you with Christopher Yamane's interactive sky of constellations inspired by F. Scott Fitgerald's lyrical prose in "The Great Gatsby."
You can get more information here. The buzz is to get there early, so you don't miss a thing!
REAL LIFE. REAL NEWS. REAL VOICES.
Help us tell more of the stories that matter from voices that too often remain unheard.