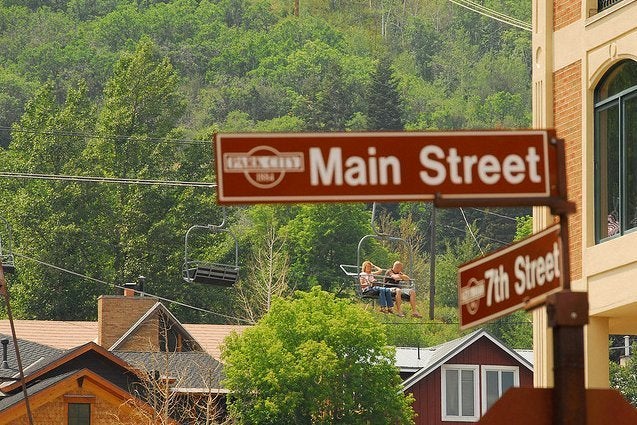 "Don't forget, s'mores on the terrace at 8," Harry called as he left our room at Montage Deer Valley in Park City, Utah. This handsome young man, and the Montage is full of them, greeted us at the front door of this spectacular property and eased us seamlessly through the check-in process and up to our beautifully appointed room with a balcony overlooking the inspiring view of the forested valley below.
Our approach to Montage Deer Valley was a long, winding drive up from Park City's center to the very top of Guardsman Pass at 8,300 feet. Spread before us, a huge complex reminiscent of a fabled mountain lodge. Nestled into the jagged stone hills of the Wasatch Mountain Range and looking very at home in its wooded setting it shimmered golden in the late afternoon sun.
Montage or Shangri-La? During our stay, we came to realize that this property and that mythical earthly paradise have a lot in common.
The Hills Were Alive
We'd come to Park City for its renowned Summer Music Festival of chamber, classic and pop music at venues throughout the area. The festival presents world-class music, all within proximity to the city's luxury lodging, superb restaurants, fun shopping, top art galleries, serene spas and a mountain of outdoor activities. We attended our first concert at Deer Valley's Snow Park Lodge and, in the tradition of summer concerts all over America, we spread a blanket on the grass along with a few thousand others and proceeded to open our bottle of bubbly. Somehow a blanket-on-grass concert just isn't the same without wine, cheese and a baguette, right? Thus fortified, we listened to the group Sideshow Ramblers, music raucous and ramblin'. A hootenanny good time was had by all.
A memorable evening was spent at St. Mary's Catholic Church, an exquisite edifice with luminous blue stained-glass windows and a majestic alter-surround that seemed to reach heavenward. The setting was ideal for this concert called Italian Elegance. David Lockington conducted the Utah Symphony in Italian baroque favorites including Boccherini, Vivaldi and Rossini. A highlight for me was one of my all time favorites: the gorgeous Albinoni "Adagio in G Minor" whose strains never fail to tug at one's heartstrings. For the Swagger concert, it was a double delight as we were able to view their performance while dining at a table at Maxwell's East Coast Eatery. The food was delicious and the music a tasty blend of Celtic and rock.
The last concert we attended was a true grand finale: the rousing, cannon-ball firing, stand-up-and-cheer "1812 Overture" by Tchaikovsky. Once more the suave David Lockington conducted the world-class Utah Symphony. At concert's end, perhaps we didn't leave humming this tune, but, for certain, we all left with wide and happy smiles. This year, the Park City Chamber Music Society presents its 28th Annual Summer Music Festival which will run from July 12 through August 6; its concert calendar lineup is in the process of being prepared (www.pcmusicfestival.com).
Between the Notes
Our interludes, when not concert-going, allowed us to experience the other resorts in Park City. We took a scenic lift ride up to the top of the Deer Valley Resort and photographed the entire valley spread out below. Later we visited the Park City Museum with its new $8 million renovation and exhibits that trace this city's silver mining history.
Another day we went to the Park City Mountain Resort and sampled two of their fabulous rides: The Alpine Coaster and the Alpine Slide, both thrilling and (for me) kinda heart-stopping. However, as each ride came to an end and once I caught my breath I quickly asked, "Can I go again?"
Canyons Resort is the largest resort in Utah. Countless outdoor activities, from hiking, mountain biking and even fishing keep you happily occupied in summer. Winter enthusiasts will be glad to know the resort has 4,000 acres of skiable terrain and a welcome addition to freezing your a-- off as you sit on a cold metal ski lift: Canyons now offers something called the Orange Bubble Express, enclosed and with (yay!) heated seats.
A visit to Utah Olympic Park is a must. It celebrates Utah's hosting of the 2002 Olympic Winter Games, and its museum is chock full of fascinating skiing and Olympic history. The park has some singularly scary but very safe rides including the Comet Bobsled, the Quicksilver Alpine Slide and an Ultra Zip Line.
If you visit in summer, try to go on a Saturday because that's when they present the Flying Ace All-Stars Freestyle Show with wet-suit-clad Olympians and Olympic hopefuls skiing down ramps and soaring 60 feet in the air as they perform thrilling aerial tricks and then land in a 750,000 gallon splash pool.
From Silver Mines to Gold Medals
A bandana on a stick marked the discovery of silver in Park City by prospecting soldiers in 1868, fueling a boomtown economy that thrived for nearly a century. From those rowdy beginnings, mining gave way to burgeoning ski resorts in the 1960s. In the 1970s, the arts became the town's other defining feature. Bodacious boutiques and artsy stuff sprang up as well as seriously good restaurants, and a string of spirited watering holes.
In today's Park City, the riches lie above ground and the prospects are looking good!