Cabinets are essential pieces that not only serve an extremely important practical purpose -- that of storing everything from cookware, to dry goods, to china -- but also typically occupy the largest amount of real estate in the kitchen, which means the aesthetics of your cabinetry plays a huge role in the overall look of your space.
Of course, you should never choose a design based solely on what's in vogue; first and foremost, you should love it and want to see it every day. Trends come and go, and a kitchen defines your lifestyle. That said, it's always interesting and exciting to survey the latest looks, technologies, and design trends, and see if any of it feels right for you.
Here are the top four trends in cabinetry that I'm seeing in kitchens today, and that I'm personally enjoying incorporating into my own designs.
One of the most versatile and stunning trends in kitchens is the use of exotic wood veneers, thin slices that showcase the wood's natural grain. I talked with one of my longtime colleagues Andy Tobias about what she's seeing. "In contemporary designs, people are using veneers to create interest," she says, using the example of a cabinet door with a veneer center panel in an otherwise spare design.
Veneers are nothing new, but what I find truly exciting and inspiring is the range of interesting and exotic woods now available. There's the African species Bubinga (also known as African Rosewood), which has a rich, reddish color and darker purplish waves. The Southeast Asian Paldao is a lighter wood, often tan or light grey, with dark stripes, while the European Larch can be a warm red, rich and dramatic chestnut, or subdued brown.
I love using veneers in a variety of ways, from accent pieces to full cabinet treatments. In all our kitchens with full cabinet veneers, you'll see the figure, or pattern on the wood matched to create a cohesive overall look, and it's exceptionally beautiful.
Here is a kitchen with fumed oak veneer cabinets.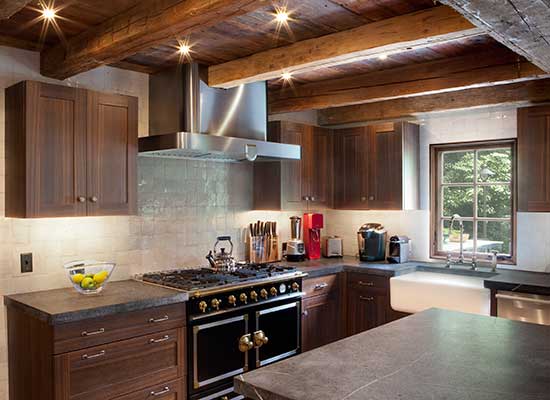 Photo courtesy of St Charles of New York
Another reason why I love working with veneers in these exquisite wood varieties is the range of looks one can achieve with them. Depending on the cut, finish, or treatment (such as fuming), the same wood can appear entirely different. They also work well for horizontal applications.
White kitchens might be far from cutting-edge; they've been popular forever. But the shade of white on the rise is bright, crisp and clean, not the off-white that's been so popular in recent years.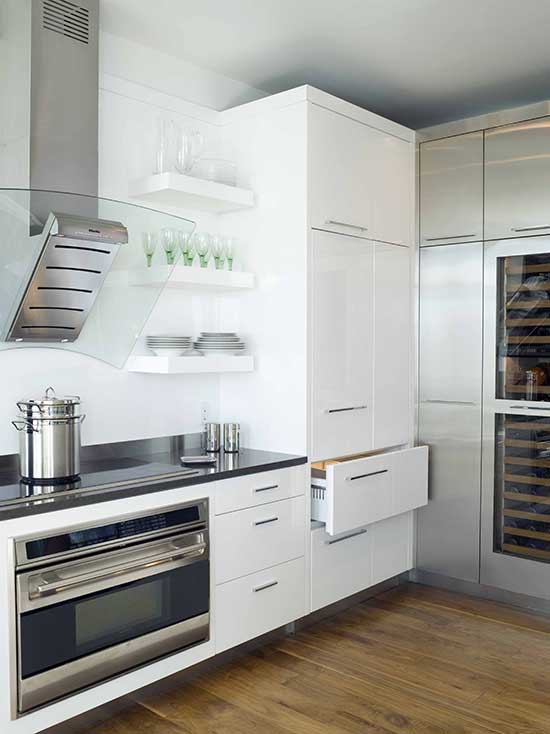 Photo courtesy of St Charles of New York
Regardless of the material used, this minimalist color trend dovetails very nicely with the increased popularity of streamlined designs. I'm creating more and more kitchens featuring clean lines and simple silhouettes across all styles -- contemporary, transitional, and traditional.
For kitchens of a more traditional design, I've been using cabinets in what's known as a milk paint finish, and it's a style that's increasingly popular. One of the nice features of this elegant finish is that the brushstroke is easier to touch up.
For this technique, paint is applied in two layers, a base and a topcoat, for a subtle, tone-on-tone look. "It has the appearance of hand-painting because it is."
More than ever, I'm seeing kitchen designs that feature contrast, and mixing light and dark elementsis a technique I've enjoyed using for a while. You might think this would be jarring to the eye, but it can actually be quite subtle, or provide just the thing to anchor a space or provide some excitement.
This kitchen design is one where a dark element -- in this case, a walnut island topped with the semi-precious grey agate counter -- provides a pleasing counterpoint to its surroundings in white marble, wood and commercial-grade glass tile.
I'm proud to say this kitchen took first place in the 2012 Global Sub-Zero and Wolf Kitchen Design Contest.
Related