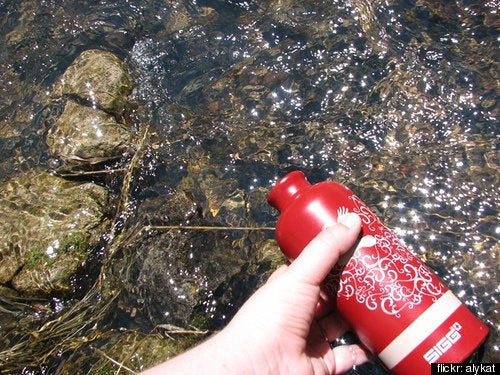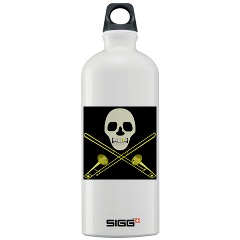 I waited to write this post until after I had the opportunity to speak with SIGG CEO Steve Wasik. I am still disappointed.
Over this last week we have learned that SIGG bottles manufactured before August 2008 (not 2009, as I mistakenly mentioned earlier) contained Bisphenol-A (BPA) in their liners. BPA is a chemical used in the manufacture of polycarbonate plastics and epoxy resins and is part of a group of molecules known as endocrine disruptors.
naturally occurring compounds or man-made chemicals that may interfere with the production or activity of hormones of the endocrine system leading to adverse health effects. Many of these chemicals have been linked with developmental, reproductive, neural, immune, and other problems in wildlife and laboratory animals. Some scientists think these chemicals also are adversely affecting human health in similar ways resulting in declined fertility and increased incidences or progression of some diseases including endometriosis and cancers.
BPA is everywhere: in plastic bottles, in metal food cans, in food and toys. But where we did not think it existed was in our SIGGs. I have gone on the Oprah Winfrey Show, the Martha Stewart Show, the Ellen DeGeneres Show and told scores of magazines, newspapers, radio programs and lecture audiences to get reusable water bottles. My follow-up line has often been, "I use SIGGs" - accompanied by a gesture towards the bottle that was nearly always on my person, one that I had known and loved for years.
I got my first SIGG because of my concerns about BPA and, well, because they were prettier than the stainless steel options. When others started to ask about them, I gave the same spiel. I reasoned that if it was good enough for me, of course it was good enough for your kids, my students and the world. In fact, the very first time I appeared on Oprah, I laid down the line and said I could not promote the bottles in their giveaway because they were #7 polycarbonates known to leach Bisphenol-A. The producers ended up replacing them with another kind of plastic bottle because they already had a deal set up with the company. But when it came to the bottles I talked about on-air, I spoke about SIGGs.
At no point over the last few years, in the handful of conversations and e-mail exchanges I have had with SIGG's PR company Truth Be Told, were my perceptions that the bottles were free from BPA corrected. For the record, I don't think I said they were BPA-free, but that's really not the point, is it? You trusted me to tell you the truth. And I did, to the extent that I knew it. And Truth Be Told did, too, to the extent that they knew it. My August 27, 2009 e-mail exchange with a member of the TBT team and follow-up phone conversation with another member demonstrate they did not. "As you can imagine, we were surprised and disappointed as well - we found out this information only a few days before you did," says the TBT staffer.
In my conversation with Steve Wasik, he said SIGG did not reveal the BPA information because of a non-disclosure agreement they had with their manufacturer. He said he thought it was enough that their studies - indicating there was no leaching - were sufficient. Yet, at the same time, SIGG began development on a new BPA-free liner back in 2006. When I asked Wasik about this contradiction, he pushed the responsibility back on to the supply chain, stating, "Our confidentiality agreement with our suppliers would not allow us to talk about the liner. . .We couldn't just come out and talk about what they were made of since we were bound by our old suppliers not to talk about the ingredients." Wasik punctuated his statement with a rhetorical question, "Could we have been more transparent? We made a mistake and probably should have said something but we did not have a new liner to go with." Finally, he went on to remind me that testing indicated the bottles were always "100% safe" and did not leach BPA.
Technically, he is right. But at no point did SIGG ever correct the public's misperception that the bottles were BPA-free. In fact, they profited from it. According to Advertising Age, SIGG sales increased 250% between 2006 and 2007. The January 2009 press release from SIGG indicated they were creating a new line of bottles with what they called an EcoCare liner. What they did not say, and what even their PR company did not know, was the underlying reason for this change: that the original SIGGs contained BPA.
If you log on to the SIGG website, you will find a new link to an apology from the CEO on its home page. The controversy has been brewing for a week, yet this apology was posted yesterday (9/1/09). The company tells you they will replace your old SIGGs with new ones if you are willing to fork over the money to send it back to them. I asked Wasik about pushing the responsibility back on to the consumer and he said, "We don't believe this is a recall but we know there are some consumers out there that are concerned. If we pay for this we'll get people who aren't concerned - which is about 9 out of 10 people - sending back bottles they bought three years ago that have dents in them." He want on to explain that most major retailers that stock SIGGs will replace them. I called REI and Whole Foods stores to verify this and it is, indeed, the case. However, this information is not revealed on the SIGG website. All it says (on the downloadable mailing label) is, "We are sorry for the inconvenience. You may choose to keep your current bottles as they have been proven not to leach, but if you want to exchange your bottle(s), you will have to bear the cost of returning it to us. Thank you in advance for your kind understanding in this regard." I guess you have to talk with the CEO to learn that there might be a more cost-effective way to swap them out. Oh, and hurry up, the offer ends on 10/31/09.
Although asked, I have never signed on to be a spokesperson for a product because I believe it compromises my integrity as a journalist and environmental advocate. (Full disclosure, I did get paid to moderate a Seventh Generation panel on industrial chemicals and health last fall.) Any product that has earned my praise has done so on its own merits. SIGG was one of the very few companies I chose to discuss by name. (I even participated in a Sigg100 celebration by recording a podcast about environmentally-friendly practices alongside Ed Begley Jr., Laurie David and others to coincide with the company's 100 year anniversary.) Today, I am telling you that I am deeply sorry for leading you astray. Had I known better, I would have used - and promoted - BPA-free alternatives from the onset. Steve Wasik tells me he still uses the old bottles with the BPA liner for himself and his family. I intend on following in the steps of fellow HuffPost blogger Nena Baker and reconsider a swig from my SIGG.
Related
Popular in the Community