I was zoning out in a deck chair when I heard my husband's startled voice. "Look. Something's happened." Squad cars, ambulances and policemen were scattered about in a clearing on the side of the Thames River. "There must have been a murder. Look at all the yellow caution tape wrapped around the trees."
I was upset by the sight of forensic investigators trudging along in their lab coats, and the stunned, round-faced policewoman staring out over the water. When we reached the village of Hurley, our mooring for the night, the captain announced that an episode of the TV series Midsomer Murders was being filmed. He, too, had been alarmed, and sent a crew member back to see what was going on.
Excited that we could see one of our favorite shows being made, we scurried off the boat, and headed down the Thames Path, a national trail that goes from London to the Cotswolds. Detective Chief Inspector John Barnaby (Neil Dudgeon), clad in his usual blue suit, was being interviewed in a swampy area under high trees. A cameraman was sliding back and forth on a trolley, alternately taking footage of Barnaby and a fellow wrapped in a wet blanket. "Shh," said a guard, leading us around so we could get a good view. Later he told us that the director often uses the area for filming because there are so many parks, woods, and villages with historic churches."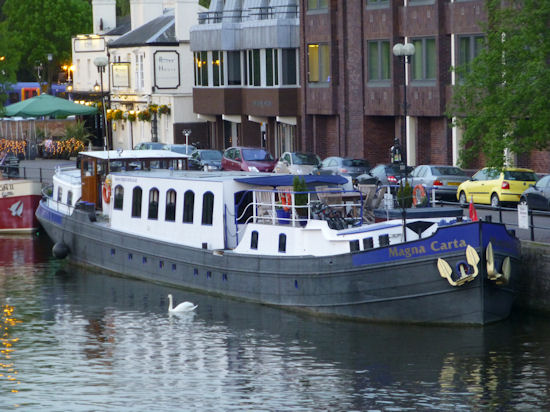 We were on a week-long European Waterways cruise on the hotel barge Magna Carta, and this was one of several dramatic, albeit unplanned, scenes on the meandering journey from Hampton Court to Henley. Morning, afternoon, and night there was a blend of intrigue, quiet contemplation of nature, and glimpses of small village life. Not to mention the elegant meals and views from the barge, actually a small luxury hotel. From the beginning we were drawn into a world of nature: songbirds chirped overhead; swans and ducks took turns sliding along beside us, and before long I was mesmerized by their behavior. Why did the ducks sometimes forge ahead pushing their bills backward and forward? Why did the swans seem to be chattering with each other like excited girlfriends?
We took the boat trip because we love traveling in Britain, and we love the serenity of hotel barging. The boat seemed to glide across glass like water, and it rose and fell effortlessly when it we went through locks. Compared to over 200 travelers on most river cruises, there are usually 8 to 20 on a hotel barge. We had eight. The pace was leisurely, with roughly half the day spent cruising and the other half sightseeing off the boat.
We began our trip at Hampton Court, 23 miles west of London. The river, which is about 1200 feet wide and bustling with activity in Central London, narrows as it veers west and, in a sense, becomes a canal at Teddington, where a series of locks and weirs, small dams, begin. The landscapes along the way also change.
I did not expect the trip to be such a pleasant ramble through English history. The first night we slept at our mooring just outside the fancy gold gates of Hampton Court Palace, and the next morning our captain, Domenic, gave us his own private tour of the sections that Henry VIII would have known. At Windsor Castle, first built by William the Conqueror in the 11th century and now the home of the present queen, we wound our way up hills of flowers to the tower and walked around the enormous Queen Mary dollhouse and through the State Apartments.
If I had to pick a most memorable site, it would have to be Dorney Court, said to be the quintessential medieval manor house in England. Parts of The Boleyn Girl were filmed there, and Ralph Fiennes recently used it as a set for Invisible Woman. What atmosphere! An outside wall leaned to one side because, centuries ago, weakened beams were mortared up without being straightened. The little 11th century church on the property had a Saxon "A" symbol on the side, which meant part of the building might have even dated back to the 6th or 7th century. The main house itself was a filmmaker's dream: crammed with furniture and mementos from the last 500 years.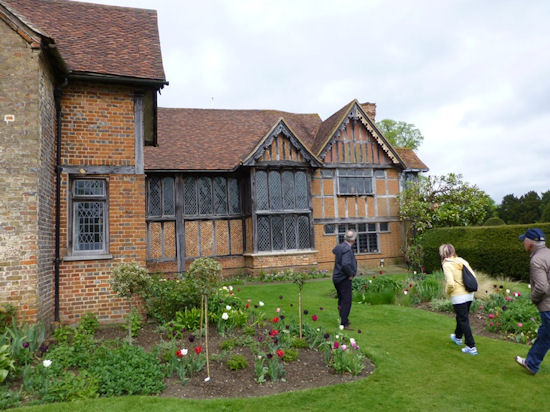 From Cookham Lock we walked into the centuries-old village and visited the gallery of Stanley Spencer, an experimental 20th century artist who gave biblical scenes a surreal edge. The gallery had once been a Methodist chapel, rather fitting since Spencer considered Cookham the "new Jerusalem." This stretch of the Thames is the heart of Wind in the Willows country, with rows of tangled open tree roots lining the banks of willow trees. I kept thinking that Ratty and Mole could easily have been slipping in and out of their mud homes. Mr. Toad's fancy house is thought to an amalgam of the country houses in the area.
Back on the barge, the master chef triumphed with five star meals fit for manor houses and castles three times a day. Lunches were two fancy courses with such dishes as red pepper gazpacho, tagliatelle pasta, rolled out by the chef, with snow peas, sundried and fresh tomatoes, pesto and shavings of cheese. Dinners included seafood gnocchi, haddock with summer greens, snow peas, chopped tomato and asparagus, and choices of roasted meats, all with colorful light purees. On several evenings sorbet, again chef-made, was layered with such delicacies as blushed pears anise or lemon posset with dried strawberries. Not to mention the wines: such choices as Pinot Grigio from Italy, Beaujolais from France, Sauvignon Blanc from New Zealand.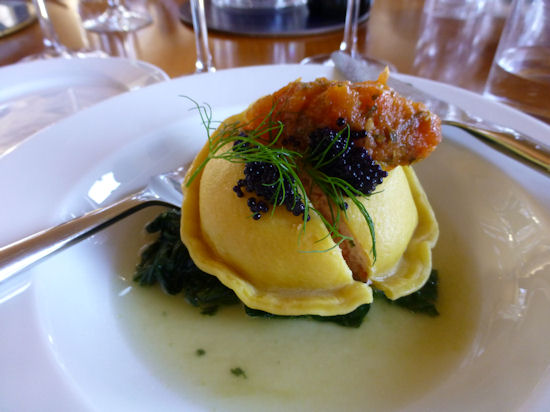 I spent much of my time photographing the scenery, and reminding myself that barging was the preferred way of travel for royalty several centuries ago.