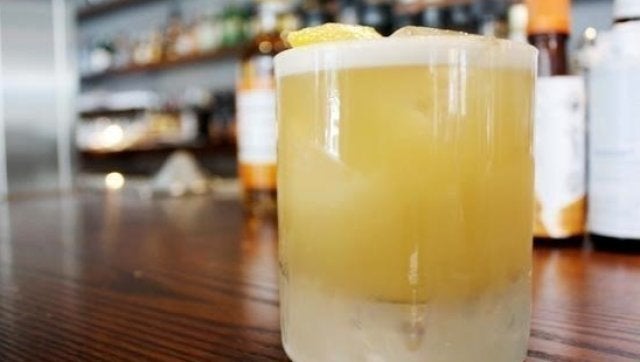 Traveling this holiday season? Need a drink to get you through the stress? Not to worry! Many hotels across the country have busted out their 'tis-the-season spirits just to make you merry. Here are just a few you'll find on your travels.
At Shade, a boutique hotel in Manhattan Beach, you'll find the Passionate Holiday Kiss for $12, made with lime-infused vodka, 1/2 oz. Pama pomegranate flavored liqueur and 1 oz. fresh pomegranate juice poured together into a cocktail shaker, over ice, shaken vigorously and then strained into an iced martini glass.
Visit the WP24 Restaurant and Lounge, located on the 24th floor of the Ritz-Carlton, and enjoy The Poinsettia ($16) made with orange-infused vodka and cranberry juice topped with Prosecco, served over ice and garnished with an orange twist. Or try the Bellini in a Pear Tree ($16) made with Prosecco with pear puree, Garnished with cranberries and a rosemary sprig.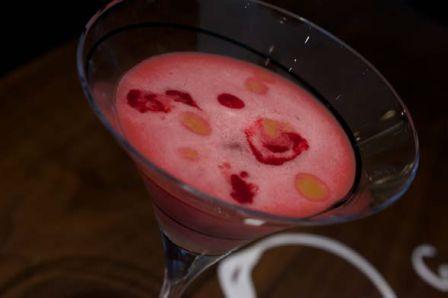 The Naughty or Nice at the W Hotel San Diego
Credit: W San Diego
Warwick New York Hotel is serving up a range of signature holiday cocktails ($14 each) inside their Randolph's Bar & Lounge. These treats will include the Eggnog White Russian - eggnog, Kahlúa and Svedka vodka, the Red Hot Chocolate - Campari, brandy and hot chocolate, the Candy Cane Swirl Martini - raspberry vodka, cranberry juice, peppermint schnapps and Sprite, the Ginger Snap - Captain Morgan rum, brandy, ginger ale and eggnog, and the Holiday Cheer - made with Champagne and raspberry purée.
Taste the Wrath of the Gingerbread Man made with Brenne Whisky, Lazzaroni, Domaine de Canton, Allspice, Dram Ginger Spice Syrup and a ginger sugar rim for $16 at the Olives Bar inside the W Hotel Union Square.
At the Marble Lane Bar & Marble Lounge at Dream Downtown patrons can experience the Holly & Ivy made with Belvedere Grapefruit, Grand Marnier, rosemary syrup & POM Wonderful for $14. Served up, it is a beautiful red color with a garnish of fresh rosemary.
At the ever so chic Hotel Andaz in downtown San Diego, guests can indulge in the Cellar Door made of Sailor Jerry Spice Rum, Pimm's No. 1, lemon, Bergamot Syrup and St. Elizabeth Allspice Dram for $14.
At the W Hotel patrons can head to Kelvin, where they're serving up a variety of holiday-themed drinks like the Naughty or Nice ($12). Made with and indulgent mixture of bourbon, caramel sauce, raspberry sauce, maple syrup, and three drops of vanilla extract, it is garnished with drops of caramel sauce and raspberry puree.
At the newly renovated Hotel La Jolla guests can head to Cusp Dining & Drinks located at the top of the hotel, to enjoy the Sir Rudy. Made from Cruzan Black Strap rum, Del Maguey Vida, demerara, a whole egg and nutmeg, it's a cocktail that's sure to warm you up and is available for just $10.
The Cosmopolitan is where you'll find the Winter Inspi(red) at The Ice Rink at BLVD Social Club. This cocktail includes; Belvedere Red, Dow's Ruby Port, lemon juice, orange-cardamom, and angostura orange bitters for $14. For a more decadent treat, there's the Campfire Delight made with Van Gogh Dutch Chocolate Vodka, Creme de Cacao, RumChata, and marshmallow for $12.
At the Sugar Factory American Brasserie inside the Paris Las Vegas they're serving up the Peppermint Patty Cocktail. Made with Three Olives chocolate vodka, Godiva chocolate liqueur and Rumple Mintz, it's priced at $10.
At 35 Steaks + Martinis inside the Hard Rock Hotel & Casino guests will find three festive cocktails priced at $12 each. The Peppermint Stick Martini is made with Absolut Vanilia, Peppermint Schnapps White Crème de Menthe, cream, and garnished with a mini candy cane. The Buttered Rum is made with Captain Morgan, butterscotch schnapps, Baileys and is served on the rocks. Finally, the Nutcracker is made of Amaretto Frangelico Godiva Wihte Chocolate, Chambord, Smirnoff Raspberry and vodka.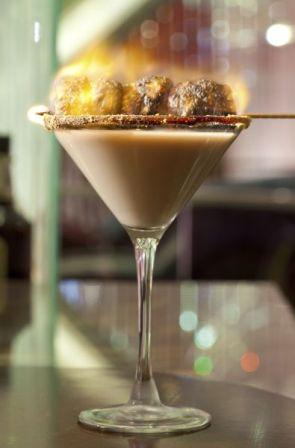 The Campfire Delight at the Cosmopolitan Las Vegas
Credit: The Cosmopolitan of Las Vegas
The Candy Cane Martini made with Stoli Vanilla Vodka, crème de cacao white, candy cane simple syrup for $12 can be found at The JW Marriott San Francisco Union Square.
The Clock Bar at the St. Francis Hotel will serve the Romeo and Juliet Under the Mistletoe, ($14) made with vodka, gin, strawberry purée, fig-infused balsamic vinegar, lemon juice, Aperol, and pink and black peppercorns.
At Art and Soul, located inside The Liaison Capitol Hill Hotel guests will encounter three different holiday cocktails including the Our Mulled ($13) made with red wine, all spice liqueur, Hum Liqueur, and orange rind. The Co-Op ($13) made with Knob Creek Rye, Calvados, Snap Liqueur, lemon, apple simple syrup and orange peel. And finally, the Jagertree ($13) made with Blackwell Rum, St. Elizabeth allspice dream, merlot, Pok Pok Som Tamarind Drinking Vinegar, orange juice, Darjeeling tea and served in a mason jar with a handle.
Stop by the Lobby Bar inside The Madison Hotel where the Midnight Kiss, made with lychee, limoncello, vanilla sugar and Sparkling Wine will be offered for $12. Or try the Cranberry Ginger Royale made with cranberry-ginger syrup, brut sparkling wine and sweet and sour cubes (also $12) and part of the proceeds will be donated to the Rapunzel Project, a non-profit organization, designed to assist those going through chemotherapy with hair conservation.
Related