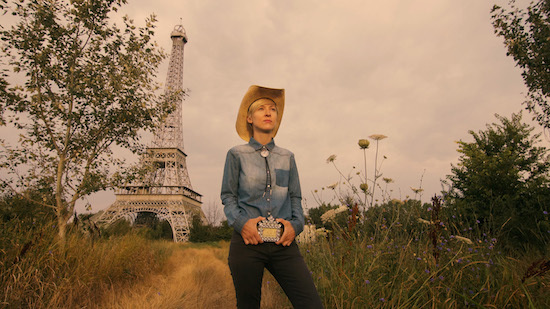 "Entertainment highlights the art, its possibilities are endless." -- Salvador Dalí
When I first watched Sherng-Lee Huang's and Livia Ungur's fantastical film Hotel Dallas, I was reminded of that Salvator Dalí and Walt Disney collaboration Destino. This young couple's film has the same carefree and surreal, never-to-be-tied-down-by-boring-film-school-rules irreverence that older unorthodox couple's short possesses. Seventy years later, what Disney and Dalí did together was revolutionary and I believe that what Huang and Ungur have made is also potently pioneering.
While of course I found specific personal references to Destino in Hotel Dallas, like the long pillar that appears in the black and white sequences, the similarities could end there. But the surrealism of Hotel Dallas, combined with actual art references that range from Jeff Koons to Vermeer to modern-day Romanian tombstone painters made sure that art was never far from my mind.
If you want me to describe Hotel Dallas, properly, you will find the film has finally put me at a loss for words. Or perhaps, more accurately, the words are too many to describe this wondrous work of art, slash documentary, slash cultural commentary, slash love song to both Romania and the United States. I kicked off my Berlinale viewing with Hotel Dallas this year, and it was the perfect way to get into a festival that combined reality with cinematic wonder, tying it all up with a leitmotif of freedom and the price we all pay to obtain it.
But I could not call myself a film writer if I didn't at least attempt to describe Hotel Dallas, or rope in the feelings this beautifully made first feature by the talented real life couple of Huang and Ungur gave me. Hotel Dallas is a piece of history, showing the impact of the 80s American soap opera Dallas on Romania, a country where, "people were suffocating and politicians thought, lets give them a fairy tale," as the film explains.
If you think film and TV don't change the world, think again.
It is also a movie that plays out slowly, like the best of Iranian cinema, and yet packs a punch, with ideas like "when we are in the middle of history, how often we choose the wrong side..." Yet above all, Hotel Dallas looks at filmmaking as art with a sense of humor, a great canvas spread across the beams of a movie theater, to be painted, slowly and in increasingly more daring colors, by two members of the human race who simply make the world a better place by being here.
I loved Ungur & Huang's film and I really enjoyed catching up with the bright, fun and quietly handsome Sherng-Lee in Berlin, for a leisurely talk before the hectic film festival kicked off, in the lobby of the Grand Hyatt.
Can you talk a bit about why your wife and co-filmmaker Livia is not here with you at Berlinale?
Sherng-Lee Huang: Livia unfortunately is not here, but she has a great excuse! She's pregnant with our first child. It's an amazing feeling, to have our baby Hotel Dallas delivered into the world here in Berlin, and another baby on the way. The downside is that it's been a bit of a difficult pregnancy. Everything is going to be fine, but it would have been pushing our luck to get her to Berlin. I've been updating her constantly about everything that is happening, and she is definitely here in spirit. It's more motivation to make another film, come back to the Berlinale, and really do it in proper fashion.
How did this film come about?
Huang: I think one thing we thought about coming from an art background -- Livia is an artist trained at the Yale School of Art -- is that video art came about historically as a reaction to mainstream media, specifically TV, and was working against the seductiveness and passivity of watching TV of a certain kind. Video art was supposed to jolt you out of your complacency. To us, that kind of thinking doesn't make sense. How are you going to counteract television if only ten people see your work in a gallery? And that's costing like a hundred thousand dollars each if you're Matthew Barney. We do think people need to be jolted out of their complacency, but get a movie out there and get as many people as possible to see it. And people need to stick around to watch it so you need to seduce them and challenge them at the same time. And entertain them. Tom Stoppard has a quote where he describes theater as "recreation for people who like to stretch their minds." I think that applies to us too, we feel a responsibility to entertain people but hopefully give them something to chew on.
How did you find the Hotel Dallas, the property featured in your film?
Huang: Within Romania, everyone knows about Hotel Dallas. Not many people have gone there because they think of it as kitchy, and it's rundown at this point, the actual hotel. Livia had always heard about it, and knew about this guy who embezzled millions of dollars in taxes and through fraudulent business deals. He was in the sunflower oil business and also sold televisions which is very apopro. I think what he went to jail for is rapeseed oil. He was the rapeseed king... But sunflower actually sounds better! If you go to Slobozia that's sunflower oil country. It's a big product in Romania.
When did Dallas star Patrick Duffy enter the picture?
Huang: We went to Romania and shot for eight weeks that summer, after the story was solidified by March, then by end of June we were in Romania. The whole concept behind why Mr. Here-slash-Bobby is invisible and you don't see him and he is the camera, is because we didn't shoot with him. It was out of necessity.
There is a line that you walk with this film, that's between fantasy and reality. It keeps your audience thinking and wondering until the very end. It's very cool...
Huang: At that point we had about 68 minutes of the 75 minutes final cut. I was doing the voice of Mr. Here. We thought about a voice actor who sounded like him. Always in the back of our minds we wanted Patrick Duffy. So we went on IMDB Pro, we got the email of his manager and emailed him and his agent. Within twelve hours the agent emailed back saying "not interested." OK. And then two days later we got an email from his manager and it was the complete opposite, "he's in!" We shot his scenes in a studio and went around the block to shoot him in the car. He had very few hours allotted to this, but it's not because he was in a hurry. He's such a pro! He never messes up, never. The first take is completely perfect and you're like "that just made the scene ten times better." And when he asks to do it again, you're like yeah... And he has this sense memory where each line will be subtly different. I think he's a theater trained actor and started his career doing voice stuff.
He's said there is no difference between him and Bobby. He's so natural. And being natural on camera is very hard.
Is there a message you want people to walk away with?
Huang: I think there are a lot of messages and every message we put forward we see from different sides. As artists, for us it is more interesting to explore the shades of grey. And a subject matter that can cut both ways. So instead of instilling people with a certain message, we start from this kernel... That's so specific. It's Romania and it's Dallas, a show people haven't thought about in a while and Romania, a marginalized country. The progress of the film is taking these more obscure elements and by the end, he's flying over Romania and feeling time and history and I think it's more of that feeling of connected humanity... That's the progress of the film. From specific to the universal. God is in the details.
Who is your target audience?
Huang: For me, I'm prepared to be surprised. People who made Dallas probably never knew it would have the impact it has had on the other side of the world in Romania. I think it's just part of the deal, when you release work into this world, that it's like your kid and it's heading out the door. You don't know what will happen to them or where they are going to end up in this life. They're kind of on their own.
But you hope that your kid does well.
Huang: You hope for it but you can't control it. It's the destiny of work.
Photo courtesy of Berlinale, used with permission.
Popular in the Community