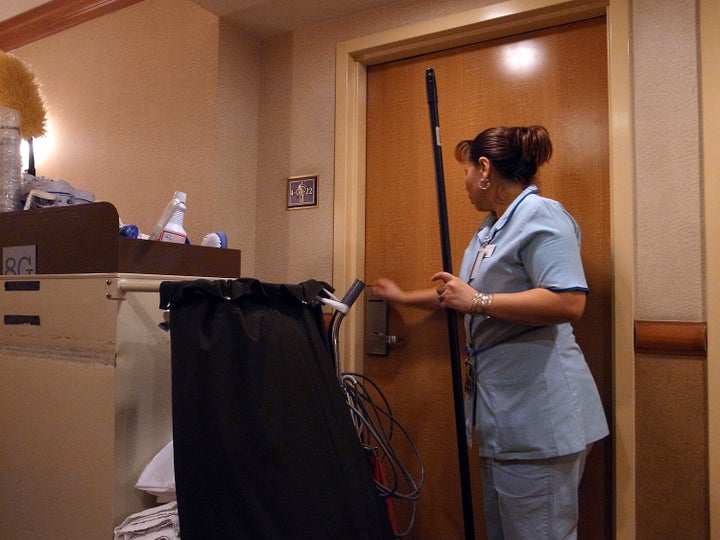 Many worker advocates view sexual harassment and assault as a pervasive danger for hotel housekeepers who work alone. As HuffPost reported last week, the concern is so great that several cities have moved to outfit housekeepers with handheld panic buttons that can alert hotel security when workers feel threatened.
But at least one group isn't buying the merits of the panic button idea: the hotel industry.
At its annual board meeting last November, the American Hotel and Lodging Association, the leading lobby for the industry, characterized panic buttons as a "fig leaf" for other regulations being proposed for hotels, like higher minimum wages or caps on housekeepers' workloads.
According to notes obtained by HuffPost, the board suggested panic buttons weren't necessary to protect housekeepers, and outlined plans to push back against the new regulations.
"While deemed by many experts and hoteliers to be a solution in search of a problem, the panic button message has proved to be an effective fig leaf for the new workforce rules, making the initiative appear to be about protecting women, rather than the merits of the other mandates," the board notes state.
The context for those remarks was an ordinance proposed in Seattle to require large hotels to provide workers with panic buttons and to track guests who've been accused of harassment or assault. But the ordinance included other measures, such as limiting housekeepers' workloads to prevent injuries and obligating hotels to help pay for workers' health insurance.
Seattle voters overwhelmingly approved the whole package, known as Measure 124, last November. Hotel groups sued to stop the measure from going into effect, primarily over privacy concerns for guests accused of harassment. A judge dismissed the lawsuit targeting the ordinance, which was championed by the hospitality workers union Unite Here.
Panic buttons are rapidly gaining popularity as a way to protect hotel employees who work alone and enter intimate spaces. Seattle was the first city to enact a panic button ordinance. The city council of Long Beach, Calif., narrowly voted one down earlier this year, but the city council of Chicago passed one last month. Hotels in New York City are already required to provide panic buttons under a collective bargaining agreement with labor unions.
As the hotel association's board notes make clear, the hotel lobby fears that unions have a winning issue with panic buttons. Polling and "message testing" in Seattle quickly proved that the hotels' position against the ordinance was a loser, according to the notes. The board said it had developed a new social media campaign to "counter attacks about hotel working conditions" and "illustrate the underhanded union tactics being deployed."
Noting the likelihood that more cities would pursue panic button legislation, the board said it had "already begun to lay the lobbying and campaign groundwork to fight back."
In an email, Unite Here spokeswoman Rachel Gumpert said the hotel association's description of panic buttons as "a solution in search of a problem" was "astoundingly inept and insulting to the tens of thousands of our hotel workers who have experienced unwanted sexual contact and advances at work." She said the group should apologize for "denying the prevalence of sexual harassment of hotel workers as well as insulting the intentions of women who are fighting back against it."
Rosanna Maietta, a spokeswoman for the American Hotel and Lodging Association, said in an email that the safety of guests and hotel employees is a "top priority," and that the group had partnered with non-profits to develop safety training programs for hotels. She also noted that the Seattle ordinance "went beyond simple panic buttons" to include the other provisions.
"While no industry is immune to dealing with sexual harassment as the headlines over recent weeks have shown ― from Hollywood to the media industry and even [the Service Employees International Union] ― our industry has in place procedures and protocols for employees around reporting and prevention and these are continuously reviewed and updated," Maietta wrote. "As an industry, we will continue our work, day in and day out, with a focus on ensuring America's hotels are secure places for all those who work and visit them."
The panic button measure approved in Chicago also requires hotels to develop sexual harassment policies, show workers how to report incidents and provide them with time to file complaints with the police. Maietta said the ordinance was "the product of collaboration and compromise" between stakeholders including the Illinois hotel lobby.
The Chicago law gained wide support after Unite Here released the results of a survey of 500 Chicago-area hotel and casino workers. More than half of hotel workers said they had been sexually harassed by a guest, and 49 percent said they had experienced guests answering the door naked or otherwise exposing themselves.
One such worker shared her story with HuffPost. While working as a minibar attendant, she was invited into a room by a male guest who turned out to be masturbating. "I felt like crying," the worker said.
Correction: This post originally stated that the Seattle ordinance could be waived for hotels with collective bargaining agreements. In fact, only the portions of the ordinance not related to sexual harassment could be waived.
From the American Hotel and Lodging Association 2016 board meeting notes:
Popular in the Community