After a day exploring the cobbled streets of San Miguel de Allende in central Mexico's hilly interior, I was ready for a late lunch. I was thinking guacamole and chips. Though I could have chosen an outdoor café near El Jardin, the central square or one of the rooftop restaurants with views of La Parroquia, the massive 17th century cathedral, I found myself headed down Calle Cuna de Allende towards my hotel on Aldama.
I knew that at Hotel Matilda, I'd find a relaxing spot with delicious food and, besides, I was craving a delicious prickly pear margarita made to perfection by bar manager Pablo. As I settled into a table on the restaurant's patio framed by fuchsia bougainvillea, I couldn't imagine a more idyllic setting and, believe me, this charming Spanish colonial town is full of them.
Opened in 2010, the Hotel Matilda is owned by Tennessee businessman and longtime San Miguel homeowner Harold "Spook" Stream. Design features such as local cantera stone, slate gray and metallic accents, an infinity courtyard pool and artwork from cutting-edge Latin artists like Bosco Sodi and Nacho Rodriquez Bach make this hotel a radical departure from the town's typical hacienda-style B&Bs. The 32 rooms with white-on-white décor with leather headboards, marble floors and original black-and-white photos of San Miguel street scenes convey a chic minimalist aesthetic while the Converse sneakers worn by staff convey a sense of whimsy and playfulness.
One of the most interesting developments and one that is sure to draw more culinary fans to the hotel is last month's announcement that Mexico City superstar Enrique Olvera of Pujol, widely considered one of the capital's best restaurants, has taken over the fine dining restaurant Moxi along with the more casual Bar Matilda. Several years ago, I had the opportunity to dine on his modern Mexican cuisine at Pujol and found it to be one of my very best culinary experiences. Diners at Matilda can expect dishes like octopus in a pico de gallo and olive sauce and rib eye with baby onions and seared cactus. Olvera will also be working with local organic purveyors including Purisima de Jalpa for herbs and vegetables and El Capricho for fresh goat cheese.
The second-floor cocktail lounge whose outdoor patio overlooks a huge jacaranda tree adorned with modern glass lanterns has been quite the scene -- many patrons are drawn by the deliciously potent cocktails including the aforementioned prickly pear margarita made with blanco tequila. It's also one of the few places in town to sell Casa Dragones, a new small-batch, limited edition tequila created by Mexico's only female master tequilera, Bertha Nieves and her American partner Bob Pittman (MTV, AOL), who owns several homes here including the private Casa Dragones hacienda, available by request for special tastings (Martha Stewart was a recent guest). Additionally, it can be sampled at high-end cocktail bars and restaurants including the see-and-be-seen rooftop bar La Azotea, which attracts the fashionable set from Mexico City.
After a night on the town, the perfect antidote is a massage in the 4,700-square-foot spa. In addition to four treatment rooms and an indoor/outdoor relaxation area with a fireplace, it also offers a self-administered hammam ritual (exfoliation, body mask and aromatherapy steam) and indigenous treatments including a "tres leches" wrap and other therapies incorporating coffee, cocoa and mint.
After sweating out the toxins, I was ready for some shopping. Ave Maria sells kitschy Frida Kahlo and Lucha Libre t-shirts and handbags, while Zapateria Martha is where you can find the town's famous "combat cocktail sandals," open-toe shoes with elastic straps (as any gal will tell you, those cobblestones can be brutal). At Lucy Garden Aromaterapia, browse among the fragrant organic essential oils and candles. And there's always something interesting at the Artisans' Alley, three blocks of tented stalls filled with Mexican crafts including decorative crosses, retablos (oil paintings on tin or copper) and turquoise and silver jewelry. So whether you're enjoying a day of shopping or a salsa-dancing night on the town (or both), it's always nice to return to the comfort of Hotel Matilda.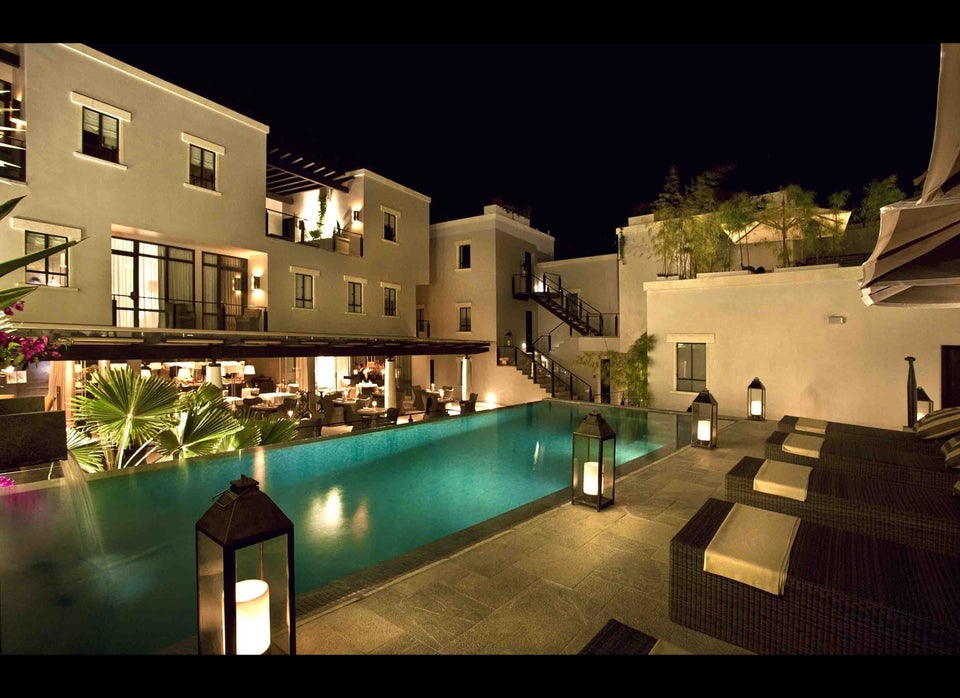 Hotel Matilda
Related