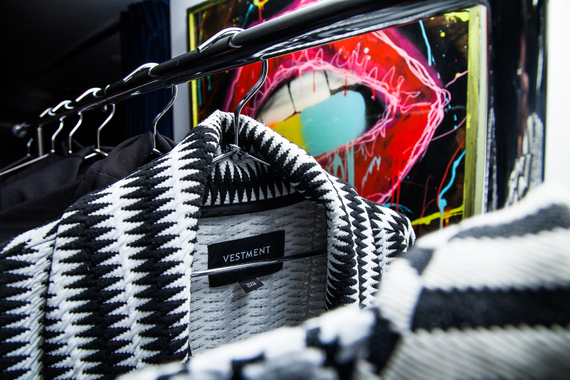 [Photo: Cavier Coleman, among one of Hotel on Rivington's exhibiting brands, Vestment clothing brings luxury loungewear that keeps you covered and comfortable.]
Looping brands together, and swirling in a 360 degree brand-to-consumer experience, pop-up events serve as a smashing platform for the new and established to shape, shine and boost their profiles in the public eye. Most regularly, they serve as intimate experiences for consumers to interact with emerging brands and get an exclusive look at new trends and unseen designs. All while throwing back a complimentary cocktail or two. Serving up a beguiling experience to tastemakers, fashion influencers and hotel guests, Hotel on Rivington was the recent backdrop for a stellar rendition of holiday art meets style through its "1315 Holiday Pop-up" experience.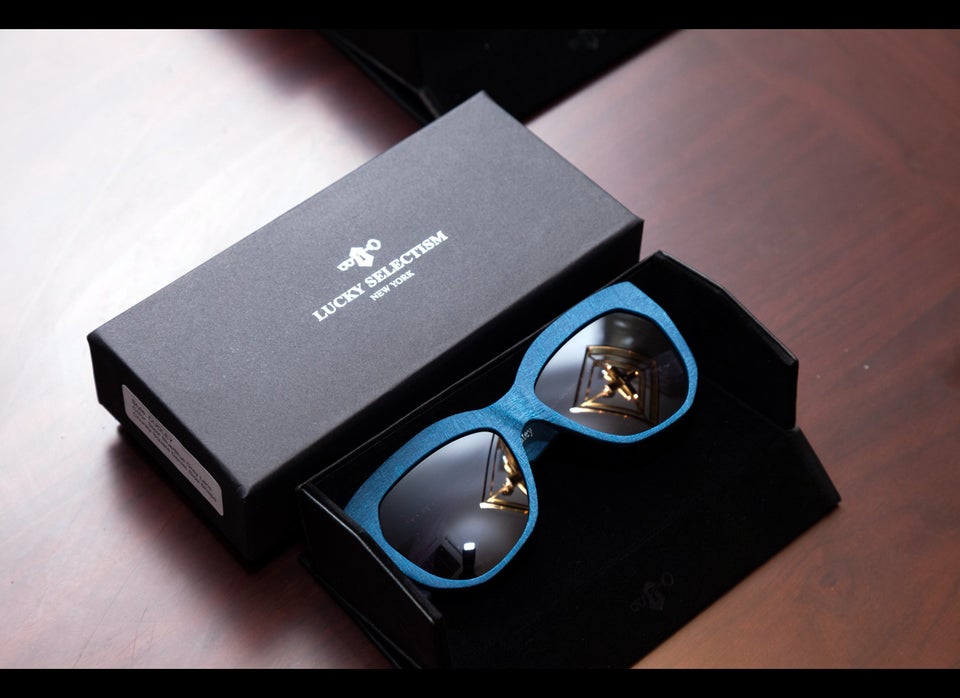 Hotel on Rivington brings Fashion & Art Infused 1315 Holiday Pop-up
On the day of the 1315 Holiday Pop-up, temperatures plummeted to a frigid low, thus leaving a warm, but tantalizing thrill to the inside atmosphere. Like most pop-up events, the space was tight, but the room maintained an inviting allure. As we bounced our attention from product to product, our eyes offset by a sky-lit atrium and the Spanish tile mural of Café Medi's main dining room below, with guest enjoying lite bites and Mediterranean cuisines from the restaurant's menu, and speciality wine-infused vodka drinks by Maven Cocktails. Comfy, Oak-paneled walls played up a cozy Winter theme, supported by an array of colorful decor, plush velvet furniture, and vibrant art displays by Domingo Zapata and Matheus Goulart of Art on Rivington's rotating art program.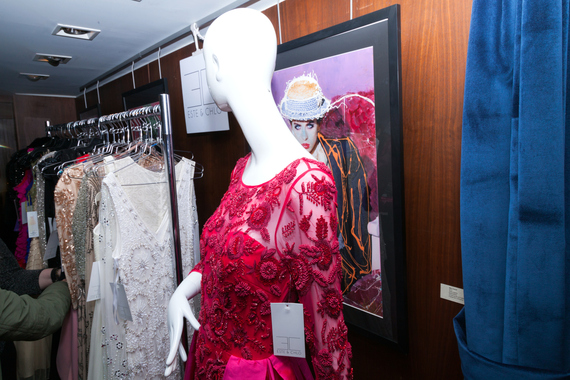 Launching just one week before Christmas, and with the goal of appealing to both a consumer friendly and an 'industry' audience bred its challenges. Yet as the fashion world becomes less and less a mystery, and commerce becomes the reality, merging the two audiences has allowed brands a sensible leverage to the hotel's volume of traffic, while securing new customers instantaneously. Among 1315's selected fashion brands were Henry Picado's Este & Chlo, Lucky Selectism, VESTMENT NYC, EGAMI suits, and MARAM Paris, a popular emerging designer as seen in Elle, Vogue, and Harper's Bazaar.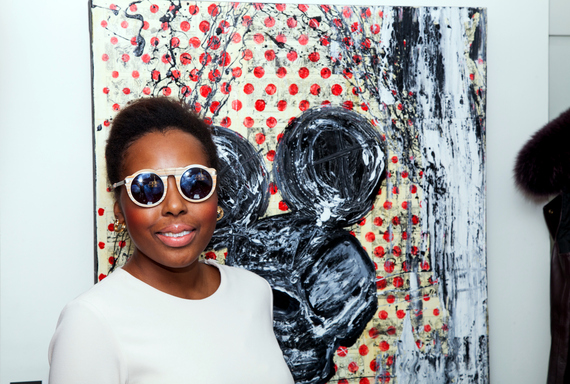 [Photo: Cavier Coleman, Hotel on Rivington guest Tiffany Fitzgerald sports Lucky Selectism's "Lavern" shades at 1315 Holiday Pop-up. Pictured behind Fitzgerald is a vibrant art display by Domingo Zapata and Matheus Goulart of Art on Rivington's rotating art program.]
As colorful patrons peeled into the vertical space, "most of the products seen here maintain a chic hipness in the midst of a luxurious aesthetic." quoted a renowned fashion stylist with enthusiasm. Notable feedback for an atmosphere usually full of harsh remarks, especially within the presumptuous, fashionista' driven events that revel amongst the downtown avenues.
Set in the heart of the trendy Lower East Side, this sartorial experience served as an illustrious backdrop and celebration of the city's best new designers.