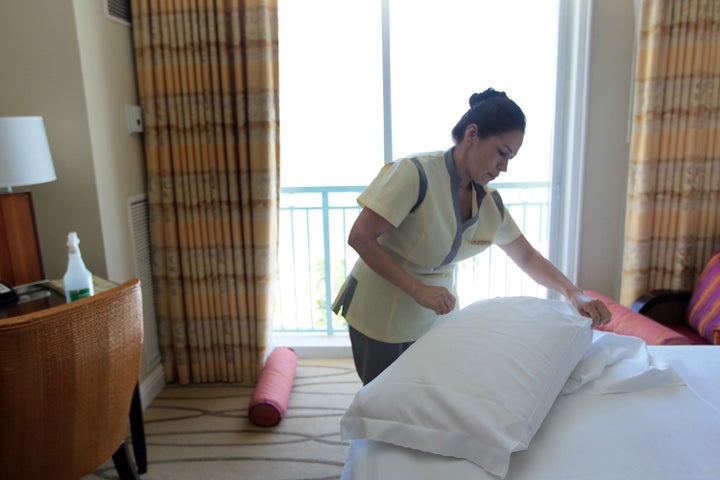 More than a dozen low-level hotel workers in Indianapolis have filed a class-action lawsuit against ten of the city's hotels and a labor staffing agency, claiming they were routinely cheated out of pay with the knowledge of hotel management.
The workers -- most of them Hispanic immigrants employed as housekeepers, dishwashers and bussers -- say they were forced to work off the clock and through their unpaid breaks, sometimes pushing their earnings below the minimum wage of $7.25 per hour. The suit could potentially involve more than a thousand workers and millions of dollars in claims, according to the hotel workers union UNITE HERE, which is organizing workers in Indianapolis.
The employees named in the suit worked for a labor agency called Hospitality Staffing Solutions (HSS), which provides lower-rung workers to hotel companies like Hyatt on a temporary basis in cities across the country. On its website, HSS declares itself a client's "secret weapon for improving service while cutting costs -- 12% annually, on average."
A HuffPost report in August chronicled how the outsourcing of work to HSS has led to a two-class system within certain hotels, as lesser-paid agency workers toil alongside better-compensated direct hires. Several Indianapolis hotel workers told HuffPost then that the agency shorted them on their wages and threatened them with dismissal if they couldn't finish their work in the allotted time. The CEO of HSS said at the time that any instances of unpaid wages were honest mistakes and that the company took the allegations seriously.
Management at Georgia-based HSS could not immediately be reached for comment. This isn't the first time the company has been sued by workers. A former manager in Pittsburgh once filed a lawsuit claiming he was fired because he stood up for housekeepers who weren't being paid what they were owed. The company has also been criticized for an advertisement it ran in a hotel trade publication that showed tiny workers inside a vending machine, apparently ready for purchase.
The HSS-staffed hotels named in the Indianapolis lawsuit include Embassy Suites, Marriott, Westin, Hyatt, Holiday Inn and Omni properties.
Martha Gonzalez, 28, one of the workers now suing, tells HuffPost she worked at Hyatt and Marriott properties as an HSS employee earning the minimum wage. She says that she was required to come in early and prepare her housekeeping cart before punching in, and that she often wound up working through her lunch break or clocking out to finish work at the end of the day, to avoid being punished. She says she quit last summer.
"I was sick of getting a check that didn't meet my family's needs," Gonzalez, who's from Mexico, says through a translator. "Every check was just too small. I was so tired of working in a place under pressure, getting calls from the manager, 'Are you finished? Are you finished?'"
Plaintiff Anastasia Amantecatl, who worked for HSS as a housekeeper at a Marriott, claims that she was compelled to show up two hours before her shift actually started each day. "This was necessary for her to complete her required number of rooms for the day," the lawsuit states. "She was not compensated for this time nor was she paid the required overtime premium for this time." The lawsuit alleges that between 20 and 25 housekeepers found themselves in a similar situation at the hotel.
Many hotel workers in Indianapolis have told HuffPost that their workloads have increased in recent years as their wages have remained flat or even gone down. Workers and their advocates partly blame the outsourcing of previously in-house jobs for deteriorating work conditions.
A hotel company can save money by shifting some of its workforce to a company like HSS, since it would no longer be responsible for providing costly worker benefits. But workers employed by labor agencies are technically temps, sometimes going years on end without receiving health coverage or pay raises. Similar temp outsourcing has become widespread in the warehousing and logistics industries, where many workers blame the temp model for their low wages and lack of benefits.
Officials with UNITE HERE argue that the outsourcing at hotels has hidden costs for the city and state, such as the taxpayer-funded health care that many agency workers' families end up using. "I don't think the taxpayers of Indianapolis should be the ones to subsidize these workers because these corporations don't want to [provide] living wages and benefits," Becky Smith, a union organizer, told HuffPost last summer.
Salvador Perez, a 38-year-old father of two from Mexico, is also named in the hotel lawsuit. He says that he worked for HSS for the last few months of 2011, earning the $7.25 minimum wage as a dishwasher. He claims he would regularly work a 40-hour week but end up being paid only for 35. He says he's suing with his colleagues to recover back wages and "end the exploitation that's happening at hotels downtown."
"We struggled to pay for diapers for our baby," Perez says. "We had to go to food pantries and churches to feed our families. They always said, 'It'll come with the next check, it'll come with the next check.' But it didn't."
Popular in the Community