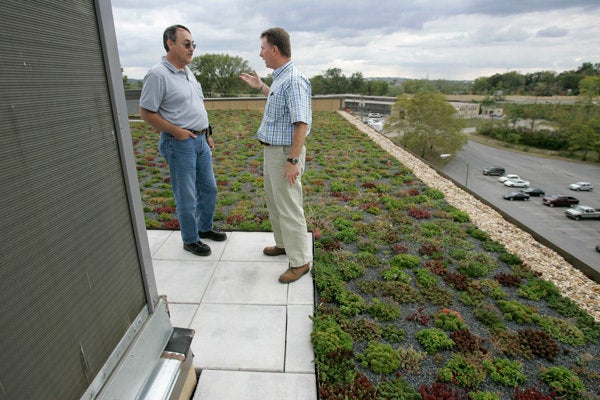 Hotels are looking for new ways to run more efficiently and looking to nature to give them some ideas. The latest in green technology is allowing hotels to push the eco-envelope and create energy efficient roof systems that also help the environment, and provide a visually beautiful space for their guests to enjoy.
The newly constructed Hilton Baltimore continues to break records with their proactive "green" policy, which Hilton looks upon as a commitment to the community and environment- a top level priority which stems from the top at the corporate level and is implemented down to the property level.
Mark Ricci, a director for Hilton explains, "Responsible environmental activity is good for both our business and the community, including a comprehensive company-wide policy to promote our business practices that help preserve the environment".
The company's provisional guidelines for all their facilities, are to "reduce - reuse - recycle" as much as possible, including new initiatives for thier roofs.
So what is the latest eco-plan at Hilton? Living Green Roofs. (The launch of thier premire green roof at the Hilton Baltimore in August of this year is the first of more to come for Hilton Hotels).
So, what are Green Roofs and how can they help our environment?
Green roofs, also called 'vegetative', 'living', or 'eco-roofs', are living plants installed on top of traditional roofs. In addition to providing a haven for birds and other wildlife, the green roof provides many other benefits for the environment-- the reduction of storm water runoff, reduction in the amount of blacktop roofs in the city which reduces the heat island effect and reduction of HVAC cooling loads resulting in the lowering of utility bills. Green roofs also have the additional advantages of lengthening the waterproofing membrane life of the roof and help to improve the air and water quality of the area.
It is not just happening in the U.S. Hotels around the globe are choosing to guide their business towards efficiency utilizing green roof technology.
The Songjiang Hotel will be a five-star resort hotel set within a beautiful water-filled quarry close to Shanghai in China, expected to be completed by May, 2009. What makes this new resort unique to China is the innovative design of the 400-bed resort hotel. The hotel will stand two levels higher than the rock face of the 100 meter deep quarry, making its green roofing visually balanced in nature, with sustainability as the integral key to its design.
Back in the States, InterContinental Chicago's eco-mantra states, "We, the staff and leadership of InterContinental Chicago, are committed to doing our part to preserve our most precious of resources - the world we share. We will strive to create harmony between our environmental responsibility."
Besides recycling, and purchasing 'Green Sustainable Energy Credits' for 50% of the energy it utilizes annually, the hotel initiated "waste minimization" with a program that donates table scraps and leftover foods to local farms or composting sites. They have also introduced 'Green Weddings' and 'Green Meetings' options for event planners, bicycle rentals, organic wines and foods, and distribute seeds to employees to encourage giving back to the environment.
Most notably, the hotel recently created a green roof on their historic tower this past summer, including solar thermal panels to heat hotel water, and is in the final stages of receiving LEED and Green Seal certification.
Their green progress recently won them an important accolade, garnering the first Energy Star rated hotel in the Windy City to be certified with this sustainability merit.*
As hotels in cities build their green roofs and set the gold standard for green initiatives, resorts like the Golden Arrow Lakeside Resort in the heart of Lake Placid, has been one of the U.S.'s green leader, operating as a sustainable resort for many years. They are one of only a dozen properties in North America to have received the Audubon Society 4 Green Leaf Eco Rating for hotels.
Working with an engineering company to create the green roof, the owners wanted plants that could withstand the winter months, and low growing plants that would not block views. They also requested flowering plants and herbs that would bloom at different points of each season, keeping the visuals consistent with what was happening with nature.
Attracting wildlife is one benefit of their green roof, but most importantly is storm water management for Mirror Lake, and the priority for water run off from the hotel's roof to be as pure as possible, since the resort sits just 50 feet off the water.
Another plus for the hotel, is being able to communicate to visitors what is eco-possible--teaching how guests can take away green tips on becoming more sustainable once they return home from their holiday at Golden Arrow.
So what does this all mean to consumers?
Glenn Hasek, from Greenlodgingnews.com mentions that guests will find aesthetics most pleasing. Hasek says, "Instead of looking at unattractive roofs, they will be experiencing a relaxing and comforting experience aesthetically."
Hasek also suggests that eventually cost savings may be passed onto the consumer, as the reduction in heating and cooling, and added insulation from organic rooftop coverings from green roofs, will help run hotels more efficiently.
Adventure Girl, Stefanie Michaels is an eco-travel and lifestyle expert and an advocate for the environment. Her site Adventuregirl.com offers tips for travelers on green locales around the globe, as well as granting monthly Adventure Girl Green Awards to hotels and resorts making good on their green initiatives.
You can reach Stefanie at www.adventuregirl.com
For more information on these hotels:
http://www.greenlodgingnews.com/GreenAssociations.aspx
Hilton Reservations Worldwide: at 1-800-445-8667/ www.hilton.com
Intercontinental Hotels: 800-628-2112/ www.icchicagohotel.com
Golden Arrow Lakeside Resort: 518- 523-3353/ www.golden-arrow.com
*Energy Star ratings are awarded by the U.S. Environmental Protection Agency (EPA) and U.S. Department of Energy.
Calling all HuffPost superfans!
Sign up for membership to become a founding member and help shape HuffPost's next chapter