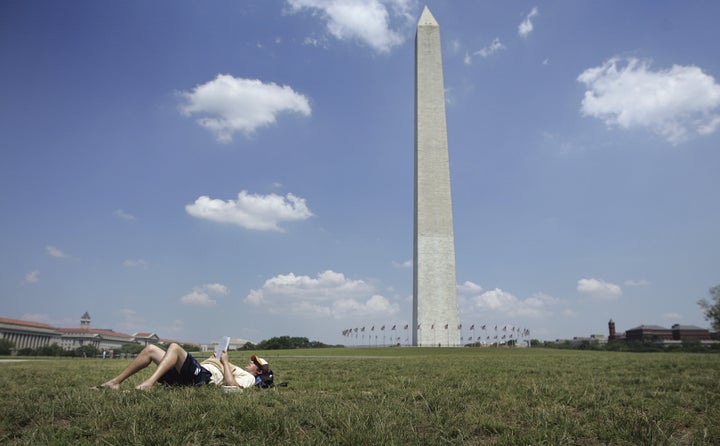 Just call it "the bailout effect." Likely fueled by huge increases in government spending, Washington, D.C. may the best city in America for job seekers, according to a new ranking by the job search engine JuJu.com.
The folks at JuJu.com worked off the latest data from the Bureau of Labor Statistics and compared the number of job seekers to the number of job postings on their site. According to their calculations, there are just under two unemployed individuals per advertised job in Washington, D.C. Detroit ranked at the bottom on the list, with nearly 21 unemployed people for every job posting.
To be fair, Juju.com's method leaves a little bit to be desired. Rival job site Indeed.com runs its own set of rankings using a very similar calculation and comes up with some very different numbers. In an October ranking, Indeed.com also found the nation's capitol to be the best city to find a job, but came up with a significantly lower job seeker-to-job posting ratio.
And earlier this year, the Milken Institute, a nonpartisan think tank, got even more granular and examined smaller cities' job-creating potential by examining things like costs, wages, taxes and technology. (Cities in Texas dominated the list.)
Still, by sheer number of publicly advertised positions, Juju.com's list suggests a few unexpectedly hot cities. Here's the top ten:
1 Washington, DC 1.87
2 San Jose, CA 2.68
3 Baltimore, MD 2.91
4 Boston, MA 3.11
5 New York, NY 3.35
6 Salt Lake City, UT 3.35
7 Hartford, CT 3.60
8 Denver, CO 3.81
9 San Antonio, TX 3.84
10 Austin, TX 4.30
Here are the bottom ten cities on JuJu.com's list:
40 Portland, OR 8.91
41 Orlando, FL 8.92
42 Providence, RI 0 9.23
43 Birmingham, AL 9.62
44 Los Angeles, CA 10.43
45 Sacramento, CA 10.97
46 Las Vegas, NV 11.85
47 Riverside, CA 12.35
48 Miami, FL 0 14.47
49 St. Louis, MO 17.98
50 Detroit, MI 20.76
REAL LIFE. REAL NEWS. REAL VOICES.
Help us tell more of the stories that matter from voices that too often remain unheard.