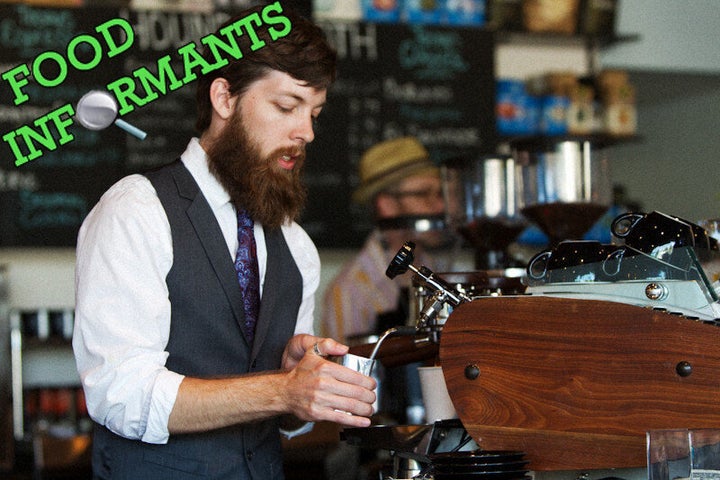 Food Informants is a week-in-the-life series profiling fascinating people in the food world. We hope it will give you a first-hand look at the many different corners of the food industry. Know someone who would make a great Food Informant? Tell us why.
Sean Henry is the owner of Houndstooth Coffee in Austin, Texas. Not until graduating from the University of Texas at Austin with a degree in Radio, Television and Film, did Sean even begin drinking coffee. While working at a local grocery store, Sean began to explore the coffee world region by region. After the initial broad strokes of regional coffees, he began working at local cafes, learning the art of being a barista. At Houndstooth, Sean aims to provide customers with the sophisticated taste and presentation of a perfect cup of Joe. He not only finds value in a well-crafted cup, but in the coffee drinking experience as well.
Drawing from his passion of the craft as well as his passion for communal spaces, Sean keeps busy with planning and organizing Houndstooth events, overseeing quality control, monitoring all daily operations and paving the way to future coffee development. When he's not running and operating a small business, Sean enjoys non-fiction reading, film, and conversation. Even though Sean's work often leaves little time for hobbies -- or sleep -- he still finds time to spend with his wife Melissa and their two children, Ananda and Alden.
Read Sean Henry's diary below to learn how to manage a growing coffee shop and exactly what it takes to make a perfect cup of coffee.
After a week in Durham visiting one of our roasters, Counter Culture Coffee, this week starts out with a decent amount of catch-up.
Monday, November 7: Day Off
7:30am: Head to Houndstooth Coffee.
7:45am: Sit down with cup of house blend -- Meritage from Cuvee Coffee. Passes QC (quality control) test for balance, acidity and calibration of equipment... and awakes my brain.
7:50am: Write emails to leadership regarding our new hire, Liz. She has previous experience but we want to make sure that everyone gets up to speed with our methodology and practices. We want to make sure our standards and expectations are clear from the beginning, with the hopes that our baristas rise to the standards we have already set in place.
8:45am: I jump in behind the bar to help prep espresso-based drinks, brew coffees and orient people at the register.
10:00am: Leave to pick up family from airport. My family has been in West Texas all week, so I'm excited to see my wife, 26-month-old daughter and 3-month-old son.
11:00am: We hoped to stop for a burger on the way back from the airport, but my daughter was homesick (crying) to see her puppy, room and home.
12:00pm: Kids down for naps.
12:15pm: Computer work -- emails and social media.
12:45pm: Watch an online episode of Parenthood from last week with the wife.
2:00pm: Nap over. Potty time. Running around house. Dora the explorer on the couch. Potty Time.
4:00pm: Work on training materials a little bit more. We try to frame our training and evaluations under the overarching and all-encompassing umbrella of Guest Service. Three categories exist under Guest Service: 1) Bar Work (what guest sees) 2) Operations (work guest doesn't or shouldn't see) 3) Narrative, communication and articulation (increasingly important category of relating coffee knowledge in a real way).
5:00pm: Head out to dinner for the burger we missed at lunch. My brothers Paul (Houndstooth Coffee General Manager) and Marc (works at the business next door to Houndstooth) come to meet us.
6:30pm: Home for bathtime, bedtime and general rest.
Tuesday, November 8: Meetings
6:35am: Text message about needing merchandise from my attic.
7:15am: Walk dog, get kids up and dressed.
7:57am: Text message from shop -- "we need you" -- meaning "we are slammed right now and need your help up here... ASAP."
8:00am: Ok, great -- so now we load everyone into car and rush to shop with the family.
8:10am: Rush home due to forgotten shoes.
8:17am: Whew -- make it to shop for cleaning up after rush.
8:30am: Single Origin Espresso -- Finca Mauritania, El Salvador -- ahhhhh.
9:30am: Meeting with our trainer Daniel to discuss specifics of what he will go over with Liz next week.
11:30am: New Hire Orientation.
1:00pm: Home to clean out office of various boxes and packages of small wares we have accrued over past few weeks.
2:00pm: Suit fitting for my brother Paul's wedding in a couple weeks.
3:00pm: Meeting Houndstooth barista Sammy to discuss operational/ordering issues. As we've seen great growth since the end of the hottest Texas summer on record, we've needed to up our pars the past few weeks and continue to make time for our daily cleaning duties.
4:30pm: Half a beer by myself on the porch before heading home.
5:00pm: Phone call with Realtor to discuss future opportunities for growth, however far off they may be. It took us 1 full year from signing a lease to opening in our current space.
6:30pm: Dinner, bath time, bedtime.
7:30pm: "Meeting" with wife about last week's trip, finally we get to talk about it. Somehow we had been too tired between youngsters and business to do this until now.
9:00pm: Watch Parenthood/drink a Sierra Nevada Celebration -- love this beer.
Wednesday, November 9: Hmmm
7:00am: Handsome Roaster espresso -- ahhhh -- so interesting as espresso. It requires "work" to dial in and usually results in a very unique coffee.
7:15am: Check yesterday's numbers then help out behind bar. Not only do I enjoy working with coffee everyday, I enjoy sharing it with people as well. Hopefully I can model for my staff different ways to help our guests get excited about coffee. This requires knowing them personally and knowing our coffees intimately, then trying to match the two together. Always a fun dance.
9:30am: Converse with customer-friend about theology from my previous week sitting in on classes with my friend at Duke Divinity School.
11:30am: Lunch/conversation/meeting with Paul, who's taking over more responsibilities around the shop.
1:00pm: Discuss ordering coffee with Daniel. It can be a fiasco getting coffee from four roasters (Cuvee, Verve, Counter Culture, and Handsome Coffee) from four different cities to be ready for brewing the correct number of days off roast. This is the easiest arena outside of overstaffing to lose money... and quickly.
2:30pm: Head home to spend time with kids.
6:00pm: Dinner, bath time, bedtime.
8:00pm: Time to sit down with the wife, beer in hand.
Thursday, November 10: Beautiful and Productive
5:30am: Daughter awakes earlier than usual, but we have a good time playing in her room and watching Dora the Explorer on the iPad.
7:15am: Take car to the repair shop.
8:00am: Help behind bar.
8:30am: Morning espresso -- handsome, even better today than yesterday.
9:30am: Shop door propped open at the shop -- weather feels great outside with lots of sun and temperatures in the low 70s today. All guests feeling the good vibe for coffee shop weather.
11:00am: Lunchtime with fam.
12:00pm: Kids down for naps.
12:15pm: Quickbooks! A necessary evil of computer work to ensure our books are in as good a shape as the coffee.
3:30pm: Inquire with staff at shop as to how our public cupping went. We offer two each week to help educate people and create more opportunities for palate growth in the community for our guests and staff. Sometimes 10 people show up, sometimes two. Today brought five people.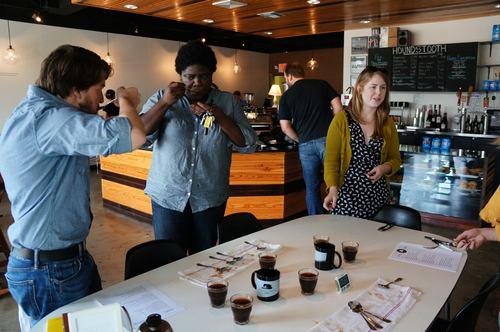 4:00pm: Pick up car from shop. Thankfully all is well, just cost me $150 to have them say so.
6:30pm: Dinner meeting with leadership team. We try to meet once a week over dinner, sort of family-style to discuss and brainstorm and keep each other in the various loops. With a small staff of seven people, having three of them be leadership might seem like overkill, but it's really more about creating a true team who makes the most of one another's talents. Paul is the GM in charge of Human Resources and overall shop execution. Sammy is our operational gal who keeps pars stocked, a cleaning regime in place and does lots of little things no one notices. Daniel has become our trainer/educator in charge of disseminating all coffee knowledge, technique and continuing education.
8:30pm: Pub night at the Draught House down the street from the shop. I've been doing this weekly routine for seven years, not about to stop now. A chance to unwind and see any number of old or new friends. People know we're going to be there. In a world where so many people are flaky, it's nice to know that pretty much no matter what, Pub night is on Thursdays from 8 'til whenever...
Friday, November 11: #fancyfriday
7:10am: Wake up late thanks to pub night... tie my tie for #fancyfriday. One of our employees Rudi began wearing a bowtie on Friday to spice up the week, kind of salvage casual Friday. In a city like Austin where most things are pretty casual, the tie-wearing took off and now we all do it. Customers love it and it adds a special feeling to the whole day.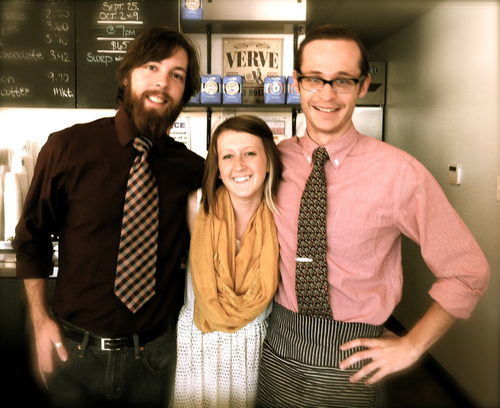 7:30am: Arrive at work to a five-deep line, work bar. With all of our coffees brewed to order, sometimes it takes a while. We try to get people on their way, but at the same time -- we make an individually crafted cup of coffee just for you... and folks seem to appreciate that attention to detail and quality.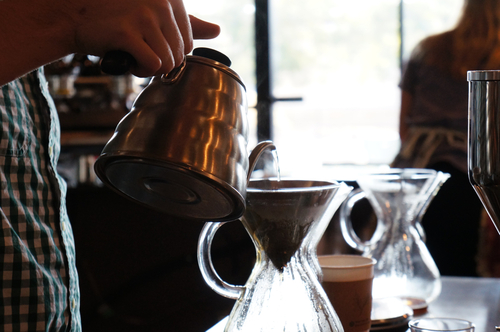 11:00am: More coffee ordering discussion. We ordered 15% more coffee in preparation for Thanksgiving.
12:00pm: Work on new schedule with Paul... so important to get right... so not fun to do.
3:30pm: Email out new schedule.
4:00pm: Have a half-pint and conversation with a wonderfully creative regular, who rode his motorcycle all the way across town just to have a beer with us. It's encouraging to have so many talented people enjoy what we do and how we do it.
Saturday, November 12: Busiest Day of the Week
8:00am: Brewed coffee this morning -- Ethiopian Idido natural sundried from Counter Culture -- berries & body -- yum.
9:00am: Busiest back to back hours ever at the shop.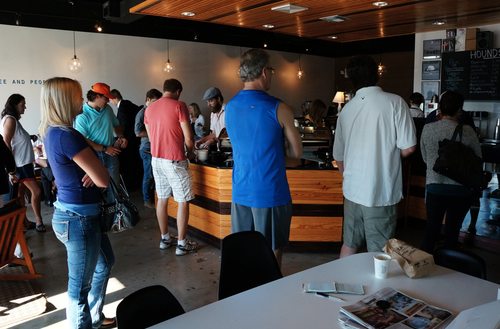 11:00am: Wash dishes.
12:00pm: Home for lunch.
2:30pm: Pack up machine, grinder and tools for espresso training class tonight and Personal Barista Service tomorrow morning.
5:30pm: Quick dinner.
6:15pm: Head to shop for espresso class. We have a couple of regulars who were interested in learning more about the particulars of brewing espresso and steaming milk so we put them together and made a class that was based on our espresso curriculum, but tailored for the home user. They seemed to have a great time. One more class next week.
9:30pm: Class over -- time for a beer with our trainer, Daniel. We had a great conversation about the future and those "teachable moments" where we bring somewhat different ideas together for people when they least expect it in a way that pleasantly surprises them.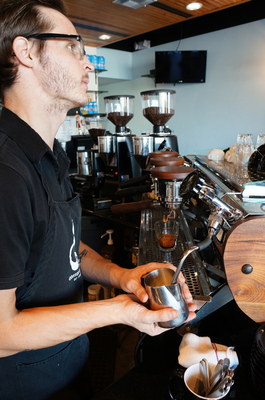 Sunday, November 13: Taking it to the Streets
6:50am: Arrive at shop to prep cupping materials for spot on the weekend local news.
7:05am: Sermon Espresso from Verve -- nothing better than a juicy "sermon" on Sunday mornings... yes, we serve this as one of our espressos every Sunday..
7:30am: Arrive at KXAN News studio.
8:20am: Local news spot about the "official" way to taste coffee -- a cupping. What we call "slurping with style." This kind of event is fun because we get access to a wider audience to share what we love about coffee and help people change the way they think about or taste it. Education is a key component of our business model because a smart guest is a good/ repeat guest. So doing events like this is a great way to propel not just our coffee, but specialty coffee forward. (Here's a link to the news segment)
9:00am: Head back at shop to help out behind bar.
11:30am: Print out new hours of operation sheet. We are shaving a couple of hours from Monday nights because they have been extremely slow.
12:30pm: Unpack stuff from espresso class & personal barista service.
1:30pm: Try to relax rest of the day...
2:30pm: Pay shop bills.
3:00pm: Create labor hours spreadsheet for weekly schedule.
4:00pm: Start dinner and relax.
7:00pm: Kids down, drinks, Scrabble time.
See more Food Informants below: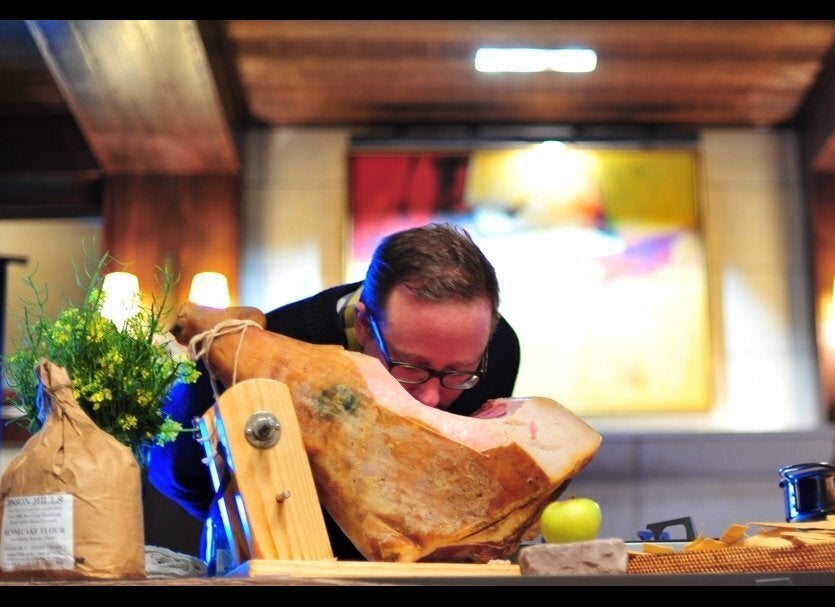 Food Informants(CLONED)
Related
Popular in the Community