Houry Gebeshian appears to be living in a Hollywood screenplay. Her life resembles a gymnastics version of the 1993 cult football classic "Rudy," complete with training montages, unlikely mentors, against-the-odds triumph, and lasting glory.
This month, Gebeshian became the first female gymnast to represent Armenia at the Olympic Games, had the best meet of her life and ensured that the uneven bars mount she invented will bear her name for the rest of gymnastics eternity.
She did all of this at the elderly-by-elite-gymnastics-standards age of 27. After coming out of retirement to take a shot at the Rio Games. While working full time as a physician assistant at the Cleveland Clinic.
The training montages basically make themselves. And they come with a sweeping backstory and a compelling emotional arc: a family on the run from violence, immigrant parents working hard for their kids to have better lives, a young woman determined to change the patriarchal culture of the nation she fought to represent. Oh, and there's a love story, featuring a supportive boyfriend who believes in her dream and also happens to know how to treat her injuries.
Someone option this thing already.
Gebeshian's grandparents fled the Armenian genocide in 1915, moving to Lebanon to escape the violence. A generation later, her parents fled the Lebanese civil war, moving to the U.S. to escape that violence. A generation after that, Houry, born and raised in Massachusetts, would apply for Armenian citizenship so that she could compete for the small Eurasian nation.
Gebeshian started gymnastics at 5 years old, working her way up through the competition levels. By the time she was a high school sophomore, she was competing at the Level 10 national championships, and soon, college coaches came calling.
She went to the University of Iowa, and it was during her sometimes-rocky, occasionally disappointing college career, she told Flo Gymnastics, that she realized "I'm actually a pretty good competitor, and I can compete with the best on the stage." She won the gold medal on beam at the NCAA national championships in her junior year and represented the Hawkeyes in the all-around at nationals in her senior year.
In 2010, as she was getting ready to graduate with a degree in athletic training, she started thinking about the 2012 Games. The U.S. talent pool was exceptionally deep, and her chances of making that team were slim, but Armenia has no elite women's gymnastics program to speak of.
Countries with small gymnastics programs, or with weak programs that do not field whole teams or place highly if they do, can be eligible to send a single gymnast to the games, as nations like India, Australia and New Zealand did in Rio. Gebeshian secured Armenian citizenship, and began training with an eye to competing in London under the Armenian flag.
She went to the World Championships that year, the first step to qualifying for the games. "I was a little bit starstruck because I was thinking, 'Wow, I am competing in the same arena with the best gymnasts in the world,'" she told Flo Gymnastics. And it showed in her performance: she finished just one spot shy of qualifying for the Olympic test event. Gebeshian was given an alternate spot, and left in the uncomfortable position of quasi-hoping that a fellow gymnast would get sick or injured and have to drop out. No one did. She was crushed: "I felt like my life was over."
She decided to quit. "I left the sport, I decided, I'm not going to do this anymore," she told The Huffington Post, speaking from Rio the day after the closing ceremonies. "Life's not fair." And so she began her life without gymnastics, her life as a normal person.
She enrolled in a master's program in medical science at Wake Forest University in North Carolina, and this is where the sports movie finds its romantic subplot. While on a practical rotation in Cleveland, Gebeshian met a podiatric surgeon and they fell in love.
As she tells it, it was her now-fiance, Duane Ehredt Jr., who urged her to go back into the gym. "He was like, you know what, I think it's possible you should try and compete again at the elite level, like, why not? Nothing's stopping you," she said. She was skeptical: "I was like, please, I'm overweight, I haven't done gymnastics in three years, there's no way."
But he was persistent, insisting that the logistical challenges ― the cost of training, the need for her to continue building her medical career ― could be overcome. "The more and more we talked he was like, 'Come to Cleveland, you can find a gym here, you can find a job here, I'll be here, we can make it work,'" Gebeshian said. "So he kind of convinced me to start back up again."
Which is exactly what she did. She moved to Cleveland and found a job at the Cleveland Clinic, and, with the goal of making it to the 2015 World Championships and qualifying for the Rio Games, she found a gym where she could train, Gymnastics World. So far, so good. Still, by this time, she was 25 years old, over the hill by gymnastics standards. (The average age for women gymnasts in Rio was 20). She was out of shape. And she was working full time in a surgery theater. And the owners of the gym would let her use their equipment, but they didn't have an elite program, which a gymnast typically needs to compete at the Olympic level. So, knowing an elite program was out of financial reach and believing that Gymnastics World could meet her needs, she decided to coach herself.
"At first I thought, 'Oh, my God, what am I doing?'" Gebeshian said. "I started from zero, literally." In the beginning, she was too rusty to even do gymnastics. "I couldn't do anything," she said. "I had to get back into shape. I took the first three or four months and just did strength and conditioning and cardio, just to slim back down." The owners of her gym were supportive ― when the former NCAA gymnast walked in and told them she wanted to go to the Olympics for a nation that had no gymnastics team, she said, "They were like, 'OK, go for it.'"
Still, she was on her own: "I didn't have a coach. I was training myself." And, she was funding herself, working full time to afford training and, eventually, travel and meet registration fees.
During this time, Gebeshian was working from 7 a.m. to 3 p.m. every day, learning everything she'd need to know in the operating room. (Now, she works in labor and delivery, and crams all her shifts into two days, working a 24-hour shift and a 16-hour shift.) She'd work a full day at the hospital, and then she'd go to the gym for four or five hours.
Were there moments when she thought she might be delusional to be doing what she was doing? "Absolutely," Gebeshian said. "I would come home some days and be crying to Duane, 'Why am I doing this?'"
The people around her might have thought she was kidding herself, too. "The first couple of months," she said, "everyone was probably looking at me like, 'Who is this girl? What is she thinking that she's going to be an Olympian and she can't even do a cast to handstand on the bars?'"
Ehredt was a motivational force, and his professional skills came in handy as well. Gebeshian had a lingering foot injury that was causing her pain just as she began attempting her comeback, in 2014, "and so he took care of me, and he resolved the issue. It was good to have him right there."
Going back to the gym required some pride-shelving, as Gebeshian got her body back into shape and then started attempting tricks and routines again. "It was so embarrassing," she said, "and I would come home and be like, 'Ugh, gym was terrible, everyone was looking at me like I was a weirdo.'"
But it paid off. "It was a process," Gebeshian said. "I made a plan and I stuck to it, and it took a lot of determination and dedication and discipline, and it worked out." And, for the young girls who were watching her, it was an education. "I think it was really great for the kids at the gym, because they got to see somebody who had a goal and was determined to make that goal happen," she said.
In Gebeshian's eyes, the fact that she had to start from scratch only benefitted the younger gymnasts who shared the gym with her. "It was actually a good thing that I looked like an idiot when I started," she said, "because they could actually see the transition and see what it takes."
Joan Ganim, the co-owner of Gymnastics World, agrees. "She's been such an example to all my students, because she's showing determination, she has such a great work ethic, and she pushes herself without anyone telling her what to do."
By the time the 2015 World Championships in Glasgow were approaching, the Armenian coaches knew about her, though they weren't helping her out with funding. "They didn't know who I was, they didn't know what I could offer," Gebeshian said. "Which I understood, and I said, 'Fine. I will prove to you that I am someone who is legitimate.'"
To give her a chance to prove that she could handle competing on the world stage, they sent her to the 2015 European Championships. She could, indeed, handle it; she placed 19th. Now, still working full time (slogging through round-the-clock shifts several days a week in the labor and delivery department), she started looking ahead to the World Championships. She competed in Glasgow and placed 68th, strong enough to qualify for a test event in Rio, where she again placed high enough to qualify for the next event. And the next event was the 2016 Olympic Games.
For her trip to Rio, she was assigned an Armenian coach, though not a coach of women's gymnastics. His expertise was in the men's side of the sport, and "he didn't know women's gymnastics that well," Gebeshian said. He was largely assigned to her because he spoke English, "and he was really supportive," she said. "He turned out to be really helpful."
How is this story not a screenplay yet? Because if this were a screenplay, you'd tell the writer to cut one of these obstacles from the heroine's journey, because it's all starting to be a bit much. Did Gebeshian ever worry that she wouldn't make it? That she would get hurt, or embarrass herself at the biggest competition in the world, or do more damage than good to the cause of women's gymnastics in Armenia?
"I really didn't," she said. "I had two goals. One was to get me to the Olympics, and the other was to get Armenia to the Olympics. I knew there were going to be obstacles, but I knew what I had to do to get there."
And in Rio, Gebeshian had the best meet of her life. She competed in a fan-designed leotard – white, with a mountain range drawn out in crystals, a tribute to Armenia – and stuck all four of her routines. She performed her signature mount on bars, jumping over the low bar, completing a full twist in the space between the low and high bar, before grabbing the high bar and launching into the rest of her routine. As she was the first person to perform it in an international competition, it will forever be named after her. When her bar routine was over, she hugged the bars. When her beam routine was over, she kissed the beam.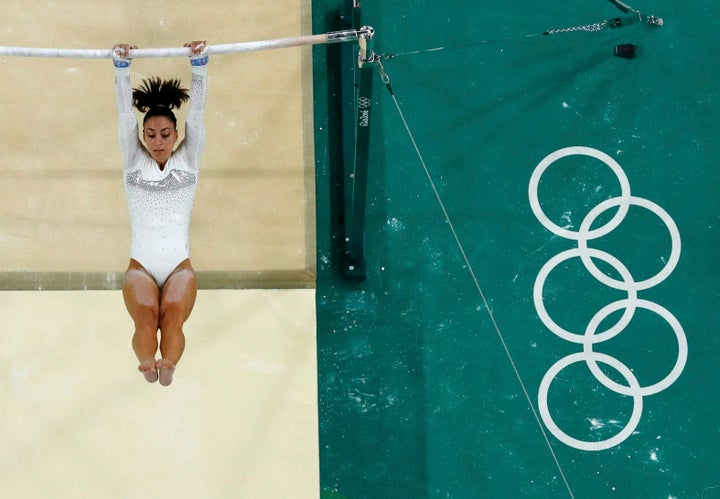 She didn't perform well enough to qualify for all-around finals, but that didn't diminish what she'd accomplished. She became Armenia's first-ever female Olympic gymnast, and, by creating a new skill, advanced the sport of gymnastics. The miserable months of conditioning had paid off, and the outlandish announcements that she was going to be an Olympian had come true.
Gebeshian's story has all the hallmarks of stirring propaganda about the power of the American dream – you know, bootstraps, stick-to-it-ness, ignoring the doubters. Asked if it struck her that her story sounds like a classically American one, even though she competes for Armenia, she says she can see the echoes of the American dream in what she's achieved, but she credits her upbringing "as an Armenian woman," too. "That dedication and determination and discipline, that mix of being an Armenian-American is really what pushed me to get here," Gebeshian said. "It's a mesh of both cultures. I really think that it took both."
Still, she's found far more support in the U.S. than she has in Armenia, where women's gymnastics, she said, is woefully underdeveloped. "We don't have any funding going to our women's program," she said. "It's still a very male-dominated society, I would say." The men don't get extravagant support either, Gebeshian said, but what little money goes to gymnastics goes to them. "I think it's just evolved that all the funding goes to the men, and on the women's side it's more a recreational program and they don't have the coaching or the resources to build anything," she said.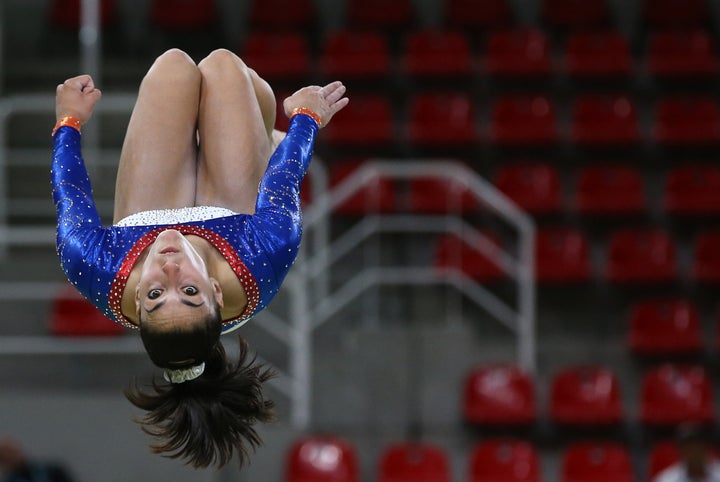 Gebeshian wants to change that. "The reason why I did this is to get more recognition and support and funding for women in Armenia, especially in the gymnastics community," she said. "So I hope that I can give back, and all the funds that I've raised through my GoFundMe will go to that."
But if she wants to do that, it'll once again be up to her. She met with the Armenian president while in Rio, and asked him for help. Gebeshian said he was not helpful: "I said, 'This is my goal, this is what I really want to do, how can we make this happen?'" His response? "He was like, 'Well, you've done a good job starting this, it's on you to make it happen.'"
She tried to convey that she was hoping for some government support, arguing that there are talented young gymnasts already training in Armenia, who could make it to the world stage if given some funding and coaching. "And he said, 'You get a team together and make it happen.' I'm not sure how I'm supposed to do that, but that is my goal," Gebeshian said. "I guess all the weight is on my shoulders."
The president's response is disappointing, to be sure. But it means that we already know exactly what the Houry Gebeshian movie sequel will be about.
Clarification: Language has been updated to describe more accurately the training resources available to Gebeshian at her Ohio gym.
Related
Popular in the Community