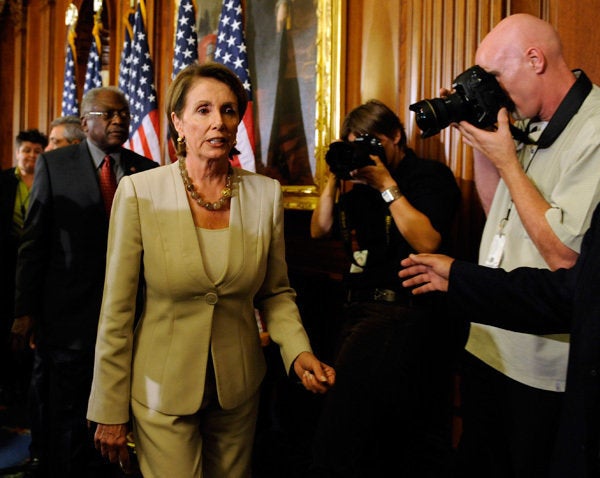 FRIDAY 1:28 PM
BAILOUT BILL PASSES
The crucial vote was 263-171, passing by a comfortable bipartisan margin. Most Democrats voted in favor (172 yeas to 63 nays), while a slighter majority of Republicans voted against (91 yeas to 108 nays). Every member of the House voted. (There is one vacancy, created by recent death of Stephanie Tubbs Jones of Ohio.)
FRIDAY 12:55 PM
HOUSE BAILOUT DEBATE CLOSES WITH PELOSI'S SPEECH
Speaker Nancy Pelosi is speaking now to close the debate preceding the House bailout vote. It was her speech this Monday that many Republicans in Congress blamed for the vote failing. She did accidentally say "Down Jones," but she didn't say "Republicans" once.
FRIDAY 11:53 AM
REPORTED HOUSE BAILOUT VOTE HEADCOUNT
ABC's George Stephanopoulos reports that a top House official is confident they have rounded up enough votes for the bailout bill to pass.
FRIDAY 11:35 AM
BAILOUT VOTE TIME APPROACHES
**UPDATE** FRIDAY 8:41 AM
WHAT'S CHANGING VOTES: TAX BREAKS
GOP Rep. Ileana Ros-Lehtinen of Florida, said she was switching her "no" vote to a "yes" after the Senate added some $110 million in tax breaks and other sweeteners before approving the measure Wednesday night.

"Monday what we had was a bailout for Wall Street firms and not much relief for taxpayers and hard-hit families. Now we have an economic rescue package," Ros-Lehtinen told The Associated Press.
WHAT'S CHANGING VOTES: SMALL BUSINESSES
Black lawmakers said personal calls from Democratic presidential nominee Barack Obama helped switch them from "no" to "yes," as Republicans and Democrats alike said appeals from credit-starved small businessmen and the Senate's addition of $110 billion in tax breaks and other sweeteners had persuaded them to drop their opposition.

"I hate it," but "inaction to me is a greater danger to our country than this bill," said GOP Rep. Zach Wamp of Tennessee, one of the 133 House Republicans who joined 95 Democrats in rejecting the measure Monday, sending the stock market plummeting.
A bailout bill that was defeated in the House on Monday gets a second chance tomorrow, this time with the added support of tax breaks, additional FDIC insurance and the passage of the bailout bill in the Senate.
FISCAL CONSERVATIVES UNEASY
The inflated bill, even with the political cover lent by the Senate's changes, may run into problems in the House, because it effectively adds more cost to the bill, though cautious support of the new House bailout bill is already being lent by some:
House Majority Leader Steny Hoyer, a moderate Democrat from Maryland, said he is urging fiscally conservative Democrats, known as Blue Dogs, to focus on the "the bigger picture" and the need to stabilize the nation's shaky economy. "My gut tells me" they will still support the bill, he said.
That would be in spite of other additions to the bill, which has grown from Treasury Secretary Henry Paulson's original three-page document into a bill of over 400 pages, are bonuses for interests such as plug-in hybrid electrics cars. As some blogs point out, the incentives are worded specifically enough that they could potentially apply specifically to individual companies.
Speaking to reporters during a meeting with business executives, Bush said the increasingly tight credit markets are in some instances threatening the existence of small businesses. He said Congress "must listen" to those arguing for passage of the bill, derided by many on Capitol Hill and within the general public as a handout to a risk-taking Wall Street.
SOME REPUBLICANS WANT TO REDUCE AMOUNT FIRST
But some House Republicans are saying they want more changes to the bill. Namely, they'd like to reduce the total value of funds granted to the Treasury to use, according to Reuters:
A group of Republicans in the U.S. House of Representatives said on Thursday they would seek an amendment to significantly reduce the size of a $700 billion Wall Street bailout package headed for a House vote soon.

Ohio Rep. Steven LaTourette said 23 Republican lawmakers will seek an amendment that would lower the amount the Treasury Department could spend on the bailout to $250 billion.
GETTING AN EARFUL FROM CONSTITUENTS
Whether they're planning on voting for the bill, voting against, or are still making up their minds, the men and women of Congress are getting an earful from their constituents. The frequent criticism that votes against the bill earlier this week were purely political are put into a new light by the news that the Capitol's switchboards are at capacity today:
Voters calling their lawmakers on Thursday were getting busy signals as congressional phone lines jammed with callers voicing their opinions on the financial rescue package the House will vote on Friday.

The Capitol switchboard and many members' offices have been inundated with so many phone calls that multiple phone lines in many offices have reached their capacity. That means many callers have only received busy signals.
Calling all HuffPost superfans!
Sign up for membership to become a founding member and help shape HuffPost's next chapter