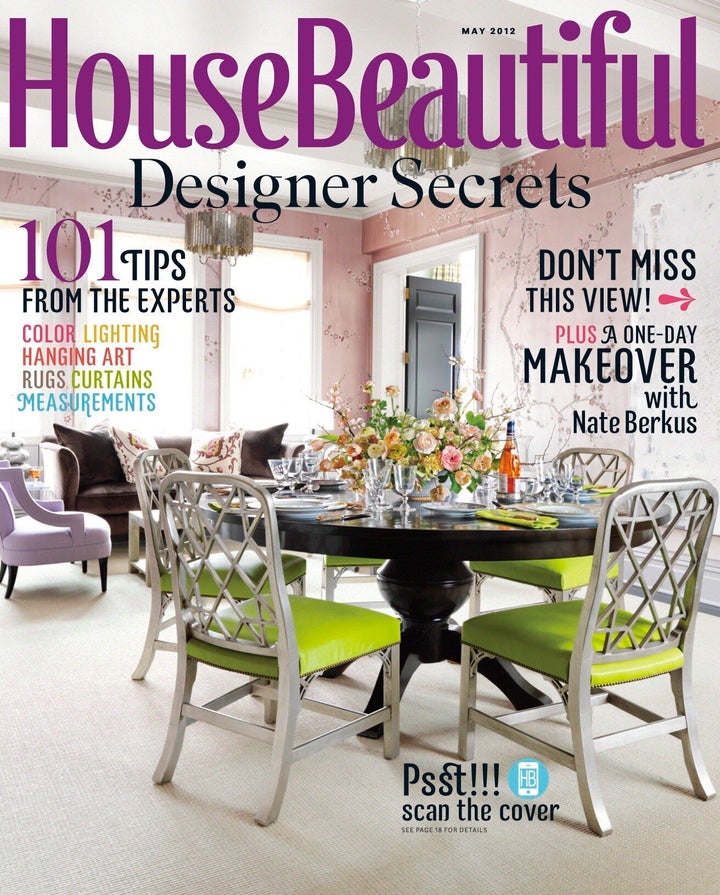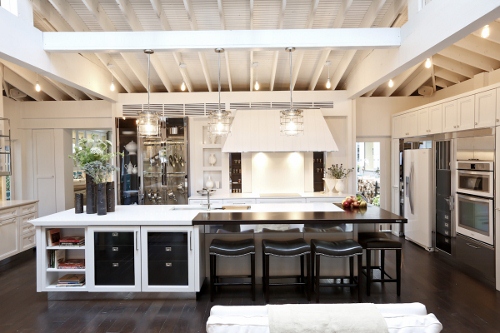 In my recent interview with Kitchen Designer Mick DeGiulio, we discussed his design of the 2012 House Beautiful Kitchen of the Year, a multi-purpose living area complete with fireplace, sofa, butler's pantry and his signature sliding backsplashes, for concealing kitchen appliances, spices and tools. Here he discusses how he uses different materials to create an intimate, natural feel in his kitchens, and trends in kitchen design.
Your materials are really stunning; you really choose such beautiful ones. What have been your influences, in terms of designers?
One of my favorite architects is David Adler. He did a lot of his work in the twenties and thirties in Chicago and all around the country. But he was a great designer; he mixed a lot of things. When I saw that in houses [he was] mixing woods, mixing design vocabularies, it really had a great impact on me. And I thought about the same thing of mixing things in kitchens. I love all creativity in design. And I relate not only to design, but music; I think about compositions and music and how rhythms change and how layering and orchestration, and I put the same kind of idea in kitchens.
You talk about how you achieve texture in a kitchen by using different materials, and I've instinctively done that, not necessarily out of thinking it through, but I can't go out and have a dream kitchen like yours, so I try cobbling things together. Are there any rules that you can think of to share with the common reader, about how they would achieve this texture? Are there things that they should avoid?
It's a good question, and it's something that, I think, it's funny because I use that word that you use, cobbling things together. You know, sometimes some of the best kitchens are really just the intuitive mixes of the materials. So you're not trying to do anything that's formulated, and I think that's the magic in it. If it feels right, you're doing it. There is no formula to it, which is a good thing and a bad thing. The bad thing is you can't explain to somebody how to do it, but the good thing is that there's no right or wrong. The art form comes in whatever you choose to put together and like.
Your concept of proportion helps there.
To me proportion is everything. I pointed out in the Kitchen of the Year how if people looked around they would see this repeating detail of a half-inch, what I call piping, trim in the kitchen, that is in stainless steel, it's in edges of countertops, it's in hardware, and it's in a light fixture, it's in a plate rack, and that I think plays on your subconscious. It's why it almost feels like there's a flow to it, even though the materials change, the colors change, the finishes change, but you do have those constants.
I've been really struck by your use of stone, and particularly you mention that you use granite and go beyond that highly-polished look and often use matte finishes. What do you see as the future of countertops, where might they be heading? Are we stuck with that glossy granite forever?
The good thing about granite is it's a great material to use for countertops because it's forgiving, it doesn't show much, but you're right, it's been overused. There are methods now of brushing the stone which are beautiful. In Italy they torch off the top layer and then they brush the stone so that there's a gentle undulating surface to the materials. It just takes on an entirely different look, it looks much more like limestone, more earthy, more raw. So I think it's not going to be as much about the new material coming in; I think it's going to be the application of any of the materials. The thicknesses that you use, the edge details that you use, the combinations of the material. I think that's the artistry that sets one from another.
I've seen some real stunning painted concrete floors -- not painted, but stained concrete -- is that ever used in countertops?
It is, but it's not a material I use very often. I stick a lot to the naturals because I like the way that they patina, but in the concretes, some are nice, but I just don't see the depth in the material like I do with the naturals.
How do you like stainless as a countertop?
I love it. People are always surprised when they have stainless steel; they're worried initially about scratching and if it's a cold surface and if they will like it visually. I call it the great neutralizer. I think it's a beautiful material to mix, especially with woods and stone, and it's very functional because it's very easy to clean, you don't have bacteria absorbing into the material itself, and the way it patinas is beautiful. You get the scratching in the patina and it's just beautiful.
In [your book] Kitchen Centric, some of your kitchens have double sinks, with an area for cooking and an area for cleaning up, or for two cooks or for one cook who's got multiple projects going on. Is that becoming more common in designs?
Yes, we do a lot of two sink designs, or two sinks in different areas of the kitchen, if it makes sense, and especially with some of the kitchens being larger and two cooks in the kitchen, it's become very popular. And pot fillers have been popular. [A pot filler is a flexible faucet in the wall or over the stove for adding water to pots while cooking] I like them off to the side rather than over the stove, and you can really double that [area] up as a prep sink, too. But I like sinks under the pot filler because it doesn't make much sense for you just to be able to fill up in one area and then bring the whole thing over to the sink to empty it.
In your view, what's the biggest mistake people make when they're setting up their kitchens?
I think it's that at first they should work with a professional because it's so complicated, it's much more complicated than they think, it's not just picking out cabinets and countertops, so that's number one, work with a professional.
Number two is to really allow enough time to let ideas come out in the design process. Good design is not just a layout that has a perfect place for the refrigerator and the sink and the cook top, but there are all these layers of ideas that can be added in that are specific to the client. For example, if they bake a lot, if they make soups a lot or there are two cooks. All these things need to factor in the layout, so I think that's one of the things that people need to do is allow enough time for the design process, and that should be a fun thing, too.
Unfortunately, in the past so many kitchens were designed by men who never cooked.
Yes, and [got their designs] right out of a catalog. I think now that people are starting to realize that it doesn't need to be a manufacturer's kitchen taken right out of a catalog. There's a lot more mixing of their ideas, and people shouldn't compromise and that's another thing that people need to do. Don't stop thinking about the things that you want that are special to you in the space. Don't compromise on those things. It's not a matter of cost, it's a matter of creativity. Somebody good is going to be able to figure out how to do it and do it within a budget.
What about people who don't have much of a budget? What are some of the ways they can improve their kitchens short of new appliances or a complete remodel?
Stay simple. There are beautiful cabinets that are very simple. You don't need highly intricate pieces to make a space look great. Thicknesses of countertops -- they don't need to be big chunky countertops all the time. I'm using a lot of very thin countertops on some of my designs. And technology is enabling us to get materials that are very thin and withstand impact and still be scratch resistant or durable. It's really [about] working with somebody who understands these things to achieve something that's special but doesn't necessarily have to be expensive. You know, creativity always has to work within constraints and good designers recognize that and do it.
To see more of Mick DeGiulio's dream designs, go to his website, and for more of the House Beautiful Kitchen of the Year photographs, go here.
Related