 WASHINGTON -- The House approved a funding bill Friday evening to address a crisis of unaccompanied minors crossing the U.S. border illegally, sending the legislation to a Senate that is out of town and wouldn't consider it anyway -- and a president who has already promised a veto.
The bill passed 223 to 189. One Democrat, Rep. Henry Cuellar of Texas, joined Republicans voting for the bill, while four Republicans joined Democrats in opposition: Reps. Stephen Fincher of Tennessee, Paul Broun of Georgia, Thomas Massie of Kentucky and Walter Jones of North Carolina.
House Speaker John Boehner (R-Ohio) said in a statement after the vote that it was "a responsible bill to address the humanitarian crisis at our southern border." He called on the Senate to approve it.
"If President Obama needs these resources, he will urge Senate Democrats to put politics aside, come back to work, and approve our bill," Boehner said. "There are also steps the president can take to address this crisis within the law, and without further legislative action. Every day the president and his party fail to act is another day this crisis continues."
The legislation is meant to address an influx of 57,500 unaccompanied minors who have been apprehended since October crossing the U.S.-Mexico border. President Barack Obama requested $3.7 billion in funds, which House members quickly ruled out. They first considered a $1.5 billion package, which shrunk to less than $1 billion, then to $659 million.
It almost didn't get a vote at all. Republican House leaders pulled the bill from the schedule on Thursday, the last planned day before the August recess, because it didn't have the votes to pass. On Friday, the leadership returned with a reworked bill containing stricter provisions and $35 million in funding for states that send National Guard troops to the border on their own, putting the final price tag at $694 million.
The bill received significant opposition from Democrats, who criticized provisions such as changing a 2008 law so unaccompanied minors from countries other than Mexico or Canada could be deported more quickly. Democrats also said sending the National Guard to the border was unnecessary, and the funding was far too little to address the crisis. Democratic opposition was strong even before the GOP made changes to toughen the bill, and was nearly unanimous by Friday evening.
The House GOP's funding bill will be followed by a vote on a separate measure meant to attract support from Republican members who were previously wary of supporting the border crisis legislation. Members will vote later on Friday on whether to end a policy that protects undocumented young people who came to the U.S. as children from being deported, and to prevent the president from taking further action to slow deportations.
Obama has already dismissed the GOP's funding bill as "extreme and unworkable," and said it's "going nowhere." The Democratic-led Senate already left for the August recess after its own border crisis funding bill failed on Thursday evening.
"They're not even trying to actually solve the problem," Obama said of House Republicans at a press conference earlier Friday. "This is a message bill that they couldn't pull off yesterday, so they made it a little more extreme so maybe they can pass it today. Just so they can check a box before they're leaving town for a month."
This article has been updated with vote details and Boehner's comments.

Before You Go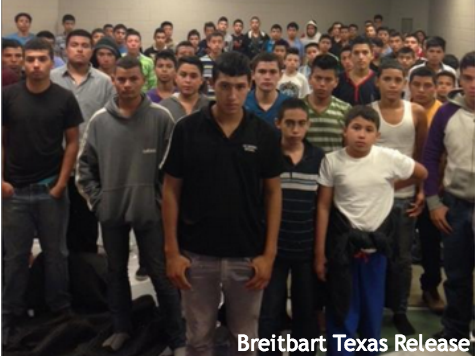 Overwhelmed Border Patrol
Popular in the Community