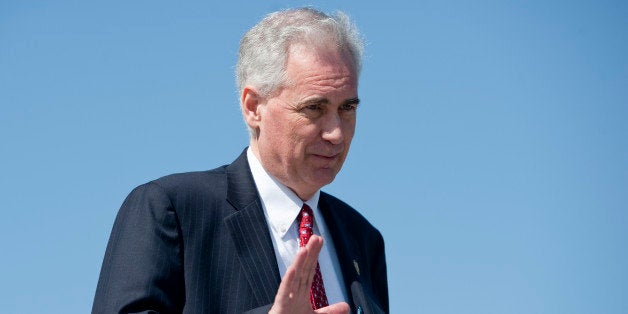 WASHINGTON, Feb 5 (Reuters) - The Republican-led House of Representatives on Wednesday passed a bill that would roll back federal rules to provide more water for farmers and municipalities in California's Central Valley as the state copes with its worst drought in decades.
Backers said the legislation would provide drought relief by permitting federal and state authorities to pump more water out the San Joaquin-Sacramento River Delta.
Opponents, including California's Democratic lawmakers, have termed the bill a water grab that would circumvent state law, pit water users against each other and roll back environmental protections.
"This is the greatest intrusion into state water rights that we've seen in this legislature," said Representative George Miller, a Democrat whose California district includes the cities of Concord and Richmond, east of San Francisco.
The measure passed the House by 229 to 191, largely on Republican votes, and is expected to be dead on arrival in the Democrat-led Senate.
The Obama administration on Wednesday threatened to veto the bill. In a statement of policy, White House said the bill would not alleviate the effects of California's drought but instead disrupt decades of work done to address water challenges in the most populous U.S. state.
Besides undermining collaboration between various stakeholders to continue a sound water quality control plan, the bill would preempt California law, the White House said.
A similar measure passed the House in 2012 and also failed to advance in the Senate.
Republicans have blamed water shortages in California's Central Valley on government policies that have required officials to keep a certain amount of water flowing through the delta to protect fish.
The Central Valley region is one of the top agricultural areas in the No. 1 U.S. farm state. California produces about half the nation's fruits and vegetables and is an important grower of cotton and rice, among others crops.
Farmers facing cutbacks in irrigation water are expected to idle some 500,000 acres of cropland this year, Reuters reported on Wednesday.
The record breaking dry spell that has sapped the state's fresh water reservoirs further exacerbated "man-made" water problems, according to Republican lawmakers.
"We can't make it rain, but we can stop this lunacy," Representative Tom McClintock, a California Republican backing the bill, said during the House debate on the legislation.
Federal rules ease restrictions on pumping of water during wet years, but during times of drought, little pumping is allowed. No pumping is expected to be allowed this year, unless the state receives a deluge of rain.
Critics of the Republican measure said that it would not alleviate water shortages because drought conditions, and not government policies, have simply left the state without enough water to meet its needs.
"It is a water grab," said Representative John Garamendi, a California Democrat. "It does not create one gallon of water. It simply takes what water is available, and takes it from someone, and gives it to someone else."
California Governor Jerry Brown, who declared a drought emergency last month, has criticized the bill, which he said would override state laws and protections.
REAL LIFE. REAL NEWS. REAL VOICES.
Help us tell more of the stories that matter from voices that too often remain unheard.
BEFORE YOU GO
PHOTO GALLERY
California Drought