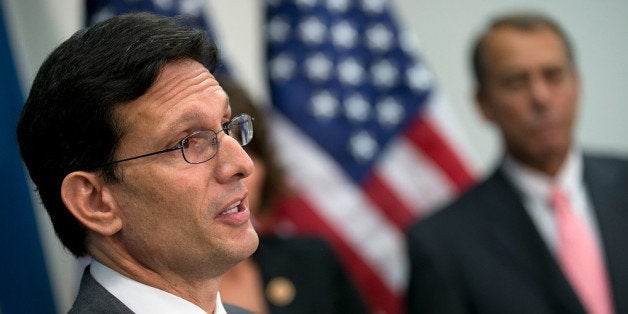 WASHINGTON, Sept 12 (Reuters) - Republicans in the U.S. House of Representatives on Thursday bought themselves more time to try to avert a government shutdown at the end of September, canceling a week-long recess that was due to begin on Sept. 23.
House Majority Leader Eric Cantor announced that the break had been scrapped after conservatives in the party rejected his plan to temporarily fund the government in the new fiscal year and stage a vote to defund "Obamacare" health reforms.
Without new spending authority, most U.S. government agencies would have to close their doors on Oct. 1 in a replay of politically painful shutdowns during the mid-1990s.
The decision came as Republican conservatives demanding a harder line introduced their own alternative plan: a one-year delay in implementing President Barack Obama's signature healthcare law coupled with a year-long government funding measure.
The plan, proposed by Representative Tom Graves of Georgia, would hold spending on discretionary programs for fiscal 2014 to $967.4 billion - a level that would keep savings from across-the-board "sequester" spending cuts in place.
Democrats have said this spending level is unacceptable, and are pushing for a higher level that replaces the cuts partly with tax hikes on the wealthy.
The Graves plan, with 42 Republican co-sponsors, does not attempt to increase the $16.7 trillion federal debt limit, a move that the U.S. Treasury Department has said is needed by mid-October.
But the notion of delaying Obamacare, rather than defunding it, gained currency among House Republicans on Thursday, a day after the party failed to muster enough votes to proceed with Cantor's defunding plan.
Republican conservatives had balked at that plan because they saw it as merely another ineffective symbolic vote against the healthcare law passed in 2010 and demanded a tougher line. They desperately want to stop the implementation of key parts of the law, namely health insurance exchanges for individuals that are due to launch on Oct. 1.
"I think a lot of members that actually want to defund (Obamacare) are starting to understand that by delaying it for a year, we're actually better off," said Representative Mike Simpson, an Idaho Republican.
But many in the party want to use the debt limit increase as leverage to try to thwart Obamacare, said Representative James Lankford of Oklahoma, a member of House Republican leadership.
"The vehicle is every vehicle that's out there," to delay the healthcare law, he said.
A study by the Bipartisan Policy Center this week found that the United States could begin defaulting on its obligations in the period from Oct. 18 through Nov. 5 if the debt ceiling is not increased.
Congress' bitter fight over raising the borrowing cap in 2011 roiled financial markets and prompted ratings agency Standard and Poor's to strip the United States of its top-tier credit rating.
BEFORE YOU GO
PHOTO GALLERY
House Majority Leaders Through The Years