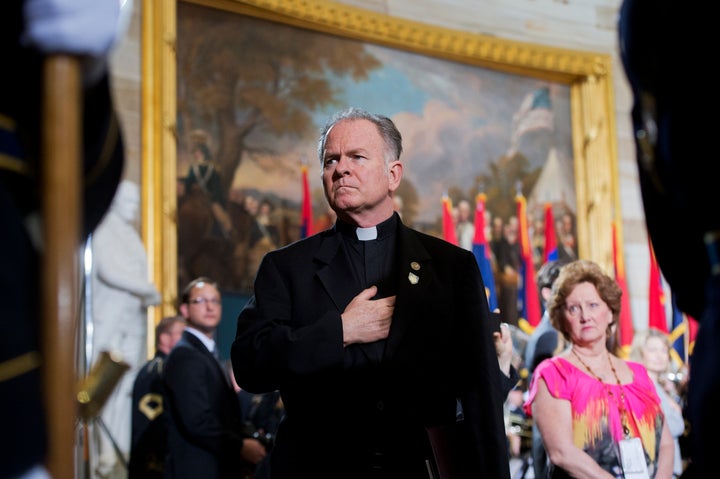 House Speaker Paul Ryan (R-Wis.) said Thursday that he accepts House Chaplain Patrick Conroy's decision to rescind his resignation.
"I have accepted Father Conroy's letter and decided that he will remain in his position as Chaplain of the House," Ryan said in a statement. "It is my job as speaker to do what is best for this body, and I know that this body is not well served by a protracted fight over such an important post."
Conroy wrote a two-page letter to Ryan earlier on Thursday, accusing the speaker of ousting him from his role without cause last month, The Washington Post reported.
"I have never been disciplined, nor reprimanded, nor have I ever heard a complaint about my ministry during my time as House chaplain," Conroy wrote.
NBC News tweeted a copy of the full letter:
Conroy initially announced his resignation on April 15, and made it clear that it wasn't his choice to go. 
"As you have requested, I hereby offer my resignation as the 60th Chaplain of the United States House of Representatives," Conroy wrote in a letter to Ryan, first reported by The Hill. His last day would have been May 24.
It was unclear why Ryan wanted Conroy to go. The speaker reportedly told the House Republican Conference on April 27 that some House members believed their "pastoral needs" were not being fulfilled. But Rep. Gerry Connolly (D-Va.) told HuffPost that it may have stemmed from a prayer the priest made on the House floor last fall amid debate over the GOP tax bill.
In the Nov. 6 prayer, Conroy entreated that under the new legislation "there are not winners and losers under new tax laws, but benefits balanced and shared by all Americans." As previously reported, the tax bill disproportionately benefits the rich over time.
In his letter on Thursday, Conroy suggested his faith may have played a role. The Jesuit priest noted that it was Ryan's chief of staff, Jonathan Burks, who informed him that the speaker was asking for his resignation.
"I inquired as to whether or not it was 'for cause,' and Mr. Burks mentioned dismissively something like, 'Maybe it's time that we had a chaplain that wasn't a Catholic,'" Conroy wrote.
In a statement shared with HuffPost, Burks said he disagreed with the Conroy's "recollection" of the conversation. 
"I am disappointed by the misunderstanding, but wish him the best as he continues to serve the House," Burks said.
But Connolly, a Catholic, said he shared the priest's suspicion, which was reinforced when Rep. Mark Walker (R-N.C.), chairman of the conservative Republican Study Committee, suggested the next chaplain should have a wife and a family. Such a requirement would automatically exclude Catholic priests from the position.
Walker later removed himself from a bipartisan committee to find a new House chaplain amid outcry from Catholics.
Conroy has served since 2011 as the House chaplain, a position that is filled by election every two years. In his letter to Ryan on Thursday, the priest said he intended to serve out his current two-year term and possibly "beyond," unless he is officially terminated or not re-elected.
"You may wish to outright 'fire' me, if you have the authority to do so," Conroy wrote, "but should you wish to terminate my services, it will be without my offer of resignation, as you requested."
This article has been updated to reflect that Ryan accepted Conroy rescinding his resignation, and with additional comment from Burks. 
REAL LIFE. REAL NEWS. REAL VOICES.
Help us tell more of the stories that matter from voices that too often remain unheard.