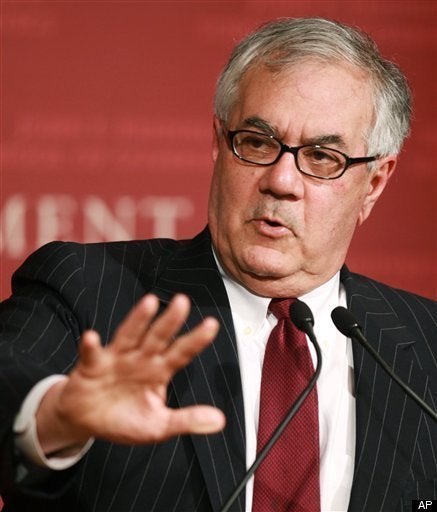 The proposed Consumer Financial Protection Agency took another step forward Thursday in the House, moving out of the Financial Services Committee -- albeit a bit weaker -- on its way toward the floor.
CFPA, which would be the first federal regulatory agency devoted solely to consumer financial protection, passed the committee 39 to 29. All but one of the assembled committee Republicans and two Democrats voted against the consumer protection bill, despite a series of compromises that included exemptions for favored industries and limits on tougher state regulation.
During the four days worth of amendments considered by the committee, Republicans consistently decried the proposed independent consumer watchdog, echoing bank lobbyists, as a threat to the overall "safety and soundness" of the financial services industry. Those complaints were undercut -- and the bill given a boost -- when top banks announced huge bonus payouts during the markup.
Republicans also argued, in debate and through a long list of proposed amendments, that existing banking regulators like the Federal Reserve were already capable of protecting consumers as well as the financial markets. Rep. Michael Castle (R-Del.) acknowledged that existing regulators failed to protect consumers, but, he added, "I think they're ready to do that now."
Democrats weren't convinced.
"What did the prudential regulators do to protect consumers? Nothing. Zero. Zilch. They didn't do a thing," Rep. Luis Gutierrez (D-Ill.) said, noting that the Fed has already had consumer protection powers since 1994 but that they went unused for 12 years. "I think enough has been said here in this committee about the markets. The markets. Always concerned about the markets. Well, you know what? Those markets caused trillions of dollars in losses to men and women who live on Main Street across this country."
Castle ultimately crossed the aisle to support the bill, while Democrats Travis Childers of Mississippi and Walt Minnick of Idaho opposed it.
A pillar of the Obama administration's proposed financial regulatory reforms, the CFPA is designed to protect Americans from abusive or deceptive loans, including credit cards and mortgages, that played a substantial role in the financial crisis.
However, committee chairman Barney Frank (D-Mass.) made it clear, via his own amendments and his support for certain exemptions proposed by other committee members, that the agency's regulatory power extends only to lending activity, not other retail purchases on credit. Frank also stressed that the bill is designed to target predatory practices, not necessarily particular professions.
"We have restricted the CFPA from what the administration proposed," Frank said Wednesday.
The requirement that banks offer easily understandable "plain vanilla" financial products was out of the bill by the time the markup process began, and the committee quickly decided that community banks -- those with less than $10 billion in assets -- should be exempt from agency oversight. So are credit, mortgage and title insurers, plus lawyers, real estate brokers, cable companies, accountants and auto dealers.
In addition -- as a measure of of ACORN's continued political toxicity -- Rep. Michelle Bachmann (R-Minn.) handily passed an amendment preventing the organization's employees from serving on the CFPA oversight board.
Democrats also compromised on a keystone reform that would have allowed tougher state laws to act in tandem with new federal regulation. Frank and the White House wanted states to have free rein to get as tough as they chose, while pro-business Democrats and Republicans sought to exempt large national banks from state standards. Democratic Reps. Mel Watt of North Carolina and Dennis Moore of Kansas authored the middle road, which would allow the Office of the Comptroller of the Currency, an existing bank regulator, to override state laws if they "significantly" interfere with federal regulation.
Republicans still complained that the Watt-Moore Amendment required national banks to comply with too many different sets of laws -- compelling Rep. Mel Watt (D-N.C.) to snap, "It used to be you all" who argued for states' rights.
That compromise did, at least, elbow out the total-exemption amendment authored by Rep. Melissa Bean (D-Ill.), who was sidelined earlier in the week when her family came down with the flu. The Bean amendment had been a singular focus for Heather Booth, the head of Americans for Financial Reform, who told the Huffington Post it was "extremely bad."
Booth also took issue with the exemption for auto dealers, whom she called "major agents where there's been a great deal of fraudulent practices, of major credit problems, especially in low-income and communities of color." But Frank said Wednesday that dealers remain "very popular" in their communities and have been "unfairly punished" in the restructuring of General Motors and Chrysler. He opposed the Campbell dealer-exemption amendment only because he said the dealers were already exempt in the legislation.
Frank pushed through an amendment that shifted the oversight of consumer-reporting agencies, which track individuals' credit histories, from the Federal Trade Commission to the CFPA.
And Frank was less sympathetic to other proposed exemptions, including amendments from Rep. Tom Price (R-Ga.) that would have blocked the CFPA from regulating any "medical professionals." Earlier, Price apologized for having missed the previous debate. "The gentleman from Georgia never has to apologize to me for not being here," Frank replied.
Tempers ran hot throughout the markup process, with the combustible Frank usually involved. Republicans drew out the early days of the debate, and by Tuesday the chairman's voice was, he acknowledged, hoarser than usual. But that didn't stop him from lengthily upbraiding Ranking Republican Spencer Bachus (R-Ala.) both Tuesday and Wednesday for, variously, ignoring parliamentary procedure, "distorting history" on the subject of regulation, and wasting the committee's time debating doomed Republican amendments designed to kill the bill. By Wednesday night, Frank had heard enough.
"I would say to my friend, it's a little late now for this. I think frankly there was a lot of unnecessary debate," Frank said at the close of business Wednesday, when Bachus pushed for another day to hear further GOP bill-killers. "Sarbanes-Oxley, we considered for six weeks..." Bachus began, but Frank put his gavel down. "The committee is in recess."
Bachus said in a statement Thursday morning that he was disappointed Frank "prematurely ended debate on something this important." But House Republicans still have several weeks to campaign against the CFPA bill before it comes to the floor, and in response to complaints from Rep. Donald Manzullo (R-Ill.) that it contains "traps," Frank agreed on Wednesday to hold a hearing on it in the meantime should Republicans desire.
The bill's passage out of committee quickly garnered plaudits from President Obama and House Speaker Nancy Pelosi. "The Consumer Financial Protection Agency will prevent predatory lending practices and other abuses and will ensure that consumers get clear information they can understand about financial products like credit cards and mortgages," Obama said in a statement. "We will continue to work closely with Congress to create, for the first time, a federal agency whose sole mission is to protect the financial interests of everyday Americans."
If the CFPA bill makes it past the House floor, where conservative Blue Dog Democrats exert more influence than they do in Frank's committee, it will go on to face tougher opposition in the Senate. Meanwhile, the House committee will continue working on reforms of the credit-rating agencies and investor protections, likely with the same Republicans arguing that they go too far and put the banks' very survival at risk.
"I think in recent times it has been exactly the opposite, that it has been the lack of consumer protection that has endangered safety and soundness," Frank said Tuesday, responding to concerns from Rep. Jeb Hensarling (R-Texas) about the possible regulation of cash-back rebates and frequent-flier miles. "That's the kind of argument you use to scare little children, and I don't see any little children here today."
The Huffington Post Investigative Fund looked at the Republicans, business interests and federal regulators who still oppose the new agency:
Support HuffPost
The Stakes Have Never Been Higher
Popular in the Community