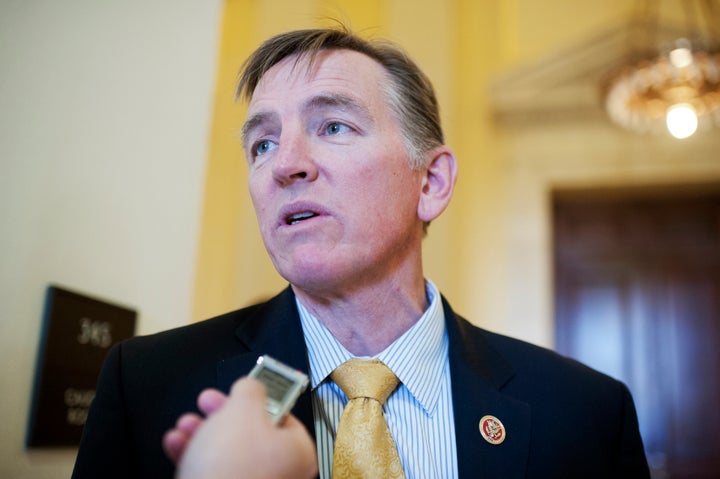 WASHINGTON -- The House Freedom Caucus has already changed the direction of Congress this year, derailing -- at least temporarily -- a House GOP budget that conservatives argue spends too much. Now they have a new target in sight: the lame-duck session.
When the House returns from a two-week recess on April 12, a small group of members are gearing up to stop GOP leadership in both chambers, if they have their way, from holding a legislative session after the November election.
It's not that the members are lazy, though doing away with the postelection session would mean the House would be in just 17 days for the rest of the year after July 15 -- and zero past Sept. 30.
Conservative members say they are trying to stop Congress from doing anything after the November election because Congress does some of its most slapdash lawmaking once the public has voted. The group of lawmakers, anchored by the House Freedom Caucus, doesn't want to take any chances that the Senate confirms a Supreme Court nominee or that Congress rams through the expansive Trans-Pacific Partnership trade deal or a big budget agreement that raises spending.
"If you look at these lame ducks, you know, the American public gets screwed," Rep. Paul Gosar (R-Ariz.), the Freedom Caucus member leading the charge against the postelection session, told The Huffington Post last week. "Increased spending, all these favors that we got to do for people -- it's got to stop."
Gosar said he's pitched the idea to the House Freedom Caucus of trying to find a way to kill the lame-duck session, "and everybody agrees."
While they don't seem to have a clear plan yet on how exactly they would prevent GOP leadership -- particularly in the Senate -- from not holding a lame-duck session, the Freedom Caucus and its nearly 40 members have the power to block procedural votes. And Gosar told HuffPost that he's already spoken to a number of outside conservative groups who have told him, "Count us in."
"Here's the story," Gosar said. "We're not going to do the appropriations process. We're going to make the valiant effort, if we can even get this budget out."
And once it's clear that Congress can't actually do appropriations bills because of a disagreement over how much the government should spend, Gosar continued, GOP leadership in both chambers will "throw their hands up" and Congress will pass a bill to keep government agencies running at their current levels.
"When you're one of the people who tends to think most of what we do here is screwed up in the first place, then the less we do, maybe the better."
Government funding runs out on Sept. 30, so Congress will at least need a short-term spending bill -- a continuing resolution, or CR, in congressional parlance -- if lawmakers can't get spending legislation out of both chambers and signed by the president.
At this point, a CR is looking likely. But what remains unclear is for how long. Gosar and other conservatives want it to go until at least March.
"Give the new Congress and the new president a chance to get a budget done," he said.
But even if the CR goes until March 2017, conservatives worry about leaders finding other ways to use must-pass pieces of legislation. One Freedom Caucus member recently told HuffPost there was a lot of concern that a Federal Aviation Administration reauthorization could be used for something else, which is why the HFC has been pushing to kick the FAA bill into next year -- a timeline that lawmakers privately say is picking up steam.
"The word out of our committee is it probably doesn't have long legs, and so it's just going to be a reauthorization, like a temporary reauthorization," one Transportation Committee member told HuffPost last week, speaking on condition of anonymity to discuss private committee deliberations. "I think it's going to be next year until there's a real FAA reauthorization."
But the two real concerns for conservatives are the Supreme Court and TPP.
While the House doesn't get a vote on a Supreme Court nominee, members recognize that, for better or for worse, shutting down the lame-duck session in both chambers would prevent the Senate from confirming Merrick Garland.
HFC member Scott Perry (R-Pa.), who told HuffPost that he leans toward the no-lame-duck position, said his only concern with killing the postelection session is that, if Hillary Clinton wins the presidency, she would probably nominate someone more liberal than Garland.
"So you got to be careful what you ask for here," Perry said.
"Give the new Congress and the new president a chance to get a budget done."
But for HFC board member Mick Mulvaney (R-S.C.), legislators don't get to "pick and choose."
"The principle's the principle, right?" Mulvaney told HuffPost last week. "Which is that the new president gets to nominate the nominee. And if that's the principle, well, then you got to stick with the principle."
Mulvaney said people know what a lame-duck session is really about. "It's a bunch of people who have already either quit, retired or been fired by their constituents decide they still want to vote on major stuff," he said.
"It's the least accountable time for Congress," Mulvaney continued. "It's an accident of history. We should probably think about getting rid of it entirely."
Asked about how it would look for Congress to do so little in the last half of the year, Mulvaney mentioned that lawmakers are supposed to be working in their districts during that time, but he agreed "the optics are bad."
Still, what Congress could do in the postelection session scares Mulvaney more than a public relations issue.
"When you're one of the people who tends to think most of what we do here is screwed up in the first place," Mulvaney said, "then the less we do, maybe the better."
That seems to be the position that most Freedom Caucus members take on TPP.
With the heated campaign still going on, GOP leaders look to be holding off on the trade legislation until at least the election. At this point, the trade deal seems to have a real vote problem. But some conservatives think TPP is only a matter of time.
"TPP is like Ex-Im Bank: You can get excited about it not happening, but it's going to happen," said Rep. Thomas Massie (R-Ky.), who was against the Export-Import Bank and is unlikely to support TPP.
"I mean, I don't think it's not going to happen," Massie said of TPP. "I just don't see it."
Massie, who is not in the Freedom Caucus, has been working closely with Gosar on trying to end the lame-duck session, and he said he doesn't see anything good coming out of Congress after November.
When asked about the optics of members essentially packing it up for the year in July, Massie thought about the question for a moment, then offered a response fitting with the let's-not-take-any-chances strategy.
"I've been doing pretty good the last three to six months not doing any press," he said. "Got to stay out of trouble."
Popular in the Community