WASHINGTON -- The House of Representatives voted Wednesday to keep the federal government funded through the end of the fiscal year, seeking to avert a potential government shutdown when the continuing resolution expires on March 27.
The legislation passed the lower chamber by 267 to 151 votes, with 137 Democrats voting against it. The $982 billion stopgap measure locks in post-sequestration spending levels but includes protections for defense and veterans programs, enabling them to adjust to the cuts brought on by sequestration.
Democrats criticized the bill for granting flexibility to the Pentagon to reallocate funds to higher-priority programs, while doing nothing to mitigate the impact sequestration would have on domestic programs. House Minority Whip Steny Hoyer (D-Md.), who on Tuesday said he was not whipping members of his caucus to vote against the measure, urged his colleagues on Wednesday to do precisely that.
Speaking on the floor shortly before the vote, Hoyer called for a solution that would replace the across-the-board spending cuts that took effect on March 1.
"This is neither regular order nor rational policy. It ought to be rejected," Hoyer said. "This CR [continuing resolution] does nothing to address the irrational cuts to defense and nondefense that the sequester will require. It could be very harmful to our economy and to our national security, and place the most vulnerable in America at great risk."
"We should not allow, my colleagues, our government to shut down," he added. "But we cannot do business this way."
Yet congressional leaders remain hopeful that another showdown will be avoided, especially in the wake of a drawn-out battle and missed deadline on sequestration.
Senate Majority Leader Harry Reid (D-Nev.) told reporters Tuesday he was "cautiously optimistic" that both sides could reach an agreement before Easter recess but indicated things could still fall apart, depending on the specifics of the GOP plan.
"I'm anxious to see what the House is going to pass with the CR. We have a pretty good idea now, but we'll wait and see what the final product is," Reid said.
He added that the Senate will move on its own government funding bill next week, which is being crafted by Senate Appropriations Committee Chairwoman Barbara Mikulski (D-Md.). The Senate version will most likely include additional funding flexibility for domestic programs.
"We are optimistic that we'll be able to pass a CR both through the House and the Senate at the sequester level and thereby not have a huge dispute over the continued operation of the government for the rest of the year," Senate Minority Leader Mitch McConnell (R-Ky.) said Tuesday. "There seems to be no interest on either side in having a kind of confrontational government shutdown scenario."
The White House on Tuesday said it was "deeply concerned" about the House GOP bill, emphasizing its lack of flexibility for domestic programs. But the Obama administration stopped short of issuing a veto threat and instead expressed its intention to work with Congress "to refine the legislation to address these concerns."
Still, it remains to be seen if House Speaker John Boehner (R-Ohio) could rally members of his conference around a modified CR that balances both defense and domestic spending cuts. The Ohio Republican indicated he would no longer rely mostly on Democrats and just a minority of Republicans to pass major bills, even though that was the only way Boehner managed to see fiscal cliff, Hurricane Sandy relief and VAWA legislation through the lower chamber.
"It's not a practice that I would expect to continue long-term," Boehner told reporters Tuesday.
Those words could be tested later this month, if House Republicans oppose the Senate's tweaks to their bill and the threat of a government shutdown looms closer.
Shortly after the bill's passage Wednesday, Boehner called the legislation "straightforward and reasonable" in an emailed statement.
"The Senate should pass the House measure without delay so we can continue focusing on helping Americans get back to work and putting the country on a path to a balanced budget," Boehner wrote.
This is a developing story and has been updated.
Before You Go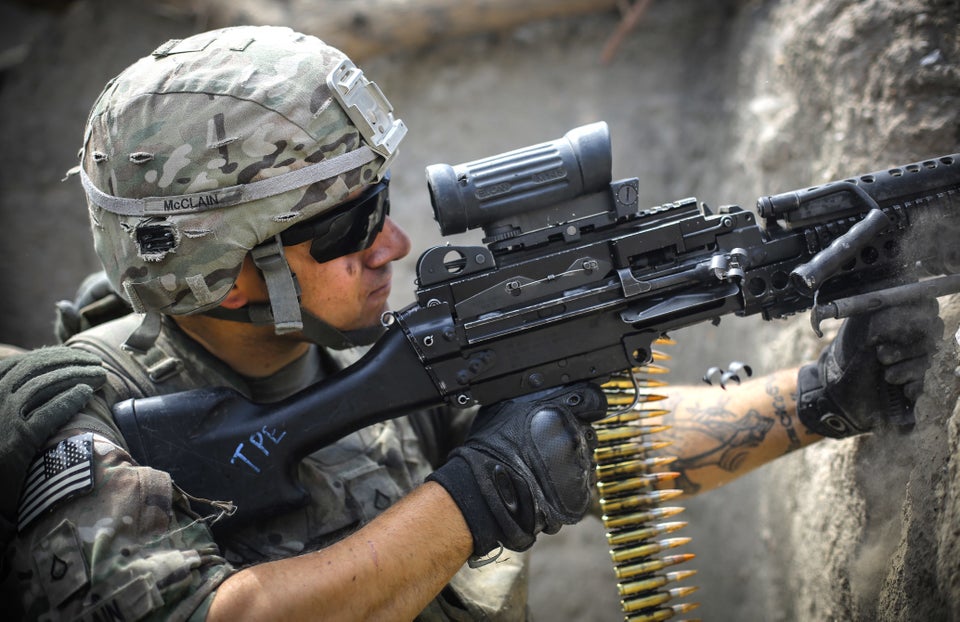 What Sequestration Would Cut
Popular in the Community