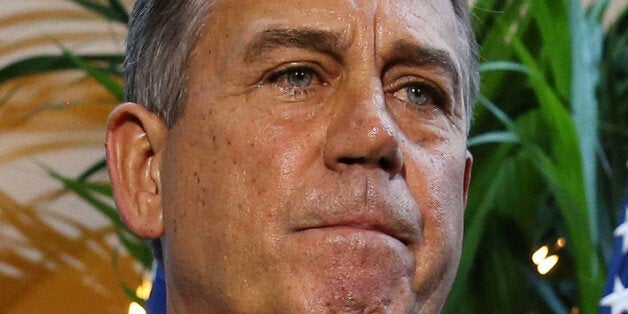 WASHINGTON -- Conservative tea party-aligned groups shot down House Republicans' ill-starred proposal to keep the government open Tuesday, forcing GOP leaders to turn to the Senate to reopen the government and prevent the nation from defaulting on its debt.
The Treasury Department has warned that America is in danger of failing to meet its obligations starting Thursday, risking economic calamity.
House leaders had set a 5:40 p.m. rules hearing to move ahead, but canceled it after the Heritage Foundation, Red State and FreedomWorks all slammed the GOP proposal as unacceptable. Democrats earlier had hammered the plan as out of bounds for their side.
Rep. Pete Sessions (R-Texas), the Rules Committee chairman, emerged from House Speaker John Boehner's (R-Ohio) office to declare any further activity dead until Wednesday. "There will be no action, no votes, and the rules committee will not be meeting tonight," Sessions told reporters.
"It was hard for them to get the votes anyway, and then when Heritage came out, that killed it," said Rep. Pete King (R-N.Y.), who has opposed the House GOP strategy of trying to using government funding and the debt ceiling as leverage to defund Obamacare.
The rejection by the tea party base was a stunning blow to Boehner, who at first tried to head off a damaging showdown in early September, but then embraced the right-wing attempt after members of his caucus rebelled.
He stuck with the doomed bid, even while more than two dozen of his moderate members pleaded for him to relent and Republican poll numbers plummeted. Many of his supporters left a conference meeting Tuesday morning saying Boehner could pass the latest proposal, which would have funded government until Dec. 15, extended the $16.7 trillion debt ceiling until Feb. 7, and temporarily eliminated the Treasury Department's ability to use the "extraordinary measures" it has employed since the nation began bumping into the borrowing cap in May.
The bill's key attack on Obamacare -- the original target of the government shutdown and debt fight -- was to block members of Congress and their staffs from getting health insurance contributions through their employer when they shop for insurance on the Obamacare exchanges.
It was the GOP leadership's last best try, and the fact that they had set a rules meeting suggested the thought they had the votes. But it wasn't enough for the conservatives.
"I guess they weren't expecting this," King said of GOP leaders, who he credited with at least trying to find a way forward.
"The proposed deal will do nothing to stop Obamacare's massive new entitlements from taking root -- radically changing the nature of American health care," said Heritage Action, the political arm of the Heritage Foundation, in an announcing it would score any vote for the plan against any member who cast it.
Democrats, who didn't like the GOP bill to begin with, were flabbergasted by the sudden collapse.
"Unbelievable hubris -- House Rs are fretting over a Heritage score while we are 29 hours away from default," emailed one Democratic aide who requested anonymity because he works closely with Republicans.
"Who's calling the shots here? Ted Cruz? Heritage Action?" said Rep. Peter Welch (D-Vt.) "Who knows, but it sure isn't John Boehner. They had a plan and they withdrew the plan right after Heritage Action denounced the plan."
GOP lawmakers seemed to have little hope that House leaders could act.
"First of all, they'd have to come up with something," said King. Then there would have to be another conference meeting, then another Rules Committee hearing. "And that puts you at tomorrow -- the day before doomsday," he said.
King said he hoped the Senate could act, but noted that Texas Republican Ted Cruz and conservative allies could obstruct the process there,
"I would put my focus on the Senate if I were you," said Rep. Greg Walden (R-Ore.), holding a similar hope.
Spokesmen for Senate Minority Leader Mitch McConnell (R-Ky.) and majority Leader Harry Reid (D-Nev.) said the Senate would try to move ahead with its plan, but Boehner would still have to figure out how to handle the action on his side of Capitol Hill.
Democratic sources said that Boehner had two good options. The easiest was to take up the bill that the Senate already passed to keep the government running, and is sitting in House. To that, he could add the compromise worked out by Reid and McConnell, pass it with Democratic support and a couple dozen Republicans, then send it back to the Senate. It would pass there, and go to President Barack Obama. House Minority Leader Nancy Pelosi is pushing for that path.
The other path was to pass a message to the Senate that was essentially blank. The Senate could then add its compromise. Even if tea party Republicans used procedural tactics to stall the bill, it could still pass by Saturday, leaving the nation to tread in the danger zone of default for just one day. But it would have to go back to the House for a second vote in which Boehner would have to rely on Democrats for final passage. Many right-wing Republicans have warned that such actions would severely damage Boehner's support among the base, and perhaps doom his speakership.
GOP leadership sources said Tuesday night that they had not yet decided how to proceed.
But it was clear Boehner would have the backing of moderates, who have been proven right in their fears that not only would Obamacare survive, but that the GOP would be harmed in the process.
King, representing a suburban district outside of New York City, was especially angry at the damaging showdown.
"This party is going nuts," King said. "So many people I run into who are normal people -- and I hate to use that term -- they just can't understand what's going on.
"On this one, they can't even see both sides," King said. "They just think Republicans are crazy. That's it. They see no justification for any of this."
Just as bad, he said, the whole standoff looks pointless, considering what would have been voted upon.
This article has been updated with additional details of the options for House Speaker John Boehner.
Before You Go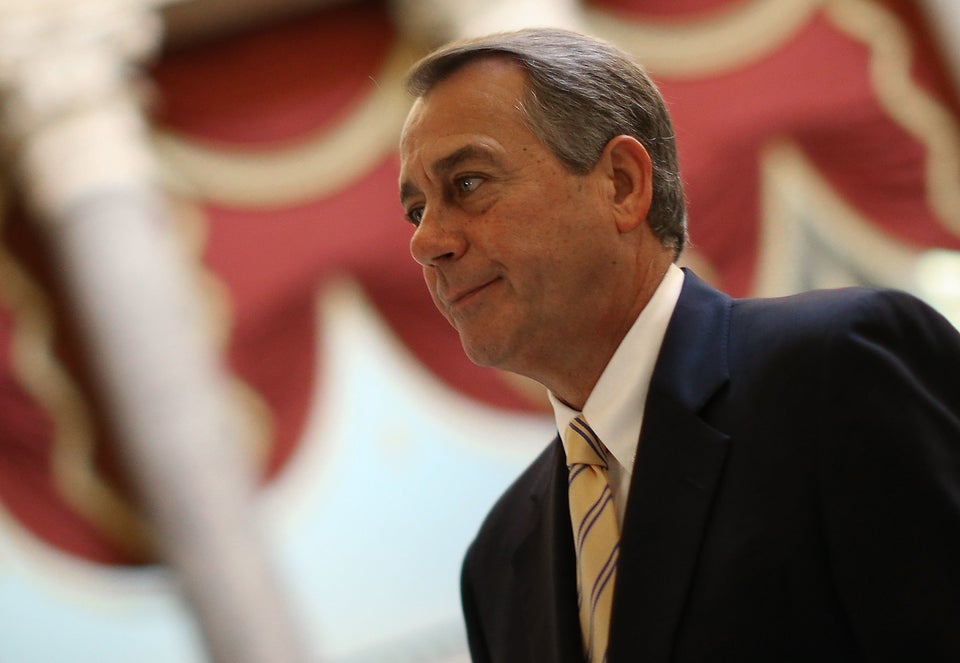 John Boehner's Shutdown Showdown Stares
Popular in the Community