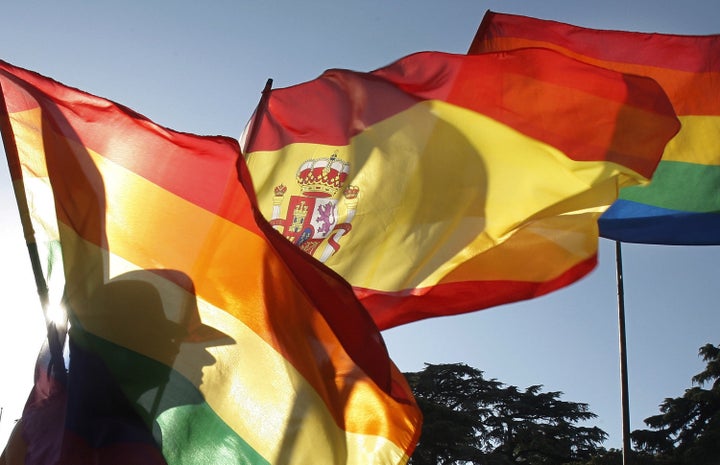 WASHINGTON -- The House on Friday quietly passed a defense spending bill with provisions that slow the repeal of "Don't Ask, Don't Tell" (DADT) and reaffirm the federal ban on gay marriage.
The $648 billion defense appropriations package easily passed in a 336-87 vote. The bill also includes a $17 billion increase over last year's non-emergency spending. But the 112 Democrats who helped pass it also endorsed a package with two GOP amendments taking aim at gay rights.
The first amendment by Rep. Tim Huelskamp (R-Kansas) bars the use of defense funds for training military chaplains to prepare for a DADT repeal. The amendment comes on the heels of a recently rescinded Navy directive that would allow Navy chaplains to voluntarily perform same-sex marriages.
The second amendment by Rep. Virginia Foxx (R-N.C.) prohibits defense dollars from being used "in contravention of section 7 of title 1, United States Code (the Defense of Marriage Act)." In layman's terms, it bars defense funds from being used for any benefits -- housing, education, medical services or transportation -- for same-sex couples.
Proponents of the Defense of Marriage Act (DOMA), which defines marriage as being between a man and a woman, hailed Foxx's amendment as a reaffirmation of current law.
"This is good news for marriage, good news for the Supreme Court, and good news for those politicians who braved political correctness to vote once again for DOMA," the National Organization for Marriage president Brian Brown said in a statement.
"Now we know by this vote, who are the friends of marriage and who are not. Politicians who ignore the wishes of their constituents and vote for gay marriage to please millionaire donors are going to find themselves in trouble come election time."
Gay rights advocates blasted Republicans for interfering with last year's DADT repeal and trying to tie it to the gay marriage debate.
"This amendment is completely unnecessary and only serves to cloud the debate over the "Don't Ask, Don't Tell" repeal by pointlessly injecting the issue of marriage equality into the conversation," Human Rights Campaign president Joe Solmonese said in a statement. "Since Pentagon officials have made it clear that they are bound by DOMA like every other federal agency, it's puzzling why Rep. Foxx would question whether our military leaders understand this point."
But gay rights supporters can't just blame Republicans, since Democrats voted with them to attach both amendments to the bill. Huelskamp had nine Democrats supporting his amendment and Foxx's amendment had the support of 19 Democrats.
The bill now heads to the Senate, which has its own version of a defense spending bill without DADT or DOMA provisions. Its bill cleared the Senate Armed Services Committee last month but has yet to come up on the floor, where it could face DADT-related amendments.
REAL LIFE. REAL NEWS. REAL VOICES.
Help us tell more of the stories that matter from voices that too often remain unheard.