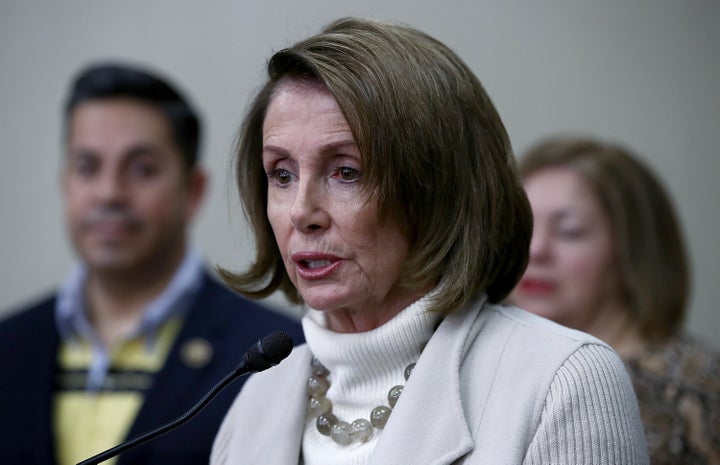 BALTIMORE ― House Democrats opened their annual retreat on Wednesday by fighting the narrative that they don't matter or can't provide a check on President Donald Trump.
One by one, party leaders told reporters that they can be just as loud as their colleagues in the Senate.
"There's somewhat buzz in the press, 'Oh, you Democrats, you don't have any power in the House of Representatives. You're going to be irrelevant,'" said House Minority Whip Steny Hoyer (D-Md.). "We're not irrelevant."
Democrats are "energized" despite taking a beating in November, he added. 
"No one in America ought to think this party is in retreat," Hoyer said, noting Democrats won a plurality of votes in the presidential election.
The defiant opening statements indicate that this gathering ― which happens every year and is meant to give members a chance to regroup ― is shaping up to be a little different than it has in the past. 
Rep. Linda Sanchez (D-Calif.) said Democrats would focus on "kicking a little ass for the working class" ― her personal title for the conference.
House Minority Leader Nancy Pelosi (D-Calif.) said House Democrats will continually point to the differences between their policy positions and Trump's.
For example, she wondered why it was taking the president so long to unveil his proposals on infrastructure, the budget and tax giveaways ― and his personal tax returns. Highlighting the party's opposition to Trump, Pelosi took particular aim at his recent comments about Russian President Vladimir Putin, as well as his executive order limiting immigration and blocking Syrian refugees.  
"As long as the president continues down this path, there is nothing Democrats can work with him on," she said. "Democrats will fight this administration every day with every fiber of our being." 
Democrats will fight this administration every day with every fiber of our being.

House Minority Leader Nancy Pelosi
Still, Democrats are the minority party across the entire federal government, leaving them with very little tangible ways to block Trump's agenda. Democrats in the House can't filibuster legislation like they can in the upper chamber. Their best chance at winning over voters likely hinges on messaging and trying to tune in to a base that has different priorities than party leaders.
Indeed, many of the sessions Democrats plan to attend over the three-day retreat show that they're aware they need to revamp their image. 
A session titled "Reaching all Americans" will feature professors from the University of California, Berkeley and University of Wisconsin-Madison, according to a schedule of the retreat obtained by The Huffington Post. Rep. Tim Walz (D-Minn.) plans to lead a session on "Why Veterans supported Trump and the path forward," and Rep. Kathy Castor (D-Fla.) is preparing to moderate a discussion on "After the Women's March: Empowering the grassroots."
But the way forward won't be all about resisting the administration, Rep. Joe Crowley (D-N.Y.) pointed out. Pressed on what tools they have in the House, Crowley said Democrats will continue to use procedural maneuvers to force Republicans into symbolic votes.
Crowley tried on Tuesday to pressure Republicans to vote on a resolution criticizing the White House's Holocaust remembrance statement for not specifically mentioning the 6 million Jews who were killed. Republicans rejected the vote.
"We want our Republican colleagues to understand that what the White House does, they either have to answer for or they have to condemn," Crowley said Wednesday. "It's not just about the White House, it's also about our Republican colleagues."
Pelosi added that Democrats also plan to lend their voice to debates raging in the Senate. Some House Democrats, for example, weren't at the retreat's kick-off so they could show solidarity with their upper chamber colleagues opposing Sen. Jeff Sessions (R-Ala.) for attorney general.
"We will have our presence, our voices, and the thoughts and wishes of the American people present in the Senate chamber tonight," Pelosi said.
Clarification: Language has been amended to more accurately reflect House Democrats' actions in solidarity with their Senate colleagues.
REAL LIFE. REAL NEWS. REAL VOICES.
Help us tell more of the stories that matter from voices that too often remain unheard.
BEFORE YOU GO
PHOTO GALLERY
Democratic National Committee Chair Candidates