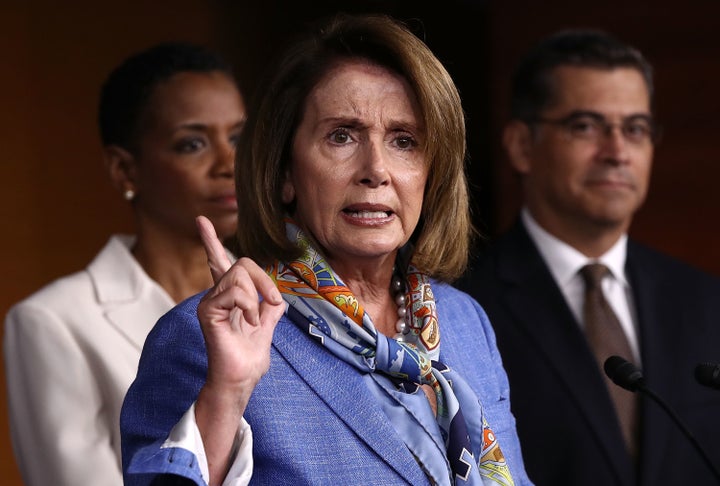 WASHINGTON ― In a bit of August recess theater, a group of House Democrats held a Capitol Hill press conference on Thursday to call on Republicans to return to Congress and address a handful of issues that lawmakers ignored before leaving for a seven-week break.
"What better thing do you have to do that you go home for a month and a half after ignoring the president's request of months for funding of Zika?" minority leader Nancy Pelosi (D-Calif.) asked Thursday. "Is it because it's not in your district?"
Pelosi said Democrats were focusing their attention on security ― "national security, economic security and the security of our democracy."
"All of those priorities are being neglected by the fact that Congress has not been in session for weeks, and does not intend to be in session for weeks," she continued.
Democrats are pointing to a number of issues that, they say, need to be addressed immediately: the Zika virus, opioids, gun violence and lead contamination.
Democratic caucus chairman Xavier Becerra (D-Calif.) pointed out that emergency funding for Flint, Michigan, expires this weekend, and he argued that Americans are concerned about Zika and wondering when Congress will appropriate more money to address the virus.
"It doesn't make any difference if it's Zika, if it's Flint, Michigan, lead contamination, you can name it: The American people are wondering when will we get our work done," Becerra said.
Democrats said they were asking Republican leadership to bring Congress back into session to address these issues. Republican leadership staffers said this was the first they had heard of House Democrats asking to be called back into session, though Senate Democrats sent a letter last week to Senate Majority Leader Mitch McConnell (R-Ky.) and House Speaker Paul Ryan (R-Wis.) asking them to do just that.
Republicans maintain that it's Senate Democrats who are blocking Zika funding, with a $1.1 billion bill held up in that chamber over Republican policy riders that would reprogram money away from other needs, hinder access to contraceptives, and weaken environmental protections on pesticides.
"It reeks of pure politics that the administration denies Republican requests to reprogram resources but will act swiftly to do so once Democrats request it," Ryan spokeswoman AshLee Strong told The Huffington Post on Thursday. "But what else can we expect from a party that is blocking an additional $1.1 billion in funding to fight Zika purely to create a political issue?"
The Obama administration is set to announce that it is reprogramming some funds from the National Institutes of Health, Rep. Rosa DeLauro (D-Conn.) said during Thursday's press conference.
"If they don't, vaccine development will be stopped dead in its tracks," DeLauro said.
Republicans had requested in July that the administration repurpose some funds it has for Ebola to be spent on Zika.
The Zika fight has turned into a standoff of pure politics, with Democrats and Republicans both blaming each other for inaction. Democrats want a funding bill without the controversial riders that Republicans added, and Republicans want Democrats to just accept the money they're willing to give ― riders and repurposing of funds included.
On Thursday, Pelosi noted that Republicans were blocking contraceptive funding ― even though Zika can be transmitted through sex.
"I wonder how many of their homes ― I just wonder, I wonder this a lot ― how many of the families of our Republican colleagues are not practicing birth control," Pelosi said. "How come they don't have many more children? How come they don't have five children in six years the way I did?"
Democrats also dinged Republicans for some of the comments from their presidential nominee.
Retiring Rep. Steve Israel (D-N.Y.), the chairman of the Democratic Policy and Communications Committee, who noted that he was returning from a trip to the Middle East, said Republicans need to bring mops to clean up the mess ― "the national security mess" ― that Donald Trump has created abroad.
"In Italy, we had to reassure some of our closest partners in NATO that we're not going to abandon them, we're not going to turn our back on them, we're not going to weaken them and we're not going to undermine them," Israel said.
Israel also said Democrats told the president of Afghanistan and U.S. military leaders that the United States would stand by them, "that we're not going to undermine them, as the Republican presidential candidate has suggested he will do."
"This has become, for House Republicans, an August of apology for their presidential candidate," he continued. "It needs to be an August of action for the American people."
Meanwhile, Pelosi took her own shots at Trump.
The minority leader took exception to Trump's latest round of attacks on President Barack Obama and Hillary Clinton, where he called Obama "the founder of ISIS" and said Clinton was a "co-founder."
"It's reminiscent of demagogues who want to be in the press no matter what they have to say," Pelosi said. "They make their verbal poo poo any place to get attention."
Calling all HuffPost superfans!
Sign up for membership to become a founding member and help shape HuffPost's next chapter
BEFORE YOU GO
PHOTO GALLERY
Athletes Who've Spoken Out About Zika And The Olympics