WASHINGTON -- As the presumptive GOP presidential nominee prepares to visit Capitol Hill for meetings this week, House Democrats are trying to force Republicans to lie in the bed they've made with Donald Trump. 
During a press conference Wednesday -- the first dedicated solely to Trump -- House Democratic leaders argued that Republicans over the years created the very environment in which the former reality TV star has risen politically.
Throughout his campaign, Trump has tried to isolate disadvantaged groups, starting with Mexican immigrants, whom he described as "criminals" and "rapists." As president, he said, he would ban Muslims from entering the U.S. He referred to Fox News host Megyn Kelly's menstrual cycle when accusing her of asking unfair questions. 
"The list goes on," said House Minority Leader Nancy Pelosi (D-Calif.).
A brief video, played at the Democrats' press conference, showed Republicans making similar comments years before Trump entered the political scene.
Rep. Peter King (R-N.Y.) was heard in one clip standing by his 2007 remarks to Politico that there "are too many mosques in this country." In another clip, Rep. Louie Gohmert (R-Texas) compared LGBT rights advocates to Nazis. And in a 2013 clip, Rep. Steve King (R-Iowa) claimed that undocumented immigrants have "calves the size of cantaloupes" because they are carrying drugs across the border. 
Asked if the recent decision by House Speaker Paul Ryan (R-Wis.) to at least put off endorsing Trump was heartening news, Pelosi scoffed, "Since when?"
"Since when is the Republican leadership in this House appalled by anti-Muslim, anti-immigrant, anti-LGBT, anti-Barack Obama, anti-women comments made by their members?" Pelosi said.
"What has happened in this campaign is Donald Trump has pulled back the veil," she said. "What he says is what they say, and now people can see the connection between that. And unless Republican leadership is going to be as, shall we say, critical of their own members as they are of Donald Trump, it's all a show."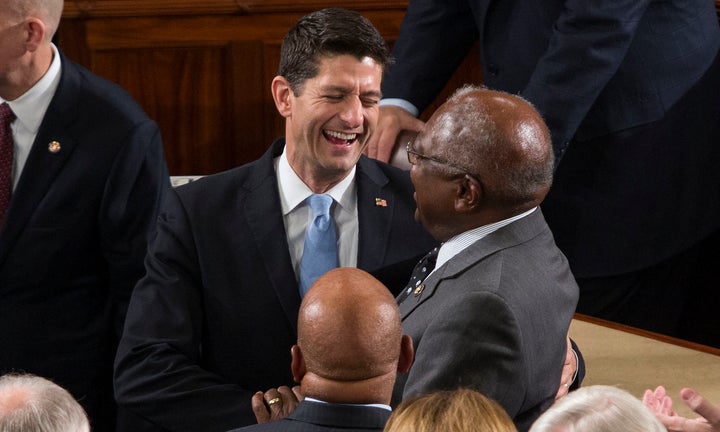 Rep. James Clyburn (D-S.C.) took the story back even further to the 1960s, when he said Republican candidate Barry Goldwater kicked off his presidential campaign with opposition to the Civil Rights Act. Next, GOP candidate Richard Nixon built his run for the White House on what Nixon dubbed the "Southern strategy," said Clyburn.
"If you go to the 1980s, when Ronald Reagan left his convention newly nominated to be the presidential standard-bearer for Republicans, where was his first speech?" Clyburn said. "He went straight to Philadelphia, Mississippi. What is Philadelphia, Mississippi, known for? That's where those three civil rights workers were murdered. ... So when you see this kind of foundation over time, I'm not surprised to see that Donald Trump has decided that this is the way to become president of the United States."
House Republicans are set to meet with Trump on Thursday at the Republican National Committee headquarters near the Capitol. The meetings are meant to build a sense of unity among party members, which won't be easy. On Wednesday, Ryan said there was no point in pretending the GOP was unified at this point, but he hoped to get there.
Democrats will be keeping an eye on Ryan to see what it takes for him to endorse Trump.
"A meeting tomorrow will not change the environment that has been created over decades," said House Minority Whip Steny Hoyer (D-Md.). "We will see what Mr. Ryan ultimately does."
A Quinnipiac University poll released this week put Trump in a near dead heat with Democratic front-runner Hillary Clinton in swing states Florida, Pennsylvania and Ohio. But Pelosi said she isn't too worried.
In explaining why, the Democratic leader almost called Trump "Ronald" for the second time at the press conference.
"Our purpose here today ... is to show you a split screen of what Ron--," Pelosi said. "I mean Donald. I keep thinking of him as Ronald McDonald, I don't know why."
As for the poll, Pelosi isn't a "fan" and doesn't completely buy the numbers. 
"It's tilted toward a person like me: white and older," she said. "I believe the American people have moved on from this age of discrimination."
REAL LIFE. REAL NEWS. REAL VOICES.
Help us tell more of the stories that matter from voices that too often remain unheard.