WASHINGTON -- Democrats literally sat down on the floor of the House chamber on Wednesday -- and forced the House into a temporary recess -- as part of an effort to compel Republican leadership to vote on gun control legislation.
Rep. John Lewis (D-Ga.), the civil rights icon who led sit-ins all through the 1960s, spearheaded the effort with a fiery, sermon-like denunciation of Congress for its failure to act in the wake of mass shootings.
"For months, even for years, through seven sessions of Congress, I wondered, what would bring this body to take action?" Lewis said while Democrats slowly surrounded him at the microphone. "We have lost hundreds and thousands of innocent people to gun violence. Tiny little children. Babies. Students. And teachers. Mother and fathers. Sisters and brothers. Daughters and sons. Friends and neighbors. And what has this body done? Mr. Speaker, not one thing."
After about 10 minutes of escalating questions -- and shouting, "Where is our soul? Where is our courage?" -- Lewis said it was time for Speaker Paul Ryan (R-Wis.) to bring up some of the pending gun control bills. In the meantime, he said, he'd just take a seat. Moments later, he sat down on the floor. And so did all the other Democrats with him.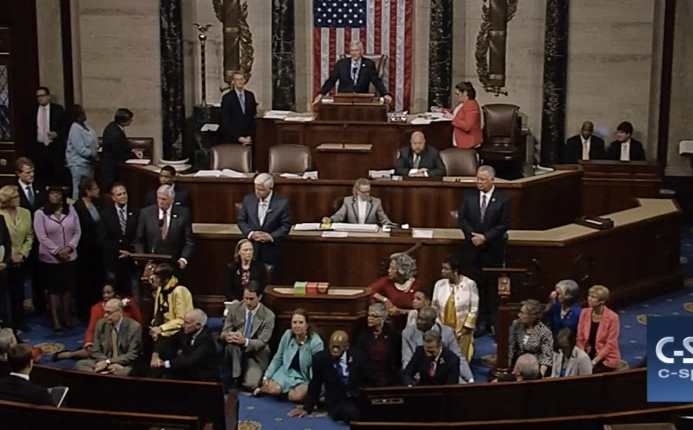 "Sometimes you have to do something out of the ordinary. Sometimes you have to make a way out of no way. We've been quiet for too long," Lewis said. "Now is the time to get in the way. We will be silent no more. The time for silence is over."
As another Democrat began to speak, the Republican lawmaker sitting in the chair gaveled the House into a temporary recess until noon. The House cut off the C-SPAN cameras that normally broadcast the floor. Later, when lawmakers reconvened, Democratic members still refused to budge, forming a circle in the well of the floor while chanting. Republicans were forced to gavel into recess once more.
It's not clear what GOP leaders plan to do now.
"The House cannot operate without members following the rules of the institution, so the House has recessed subject to the call of the chair," said Ryan spokeswoman AshLee Strong.
Several Democrats tweeted pictures from the protest, using their newly coined hashtag #NoBillNoBreak.
Democratic senators also showed up to stand or sit with their colleagues. Among them were: Sens. Elizabeth Warren (Mass.), Chris Coons (Del.), Chuck Schumer (N.Y.), Amy Klobuchar (Minn.), Al Franken (Minn.), Tim Kaine (Va.), Bill Nelson (Fla.), Cory Booker (N.J.), Claire McCaskill (Mo.), Debbie Stabenow (Mich.), Dick Durbin (Ill.), Chris Murphy (Conn.), Richard Blumenthal (Conn.), Jeff Merkley (Ore.) and Mazie Hirono (Hawaii). Presidential candidate and Sen. Bernie Sanders (I-Vt.) joined late in the afternoon.
Lewis' effort was a dramatic attempt to force the hand of Republicans before the chamber adjourns later this week for a weeklong recess. But it's not the only disruption House Democrats are planning. According to multiple aides and lawmakers, Democrats will try to essentially hijack the House floor both Wednesday and Thursday in an effort to get gun control measures a hearing.
The "No Bill, No Break" campaign centers on clever and repeated use of procedural rules. Assistant Democratic Leader James Clyburn (D-S.C.) has already tried and failed, twice, to bring up legislation to deny people on the no-fly list the right to purchase a firearm.
But the extent of the party's plans has been kept largely under wraps out of concern that Republicans would move to undermine the strategy. Several aides have described it as a "disruption" campaign. One Democratic lawmaker said the party was "devising a variety of parliamentary tactics to pressure the GOP in D.C. this week, then in individual districts next week during recess."
"Watch the floor carefully this week," the lawmaker added.
As the minority party, Democrats have virtually no power over which bills come up or don't come up. The only thing they can do to derail a debate is shout in protest -- not exactly proper decorum, but it happens -- or get creative with procedural maneuvers. They plan to do both this week.
Ultimately, the goal is to force lawmakers to go on record on a bipartisan bill that would grant the FBI and the attorney general the authority to ban people on the no-fly list from buying firearms. There's also another bill to expand background checks on gun sales. But with limited power to compel a vote, Democrats huddled this week to chart a path forward. Minority Leader Nancy Pelosi (D-Calif.) devised the "No Bill, No Break" concept with Reps. Steve Israel (D-N.Y.) and Mike Thompson (D-Calif.), one of the bill's co-sponsors.
At a caucus meeting on Wednesday morning, Pelosi told members that a "great deal of planning is in the works" for the next few days and encouraged them to remain united in trying to force a vote. According to an aide who was present, she said she empathized with the desire of many lawmakers to show their constituents that they were not content with inaction.
"Many of you have said that we cannot have another moment of silence without action to follow. These moments of silence have almost become a moment of denial because it's a denial of what we need to do," Pelosi told members. "We have to turn it into a moment of truth and actions -- where we go from here."
In addition to the Lewis-led sit-in, aides said to expect lawmakers to file repeated motions to adjourn and parliamentary inquiries demanding votes. Pelosi will also lead a press event on Wednesday calling on Ryan to keep the House in session until they vote on the two gun-related bills.
"This is an echo. We are echoing each other. What we hope to do is create an echo chamber throughout America of a repeated message of 'no bill, no break.' Give us a vote," Pelosi said, speaking outside the Capitol to cameras, which were not allowed inside the chamber.
"Moments of silence to pay our respects, of course. But it is not a substitute, nor should it be considered one, for action. A moment of silence - we want a moment of truth. We want a time of action to follow it."
She pledged that Democrats would not relent.
"All day, we'll just be there as long as it takes, every day. If they [the Republicans] adjourn, we'll be here for pro forma [non-working sessions of the House during recess], and we'll be in our districts," Pelosi said.
Michael McAuliff contributed reporting.
CORRECTION: An earlier version of this story misidentified Assistant Democratic Leader James Clyburn as the House minority whip.
Before You Go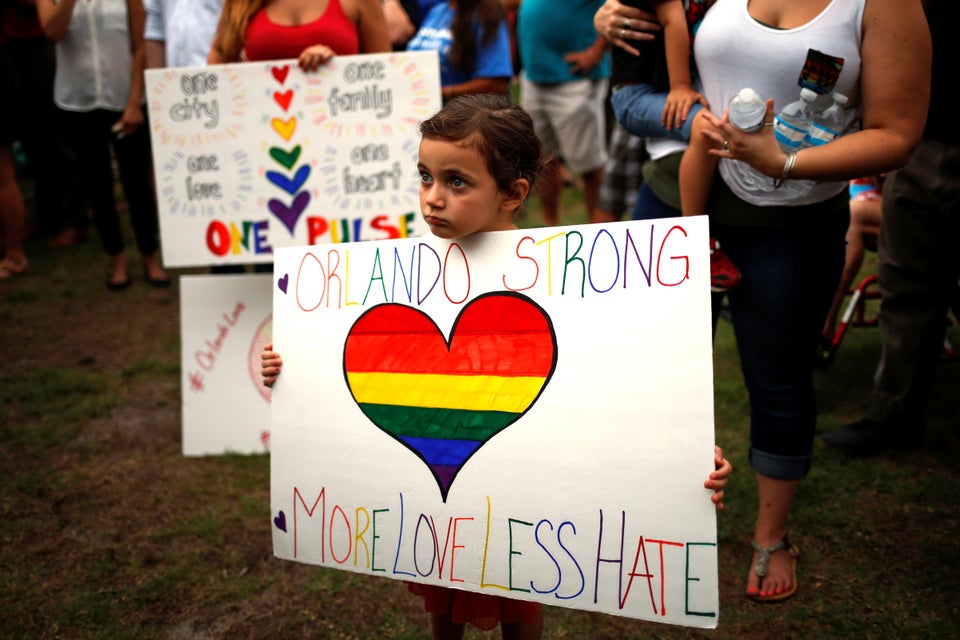 Kids At Orlando Vigils Around The World
Popular in the Community