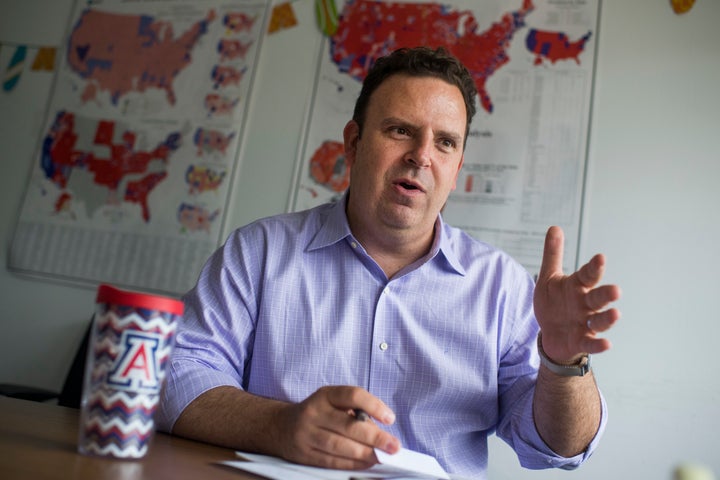 House Democrats have a new weapon in their quest to take back control of Congress ― their own in-house digital advertising agency.
The Democratic Congressional Campaign Committee, which is charged with winning control of the lower chamber in 2018′s elections, has built a first-of-its-kind digital unit as part of its independent expenditure arm, which focuses on attacking Republican incumbents and candidates, and getting out the vote for Democrats.
The 12-person team, split between media buyers and a creative group, is designed to allow the DCCC to quickly deploy new digital ads and attacks, and is part of the organization's effort to rebuild the Democratic digital infrastructure after the party was badly outspent online during the 2016 election.
"We wanted to create the most nimble, focused digital operation a committee had ever had. There were very few days that went by that we weren't testing how to hit a Republican on Facebook," said Dan Sena, the DCCC's executive director. "This is the first time a political committee has made this type of reform and change in this short a period of time."
The effort is part of the DCCC's post-2016 overhaul, which includes a never-released autopsy of failed Democratic efforts to win back the House since 2010. Sena and other top officials, including the unit's leader, Brian Krebs, visited ad agencies in New York and Los Angeles and tech companies in San Francisco in an effort to figure out best practices and catch up to Republicans.
Sena, along with Krebs and Tara McGowan, co-founder of the progressive digital nonprofit Acronym, came up with the idea to build an in-house team earlier in 2018 in an attempt to mimic major advertising agencies, which are increasingly creating their own digital teams. The DCCC has also hired digital staffers for each region of the political map, and has deployed staff members to crucial districts to shape social media conversation there. 
"We're trying to de-silo digital as much as possible," Krebs said. 
The new team aims to deploy ads more quickly than an outside firm and better capitalize on potentially viral campaign moments. 
Democrats held an edge in digital politics throughout the Obama years, but most strategists in both parties now believe Republicans have caught them ― at least when it comes to digital advertising. (Democrats insist they retain an advantage in online fundraising, though President Donald Trump challenges that.)
In 2016, Trump's campaign and GOP outside groups spent heavily on Facebook. Digital spending is notoriously difficult to track, but Democrats, including the super PAC Priorities USA, are making an aggressive push to match Republicans dollar for dollar in the run-up to November.
Meanwhile, Acronym and other groups are trying to rebuild Democrats' digital infrastructure and create new career paths for digital operatives. Krebs said he hopes the DCCC's new team can be a part of the effort.
"For me, there's a large hope that the team that is built here will stay in the party, in the committee, and lean to build off of those skills and just get smarter on that front," he said.
Calling all HuffPost superfans!
Sign up for membership to become a founding member and help shape HuffPost's next chapter