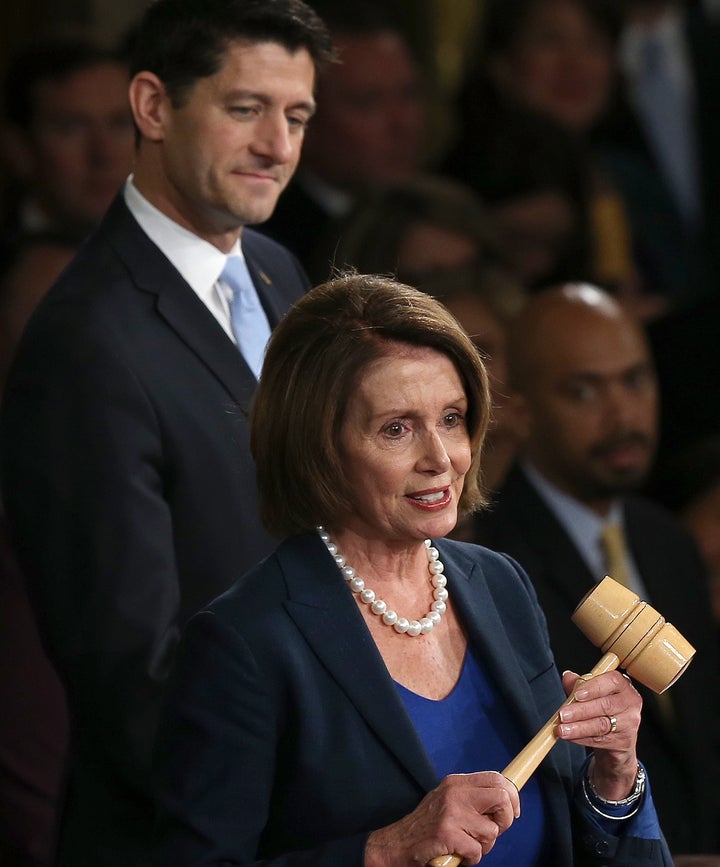 House Democrats have reportedly rejected Republicans' first offer of a bill to fund the government past Dec. 11, raising the specter of a government shutdown that almost no lawmaker believes will happen.
According to a senior Democratic aide familiar with the budget talks, Democratic leadership turned down an offer that was written by House Speaker Paul Ryan (R-Wis.), Senate Majority Leader Mitch McConnell (R-Ky.) and their staffs.
Ryan's staff, however, rejected the suggestion that the speaker was personally involved. AshLee Strong, a spokeswoman for Ryan, told The Huffington Post that the proposal for the omnibus spending bill "was an Appropriations Committee offer, constructed by the Appropriations Committee. The speaker supported it, but he's deferring to [Appropriations] Chairman [Harold] Rogers."
Regardless of who actually wrote the bill, the package included 30 appropriations riders that Democrats objected to, including the language passed in the House two weeks ago that would functionally halt Syrian and Iraqi refugees from coming to the United States.
The Democratic aide also mentioned "numerous anti-environment, anti-worker, anti-Dodd-Frank riders."
While this is just the first offer -- one that was almost certainly going to include provisions from Republicans that they know won't make it into the final bill -- it's striking that the two sides are so far apart just nine days away from a potential government shutdown. It's also noteworthy that these negotiations now seem to be playing out in the press.
According to a senior GOP aide, Ryan called House Minority Leader Nancy Pelosi (D-Calif.) Tuesday night and had a roughly 30-minute phone conversation with her. The aide said Ryan urged Pelosi to seriously consider the offer and to let the House Appropriations Committee negotiate a deal.
But it didn't take long for Pelosi to figure out that Democrats weren't going to go along with this first offering.
On Wednesday morning, House Democrats held a caucus meeting in which Pelosi described the Republican offer as a "non-starter."
"Everything that we thought would have movement or that was still an open question, they just negated," Pelosi told Democrats at the meeting, according to a source. "This is similar to what they did on refugees. We were in good faith, we were together and all the rest -- and then, they took a turn."
As the Democratic aide noted, House Democratic appropriators are preparing a counteroffer. Party leaders met with Pelosi Tuesday night, and received a briefing on the negotiations from Rep. Nita Lowey of New York, the ranking Democrat on the House Appropriations Committee.
The apparent distance between Republican and Democratic leadership could mean that Congress has to pass another short-term bill, perhaps just for a few days or a week. But hardly anyone believes the dynamics of the debate will change with more time. Republicans have acknowledged from the start that they will need Democratic votes to pass the massive spending bill in the House and Senate -- and the threat of President Barack Obama's veto could still play a formative role in the negotiations.
There are some positive signs. For one, the House GOP bill did not include a rider to bar the Federal Communications Commission from enforcing net neutrality, something many advocates had feared since the provision made its way into the financial services appropriations bill. For another, Democrats who discussed the problems with the bill didn't mention provisions addressing Planned Parenthood funding. More than 120 Republicans have signed on to a letter urging GOP leadership to include provisions addressing abortion, including one amendment that would allow state governments to defund Planned Parenthood.
Of course, all this may be good news for Democrats, but it will disappoint many conservatives who are on the fence about an appropriations bill that will already spend more money than previously agreed to under the 2011 budget caps. Lawmakers agreed to raise those caps by $50 billion -- half for domestic spending, half for defense -- at the end of October.
The difficulty for GOP leaders is coming up with a bill that can win as much Republican support as possible while still attracting enough Democrats to get it through both chambers and to the president. That task is all the more difficult when leaders need a sizable bloc of Democrats to support the bill. In recent history, Republicans have struggled to find a majority in their own conference to support these sorts of large spending packages.
This gives Democrats even more leverage, which pushes the legislation further to the left, which reduces the number of Republicans supporting the bill anyway.
Conservatives are closely watching how Ryan handles the negotiation, and they're trying to signal -- as best they can -- that they're open to supporting the bill.
"If there's real victories on policy, we'll support it," Raul Labrador (R-Idaho) told HuffPost Monday night as he exited a House Freedom Caucus meeting. "The question is whether the speaker is going to fight for real victories or not."
But again, the question is whether conservatives will ever be happy enough to support the bill. Rep. Ted Yoho (R-Fla.) told HuffPost that these sorts of last-minute spending bills were a vestige of "the era of Boehner," adding that when Congress waits until the very end to pass an appropriations bill, "this is the garbage you get."
Laura Barron-Lopez, Amanda Terkel, and Elise Foley contributed reporting.
Popular in the Community