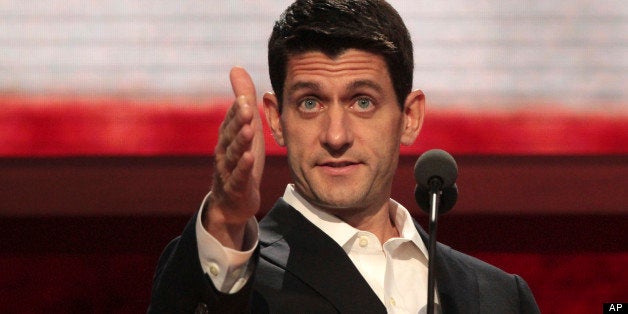 WASHINGTON -- Worried about the budgets proposed by Rep. Paul Ryan (R-Wis.)? Don't like what Rep. Michele Bachmann (R-Minn.) has to say about anything? Concerned about election spending by the billionaire Koch brothers and oil companies? House Democrats have the answer: Vent your distaste by sending them $5, $10 or $25.
Using partisan appeals to its base, the Democratic Congressional Campaign Committee has seen its online fundraising from small donors skyrocket in recent years. According to the DCCC's digital director, its online giving -- which averages $20 per donation -- has jumped from $9 million in 2008 to $49 million in 2012. The committee is on pace to break its record from the last electoral cycle, having raised $7.3 million from 400,000 online donations in the first five months of the year compared to $2.9 million in the same period of 2011 from 100,000 donations.
The online program's success is the main reason that total DCCC fundraising is up $6.7 million over last cycle through the first five months. Online donations account for $4.4 million of that increase, while contributions over $30,000 have risen by just $1.3 million from the last cycle.
The chief drivers of the House Democrats' Internet money machine are an enhanced digital team working with a massive list built largely over the last election cycle, a growing social media presence and -- most important of all, according to DCCC staff -- the actions of the House Republican majority.
Digital director Brandon English described the DCCC's primary online funding appeal: "For us, it's sort of mostly watching what [House Republicans] are doing on the Hill and providing our supporters with an outlet to fight back and defeat these guys or give them a hard time for some of these crazy votes that they're taking in Congress."
This means blasting the email list and messaging to the committee's 1 million Facebook friends and 70,000-plus Twitter followers when Republicans tackle issues like Medicare, Social Security and women's rights or when Republicans say something that could offend Democrats.
The DCCC's biggest online fundraising days, according to English, have come after Ryan's speech accepting the GOP vice presidential nomination at last year's Republican National Convention, when a House committee refused to hear testimony from Sandra Fluke on birth control, and following the passage of Ryan's 2013 federal budget.
The National Republican Congressional Committee deploys similar partisan messaging to help raise money online, although its numbers lag those of the Democrats. The NRCC says that its top performing email in recent months was one from House Majority Leader Eric Cantor (R-Va.) calling for contributions to "make sure Nancy Pelosi will never again be Speaker of the House."
The NRCC is expanding its digital team this electoral cycle and will be investing more money and time into building bigger contact lists.
"The NRCC's Digital Team focuses on two things: 1) acquire assets to raise money and 2) improve our Patriot and Young Guns online operations," the committee's digital director, Gerrit Lansing, said in an email. "We're spending significant resources this cycle to acquire enough assets to compete with anyone. In addition, we've tripled the size of our digital team to help our candidates and members be successful online."
The strategies of both party committees follow the successful tactics of Congress' most partisan members in soliciting money online from small donors. Reps. Bachmann, Alan Grayson (D-Fla.) and Joe Wilson (R-S.C.), as well as former Rep. Allen West (R-Fla.), have all used their own statements, often inflammatory, or the actions of their opposition to tap into partisan discontent to raise money.
For the party committees, however, money is just one benefit of online interaction. The DCCC uses data collected from Internet donors and those who respond to emails and online petitions to determine which of their supporters might also volunteer their time for House Democrats.
"If you're the kind of person who gives $5 or $10, you're definitely more likely to be the kind of person going out knocking on doors and making phone calls," English said.
The committee is also working to expand its mobile program to even more directly activate volunteers, get out the vote and raise money.
"Email is great for reaching out to folks, but ultimately if you get a text message, you're going to open it," English said. "The open rate on text messages is going to be over 90 percent, so especially for volunteers and for GOTV [get-out-the-vote efforts], for the folks that you really want to make sure that you are connecting with, that they're seeing your message, mobile is the way to do it."
GOTV, especially through mobile means, looks to be one of the biggest growth areas for the DCCC digital team as they seek to boost the turnout of major Democratic constituencies, including young adults, minorities and single women, who tend to vote at a much lower rate in midterm elections.
"2014 is just going to be so important in terms of turnout, and reaching folks in as many channels as possible is going to be very important," English said. "What we've seen in all of our testing out there is that the more networks and the more places you can make that connection with folks, the better."
REAL LIFE. REAL NEWS. REAL VOICES.
Help us tell more of the stories that matter from voices that too often remain unheard.
BEFORE YOU GO
PHOTO GALLERY
Speakers Of The House (1920-Present)