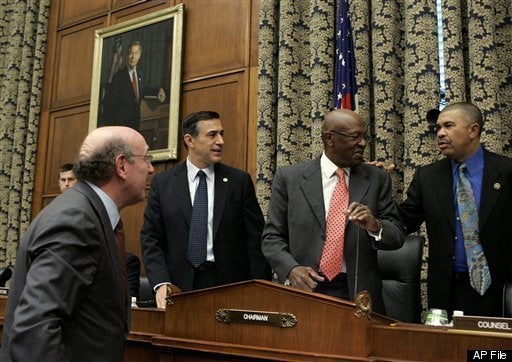 The House Oversight and Government Reform Committee has been enmeshed in an internal staff battle for more than two years, with accusations of racism, document tampering and the hoarding of information from committee members flying back and forth, according to interviews with current and former committee staffers backed up by emails and memos leaked to the Huffington Post.
The drama has unfolded as Rep. Darrell Issa (R-Calif.) has made a virtual punching bag out of the White House and Treasury Department. Democrats have made a campaign issue of Issa, warning that if Republicans take the House he'll have subpoena power and his staff will double.
The main dispute is between a subcommittee staff director and a subcommittee clerk, with partisans of each dragged into the dispute, according to emails reviewed by HuffPost. The clerk, Jean Gosa, who has been a Hill staffer for more than 35 years, is now the subject of a personnel complaint and could be terminated within the week, according to a memo she wrote to the committee's chairman, Ed Towns (D-N.Y.). "Jaron Bourke filed a personnel complaint against Jean Gosa. The complaint is currently under investigation. No decisions have been made," said committee spokeswoman Jenny Rosenberg in a statement to HuffPost, declining to comment further.
Gosa, responded in a June memo to Towns with accusations that staff director Bourke kept documents from the chairman and ranking member of the committee during one hearing, though the documents were provided to the press, according to emails signed by Gosa and obtained by HuffPost. Bourke, through an attorney, denies the accusations.
Bourke has a long and distinguished record as a top progressive staffer. "She's totally not credible. She's basically making things up to smear him," Bourke's attorney Betty Grdina said, arguing that printing Gosa's accusations would constitute libel. "It's a totally bullshit charge."
Indeed, the credibility of at least one of Gosa's charges is questionable. Gosa, in her memo to Towns, denies that she called another staffer an "ass." HuffPost spoke with the staffer in question, who asked not to be named: The aide said that Gosa did indeed swear at her, but called her an "asshole."
While making her accusations in the memo, Gosa admitted, perhaps accidentally, that she proposed doctoring testimony submitted as part of the congressional record. According to Gosa's recollection as laid out in the memo she sent to Towns on June 17, 2010, Towns had allowed material to be submitted for the record within five days of a particular hearing. When materials came in beyond that timeframe, Gosa suggested changing the dates to allow it to be submitted, she wrote.
"Jaron made a false claim that I wouldn't insert appropriate materials into the hearing record," she wrote in the memo. "The incident that he is referring to was when the Chairman stated that there was 5 days to submit additional testimony after a hearing. Materials would come in months later with the wrong dates and I explained to Jaron that they would have to change the date closer in the range of the 5 days that the Chairman allotted not several months later." There is no evidence that Bourke allowed her to change the dates.
Gosa was considering airing the committee's laundry in the press by May of this year, according to the emails reviewed by HuffPost. "I called my 1st Member and he thinks I should give all of this documentation to Mr. Issa and my cousins in Dennis district to give to the papers and even the Hill papers," she wrote in an email, reviewed by HuffPost, to Linda Good, deputy chief clerk on the committee. The discord had gotten to the point where Gosa, in the emails to coworkers, would complain that the panel was run as a "plantation," and make repeated use of terms such as "slave" and "overseer."
The tension stretches back at least to March 2008, according to an email reviewed by HuffPost that was written by then-new staff assistant Charisma Williams. She told the staff director of a separate subcommittee, chaired by Rep. Lacy Clay (D-Mo.), that "[t]here seem to be some really shady things going on in here and I'm fearful that if I even casually associate with the wrong person, even for a brief moment of time, that I may be sucked into whatever madness is going on over my head." (Williams declined to comment.)
The feud between Bourke and Gosa goes back at least to February 2009, when Gosa complained to her friend and fellow staffer Noura Erakat -- then counsel on the committee and now a professor at Georgetown and a HuffPost blogger -- about the office environment, a complaint Erakat sustained in response according to the emails. Both Gosa and Erakat -- an African American and Palestinian American, respectively -- complained of racial tensions on the committee in emails to each other that were among those obtained by HuffPost.
The infighting has been going on while the committee's ranking Republican, Issa, has been making a name for himself by targeting the White House in probe after probe. A front-page New York Times story on Issa as Obama's "Annoyer-in-Chief" doesn't include mention of Towns, who has largely been absent from the national conversation.
That's a sharp departure from the legacy left by former Chairman Henry Waxman (D-Calif.), who used the committee's gavel to flatten Bush administration officials and heads of corporations that found themselves subject to his scrutiny. In general, it's easier to make public headway with the committee when the opposing party controls the White House. Sensing that the committee's usefulness to Democrats was nearing its end, and hoping to lead the legislative charge, Waxman gave up the chairmanship in pursuit of the Energy and Commerce Committee gavel following Obama's election.
Towns was next in line to take over. Rep. Elijah Cummings (D-Md.) and Carolyn Maloney (D-N.Y.) jockeyed for the chairmanship, but Towns' seniority trumped them, despite a past that would not make him the obvious choice to run a committee dedicated to investigating corruption.
Towns, who represents Brooklyn, was once himself the subject of a federal investigation. Though never indicted, Towns was caught on camera pocketing $1,300 during a covert meeting with Salini Construction Company executives, back when he first ran for Congress in 1982. He returned the cash a few days later, after reportedly being tipped off that the construction company executives were actually undercover cops. Towns has offered a number of explanations for returning the money, initially claiming it exceeded the $1,000 limit for corporate campaign contributions, and later asserting he returned the money because it was given in cash, which violates federal law.
The oversight committee has little interest in embarrassing a president of its own party, but that doesn't preclude a chairman from investigating corporate abuses. On the committee website under investigations related to "corporate accountability," the most recent link sends users to a January 13, 2010 press release inviting Treasury Secretary Timothy Geithner to testify at an AIG counterparty hearing. Since then, Goldman Sachs has been charged with defrauding investors and subsequently settled that case with the Securities and Exchange Commission.
Towns' defenders are quick to note that his committee has held more hearings since January than the Senate's oversight panel and far more than Waxman's Energy and Commerce Committee. But the panel has lost the media battle to Issa, a fight for attention that has real consequences: The more media attention one side or the other can win, the more likely it is the press will focus its attention following one side's preferred path.
Marcy Wheeler, an investigative blogger for Firedoglake.com, told HuffPost that she think the panel under Towns "lack[s] Waxman's talent for driving media narratives, which can be an effective part of getting the press involved."
Wheeler, who hoped Cummings would have taken over the panel from Waxman, praised the committee for its work on Toyota's safety problems and had kind words for Cummings' investigation into AIG bonuses, though she questioned the follow-through on both.
Towns' insistence Monday that corruption in Afghanistan was waning also casts doubt on his credibility as an investigator. "He's out today declaring that corruption in Afghanistan is over in what seems like it could have been a joint propaganda venture with General Petraeus. That, even though I believe he still has an outstanding request for contracting info from Gates," said Wheeler.
Towns' greatest sin, meanwhile, may be letting Issa run wild, said Wheeler. "From a crass partisan standpoint, we really needed someone in that position who would have the ability to undercut Issa's witchhunts. That takes some parliamentary smarts to do, but right now I see Issa effectively using this ranking position as a means to push crazy theories," she said.
Popular in the Community