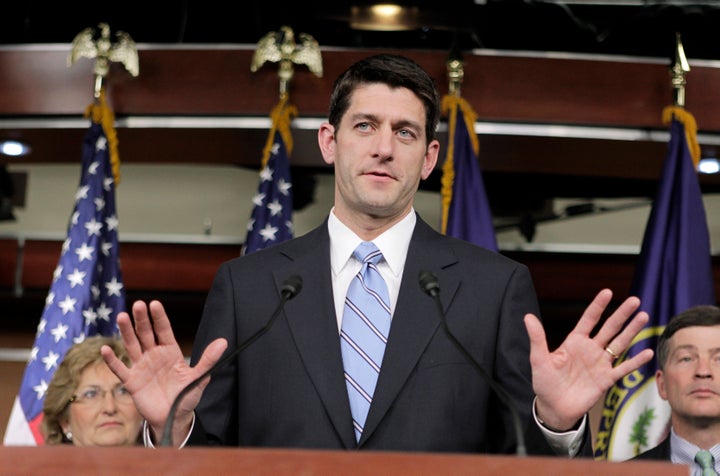 The proposal, offered by Budget Committee Chairman Paul Ryan (R-Wis.), would cut trillions from the federal debt over the next decade and transform Medicare from a government-run program into a voucher-like system where the government subsidizes purchases of private insurance plans. People aged 55 years and older would remain in the current system, but younger people would begin receiving subsidies that steadily lose value over time.
Democrats, who argue that the Ryan budget plan kills Medicare, predicted Republicans' near-unanimous vote for the bill will have dire political consequences for them among older voters. It passed 235 to 193, with every Democrat voting "no" and only four GOP lawmakers opposing it: Reps. Ron Paul (Texas), Walter Jones (N.C.), David McKinley (W.Va.) and Denny Rehberg (Mont.), who is running for Senate in 2012.
This vote will "absolutely" come back to haunt Republicans, said Rep. Kathy Castor (D-Fla.). "I am shocked that my fellow Floridians who are Republican voted to end Medicare." Anyone who says the bill doesn't end Medicare is "misrepresenting this," Castor said. "All families today are affected. Funds for nursing homes are slashed and Medicare is left to wither on the vine."
Rep. Peter DeFazio (D-Ore.), a vocal member of the Populist Caucus, called a vote for the bill "indefensible" and said it "certainly should" have political consequences. "If there was any shift in the last election, it was over what Obamacare did to Medicare," he said. "This is 110 times worse. This is doing nothing but dismantling Medicare."

House Republicans heading out of the Capitol after Friday's vote either pushed back on the idea that their vote could hurt them politically or dodged the question altogether.
"I honestly don't think so," Rep. Kevin Brady (R-Texas). "The American public is so hungry for truth-tellers, especially on the budget. They know something needs to get done …. This was the right thing to do politically and principally."
"Call my office. They'll be happy to talk to you," Rep. Dean Heller (R-Nev.) said repeatedly when asked if he felt good about his vote.
Rep. Marsha Blackburn (R-Tenn.) rebutted the idea that the proposal would have any impact on Medicare recipients. "It's not going to affect seniors or near-seniors," she said. "There is no change for them."
Rep. Geoff Davis (R-Ky.) said anyone making "a fact-based" assessment of the proposal knows that it helps Medicare, not hurts it. "This, in fact, preserves Medicare," he said. "In the near-term, retirees have the exact same system … In the long-term, it preserves the soundness of a social safety net." Asked about arguments that the proposal destroys Medicare, the Kentucky Republican said those messages come from Democrats who are "simply making specious arguments -- false statements."
But the White House stood by its assertion that the proposal guts Medicare. "The House Republican plan places the burden of debt reduction on those who can least afford it, ends Medicare as we know it, and doubles health care costs for seniors in order to pay for more than a trillion dollars in tax cuts for millionaires and billionaires," White House Press Secretary Jay Carney said in a statement released after the bill cleared the House.
The Ryan plan is not expected to pass the Senate.
Calling all HuffPost superfans!
Sign up for membership to become a founding member and help shape HuffPost's next chapter