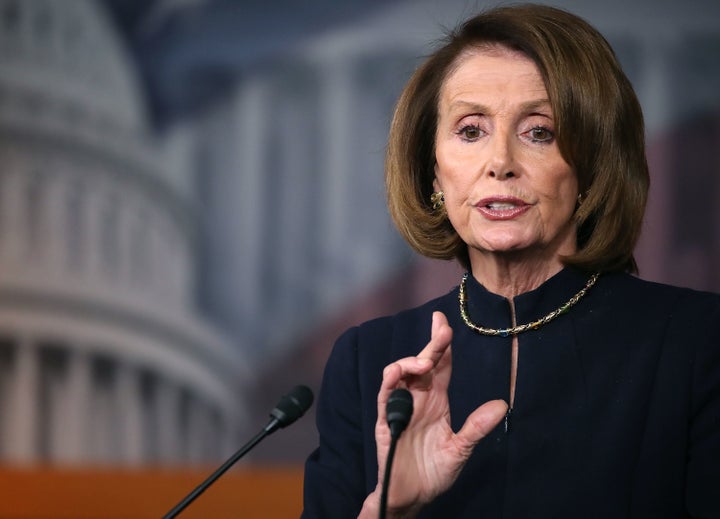 WASHINGTON ― After disappointing election gains and a fractious fight for their caucus' top spot, House Democrats seem to be decentralizing the power structure that has given Minority Leader Nancy Pelosi (D-Calif.) an ironclad grip over her members for years.
At least, that's the impression Democrats want to give off.
Democrats adopted rules changes this week that will make the Democratic Congressional Campaign Committee chairman an elected position, instead of one that the Democratic leader appoints. They've also added a slate of new positions in the caucus meant to allow more junior Democrats to claim a more senior role.
"These are not lower-level positions," Pelosi told reporters on Friday. "Everybody's in that room. They're an equal voice."
The "room" Pelosi refers to is the one where Democratic leadership meets to discuss strategy and plan out messaging. In addition to adding a freshman leadership position and a position for a member who has served five terms or less, Democrats added three "co-chairs" ― whatever that means ― for the Democratic Policy and Communications Committee, a group of somewhat dubious importance that helps develop talking points for members. (Pelosi created the DPCC two years ago as a way to keep Rep. Steve Israel of New York, who was leaving his chairman position at the DCCC, in the leadership fold.)
While it's true all these positions will get a seat at the table in leadership meetings, and that these spots could act as stepping stones on the way toward positions with more influence, Democrats appear to have passed on making the sorts of real changes that would have substantially overhauled the party's leadership.
Pelosi beat Rep. Tim Ryan (D-Ohio) in a race for the minority leader spot, 134-63. And Rep. Sean Patrick Maloney (D-N.Y.) decided against challenging current DCCC Chairman Ben Ray Lujan (D-N.M.) for that position, even after Lujan led Democrats to pick up just six seats in an election where leaders like Pelosi were predicting gains of more than 20.
Democrats had pushed to make positions on the Steering Committee ― the panel that chooses committee assignments and ranking members ― into elected positions, rather than appointment positions chosen by the highest-ranking Democrat. Pelosi didn't back those changes, and the caucus doesn't look like it will either. Democrats also held off on a change that would have added a vice ranking member position to committees, though that rule could still be adopted.
But even if it is, Democrats are keeping the same seniority-based, term-limit-free system to determine ranking members. And for the 15th straight year, Pelosi and Minority Whip Steny Hoyer (D-Md.) will sit atop the Democratic Caucus.
Which is all to say, not much is actually changing.
Republican reactions to the structural adjustments on the other side of the aisle have ranged from a Sun Tzu-like stance of "never interfere with your enemy when he is making a mistake" ― the Republican National Committee building actually hung a banner this week cheering on Pelosi ― to some jabs about Democrats handing out participation trophies and becoming an anarchical protest group.
"Looks from our perspective like an attempt to graft Occupy Wall Street consensus decision-making onto the traditional power structure rather than replace it wholesale," one influential senior GOP aide told The Huffington Post. "It's not going to be helpful."
But even this reading assumes that Democrats are actually changing, that these new positions will have real power. 
Pelosi tried to convince skeptical reporters on Friday that the spots are indeed "substantial."
"It took me 15 years probably to get to the leadership table. These people will get there freshman year or in a couple of terms," Pelosi said, adding that she was "frankly liberated" by the changes.
"In no way would they consider this lower-level, especially from their perspective in the Congress," she said.
But again: Pelosi is ultimately calling the shots. She'll be the one negotiating with Speaker Paul Ryan (R-Wis.) on major deals. She'll be the one keeping Democrats together ― as she's done for a decade and a half.
If anything, these changes seem more about keeping Pelosi in power. The California Democrat has given Democrats a place to go while younger members wait for her to leave, even as there is still no indication she plans to do that.
Calling all HuffPost superfans!
Sign up for membership to become a founding member and help shape HuffPost's next chapter