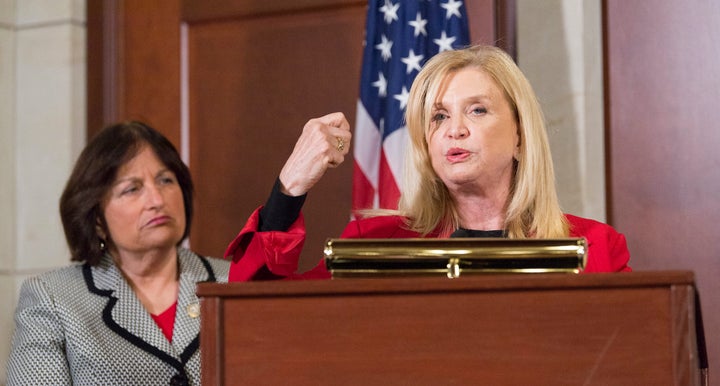 Democratic House members announced two new bills on Monday designed to combat the "corporate culture of secrecy" that helps protect workplace sexual harassers.
Reps. Carolyn Maloney (D-N.Y.), Ro Khanna (D-Calif.), Annie Kuster (D-N.H.), Jamie Raskin (D-Md.) and Tom Suozzi (D-N.Y.) discussed the Ending Secrecy About Workplace Sexual Harassment Act and the No Tax Deductions for Sexual Harasser Buyouts Act at a press conference on Monday afternoon. They were joined by representatives from the Feminist Majority Foundation, the ERA Coalition and the National Organization for Women.
"With total secrecy, companies have absolutely no incentive to focus on preventing sexual misconduct if they know they will never be held accountable. But with these two bills, we flip the incentive structure from one of cover-up to one of prevention," Maloney told reporters.
The proposed Ending Secrecy About Workplace Sexual Harassment Act takes aim at the nondisclosure agreements that accusers are often forced to sign to win settlements in workplace sexual harassment cases. The bill would require companies to report all court settlements involving sexual harassment, assault and discrimination to the Equal Employment Opportunity Commission annually.
"When employers don't have to disclose these internal settlements, when there is no public record about abuse, it can cause great harm to victims, other employees who may not know they're working in a harassing environment or who the harassers are, and even the public at large," Maloney said.
Suozzi added that "we need to shine a light" on sexual harassment and assault.
"We must remember the adage 'Sunlight is the best disinfectant,'" he said, adding, "By requiring companies to detail sexual harassment data, we can clearly define the extent of this pervasive problem and begin to change this toxic culture of behavior."
The proposed No Tax Deductions for Sexual Harasser Buyouts Act would no longer allow companies to pay million-dollar severances to employees fired for sexual misconduct and then use those buyouts as a way to lower their own taxes. The measure was inspired by Fox News' recent payment of $25 million to Bill O'Reilly after the cable host was fired over sexual harassment allegations.
"Sexual harassment survives in the backrooms and dark places of the American workplace, behind locked doors and a veil of silence and fear," Raskin said. "This legislation pulls back the curtain and turns on the lights so America knows what's happening."
Eleanor Smeal, president of the Feminist Majority Foundation, sounded hopeful about the future: "Feminist leaders are building on the strength and bravery of survivors, and this is the start of us moving forward with real solutions."
Popular in the Community