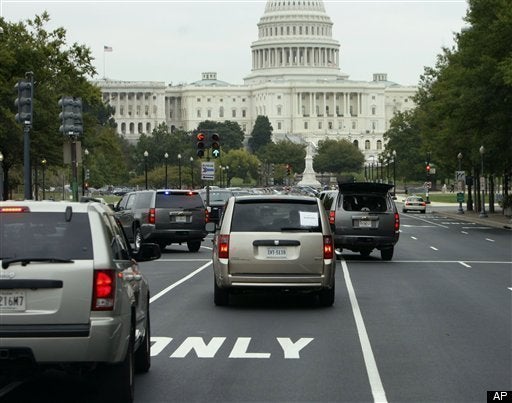 A trio of progressive House members took direct aim at their colleagues in the Senate on Saturday, declaring that the upper chamber "sucks," has a "toxic effect" on the legislative process, and would cost House Democrats seats in the 2010 election.
Appearing at a panel discussion at Netroots Nation , the lawmakers argued that the public was not discriminating in its anger with Congress' legislative inertia. And while a fair chunk of the Senate was immune from direct, electoral blowback, every member of the House would have to deal with the taint.
"They say the senate has a luxury of time, six-year cycles for elections," said Rep. Raul Grijalva (D-Ariz.), co-chair of the House Progressive Caucus. "But these last 18 months have, in memory, have not only been the most frustrating but the inertia created in the Senate is what is jeopardizing Democrats and progressives' opportunities in the midterms. It is not our lack of action. It has been their lack of action."
"I think [we] feel a frustration because my constituents don't necessarily distinguish between the House and the Senate," said Rep. Chris Murphy (D-Conn.). "And so when they see something not getting done they are not really tolerant of my argument which is, 'Well it passed the House.' That doesn't really wash. They hold us all accountable for the failure of these issues moving forward. I personally think the 60-vote requirement in the United States Senate is a bastardization of the United States constitution."
"It sucks," said Rep. Tom Perriello (D-Va.), "and I mean it literally. It sucks the energy out of the room and it sucks the urgency out of what we do... The lack of urgency from the Senate on these jobs bill is soul-crushing."
It is not, of course, uncommon for House aides to gripe about the inaction of their Senate colleagues. Nor for that matter is it rare for Senate aides to belittle House members as wildly idealistic about the pace of governance. But by publicly raising the prospect of electoral repercussions, Grijalva, Murphy and Perriello seemed a bit more willing to dispense with the formal niceties and political détentes that party leadership tries to uphold between the two chambers.

Popular in the Community