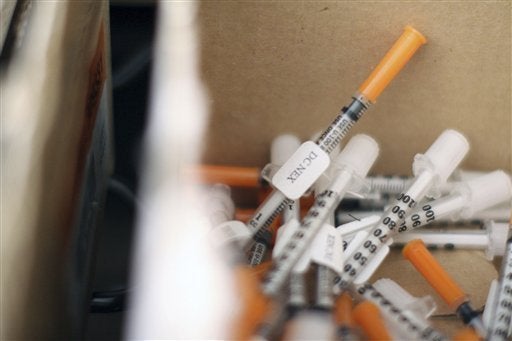 House Democrats have reversed a decision by President Obama and removed a ban on federal funding for needle-exchange programs that he included in the 2010 budget. Including the ban broke a campaign pledge and the flip-flop set off outrage in the gay community and among HIV/AIDS activists. Twenty-six activists were arrested Thursday in the Capitol protesting the policy.
"For us this is a major positive development," said Allan Clear of the Harm Reduction Coalition. "We're optimistic it will stay out. We don't think Democrats would do this unless they thought they could keep it out."
"The fact that Democrats took it out in subcommittee means they're willing to take it all the way," said Bill Piper, director of national affairs for the Drug Policy Alliance.
Syringe exchange programs have been demonstrated to reduce the spread of HIV/AIDS but opponents charge that they encourage drug use.
The needle-exchange question goes to the heart of a seemingly never-ending debate in Washington: Should policy be made based on sound science or used to drive a wedge between the electorate? Obama has placed himself squarely in the sound science camp, which is why his decision touched off such anger.
It is also, quite literally, a life or death question. "Thirty-thousand people a year get HIV or Hepatitis C directly or indirectly from intravenous drug use," said Piper. "That's 300,000 people that could be saved over the next decade."
Appropriations Committee Chairman David Obey (D-Wisc.) highlighted the reversal Of Obama's decision when releasing the budget Friday. Obey is also the chairman of the subcommittee that removed the ban.
"One key exception that I want to mention concerns needle exchange programs. This bill deletes the prohibition on the use of funds for needle exchange programs," he said. "Scientific studies have documented that needle exchange programs, when implemented as part of a comprehensive prevention strategy, are an effective public health intervention for reducing AIDS/HIV infections and do not promote drug use. The judgment we make in this bill is that it is time to lift this ban and let State and local jurisdictions determine if they want to pursue this approach."
At the time of Obama's reversal, spokesman Ben LaBolt said that the president left the ban in because he wanted Congress to take the lead and that the president didn't want to fight policy battles in the budget language.
"We have not removed the ban in our budget proposal because we want to work with Congress and the American public to build support for this change," he said. "We are committed to doing this as part of a National HIV/AIDS strategy and are confident that we can build support for these scientifically-based programs."
He added, "In recent years, Washington has used the budget process to litigate divisive issues and score political points. This practice, which both sides have engaged in, has limited our ability to tackle our major economic challenges. President Obama decided not to play politics as usual with this budget and while he remains committed to supporting the program he wants to address that through the normal legislative process."
That commitment, however, was called into question by the White House decision to remove its support of needle exchange programs from its website. See the before and after here.
House Speaker Nancy Pelosi (D-Calif.) represents San Francisco, which runs a non-federally funded and successful needle exchange program. She was elected to Congress in the midst of the AIDS crisis and has long been a supporter of ending the ban on federal funding of syringe exchange.
"The CDC, NIH, WHO and former Surgeon General David Satcher have all confirmed the scientific evidence in support of needle exchange, which clearly shows these programs are an effective public health intervention that reduces the number of new HIV infections without increasing the use of illegal drugs," said Pelosi in a statement reacting to the removal of the ban. "By lifting the ban on federal funding for needle exchange, the language in the Labor-HHS-Education appropriations bill reflects this sound science. As this bill moves forward, we must ensure science comes first in our public health policy."
In 2000, Pelosi called for a scientific review of the effectiveness of needle exchange. Surgeon General Satcher produced a report that concluded: "The senior scientists of the Department and I have unanimously agreed that there is conclusive scientific evidence that syringe exchange programs, as part of a comprehensive HIV prevention strategy, are an effective public health intervention that reduces transmission of HIV and does not encourage the illegal use of drugs."
On Thursday, AIDS activists chained themselves inside the Capitol to protest Obama's inclusion of the ban in the budget. An Obama spokesman didn't immediately respond to a request for comment.
Update: The battle is already on. Rep. Jack Kingston (R-Ga.) offered an amendment Thursday that Democrats in the Appropriations Subcommittee on Financial Services and General Government accepted. It bans funding for distribution of syringes "in the District of Columbia within a thousand feet of a public or private daycare center, elementary school, vocational school, secondary school, college, junior college or university or any public swimming pool, park, playground, video arcade or youth center or an event sponsored by any such entity."
Setting aside whether there is still such a thing as "video arcade," the amendment telegraphs what the GOP strategy is. A Kingston spokesman said that the language of the bill does leave some space in D.C. where a syringe exchange program (SEP) could operate. But it certainly doesn't leave much.
"This restriction is really designed to shut down" need exchange, according to the Harm Reduction Coalition. "Long-standing and effective SEPs in cities such as New York and San Francisco would have to close down if subjected to arbitrary restrictions similar to the one imposed in Washington D.C.... Congress should not be in the business of local zoning. Many communities with SEPs have already adopted policies addressing location issues and the federal government should not be second-guessing these decisions."
The amendment only affects funding coming through the specific subcommittee involved and funding through Obey's subcommittee could still go toward needle exchange in the District. But if the GOP succeeds in adding the amendment in the full committee, the lifting of the ban will have been effectively undermined.
Popular in the Community