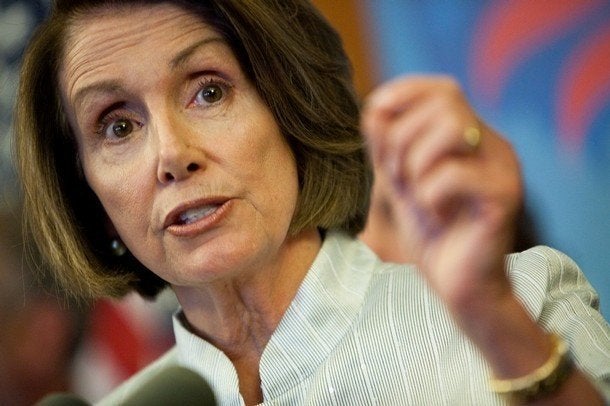 Henry Waxman made Blue Dog Democrats an offer that could lead to an agreement on health care legislation after a three-hour meeting on Monday night, reports The Hill.
Reps. Waxman (D-Calif.) and Mike Ross (D-Ark.) emerged from more than three hours of negotiations late Monday to say that the Blue Dogs were weighing an offer from Waxman. Blue Dogs have asked Waxman to get a cost estimate for the bill.

"The chairman has made an offer," said Ross, who is the lead Blue Dog on healthcare reform. "We have asked that he get a [Congressional Budget Office] score, that is, find out how much it would cost. We're going to review it and see if it's something we can accept."
***************************************************
A scan of the congressional bulletin board on Monday finds business much as usual in the Capitol: A pen and pad briefing with Minority Leader John Boehner (R-Ohio) at 3:30; Speaker Nancy Pelosi (D-Calif.) and other Democratic leaders holding a news conference about health care reform at 3:45; and a closed Democratic caucus meeting at 4.
There's no typo on the bulletin board. House Democrats plan to huddle behind closed doors to go over health care reform legislation section by section Monday afternoon and evening. A closed door, of course, doesn't mean that much on Capitol Hill, where members of Congress BlackBerry minute-to-minute updates to reporters in the hall outside.
Rep. John Larson (D-Conn.), chairman of the House Democratic Caucus, explained in a statement: "This in-depth look at the bill is another step in our efforts to keep our members informed and educated on this important topic. Democrats in the House have already held 10 Caucus meetings on health care, 79 hearings on health care reform, 550 town hall events in their districts about health care, and three House Committees have heard 45 hours of debate and amendments on our health care reform legislation. The American people have been waiting 75 years for us to get this done."
Pelosi is racing to complete the reform legislation before the House goes into recess until September, while conservative Democrats work just as hard to slow the process down. Friday saw a day of rancorous intraparty debate that descended into accusations of unfaithful negotiating before a truce was announced in the evening.
At her news conference before the caucus, Pelosi retreated further from her earlier pledge to pass health care reform before Congress leaves for its month-long vacation.
"I have said that I wanted a bill to pass before we left for the August recess," Pelosi said, noting that President Obama had asked the legislature for such a commitment. "But I have also said that members need the time that they need to not only get this bill written, but to have plenty of time to review it. And I have also said that we're going to see the direction the Senate is going."
At the moment, the only place senators are going is back to their home districts -- which may explain why Pelosi is no longer in such a rush. When negotiations between House Energy and Commerce Committee chair Henry Waxman (D-Calif.) and the conservative Blue Dog Democrats, some Democrats floated the idea of bypassing the committee and going directly to a full House vote.
But with the Senate Finance Committee dragging its heels, Senate Majority Leader Harry Reid (D-Nev.) on Thursday ruled out any Senate bill before September. With the pressure off in the House, the Energy and Commerce Committee resumed negotiations this week, with Pelosi's new goal to get "a ways down the road" when Congress returns in September.
"So we're on schedule. We're good to do it now, or to do it whenever. But a lot depends on when the Energy and Commerce Committee finishes its work, and then we can make a decision about when we will take that vote," she said Monday. "The cost of doing nothing is huge in every respect, and that is not what we intend to do."
With reporting from Jeff Muskus.
Popular in the Community