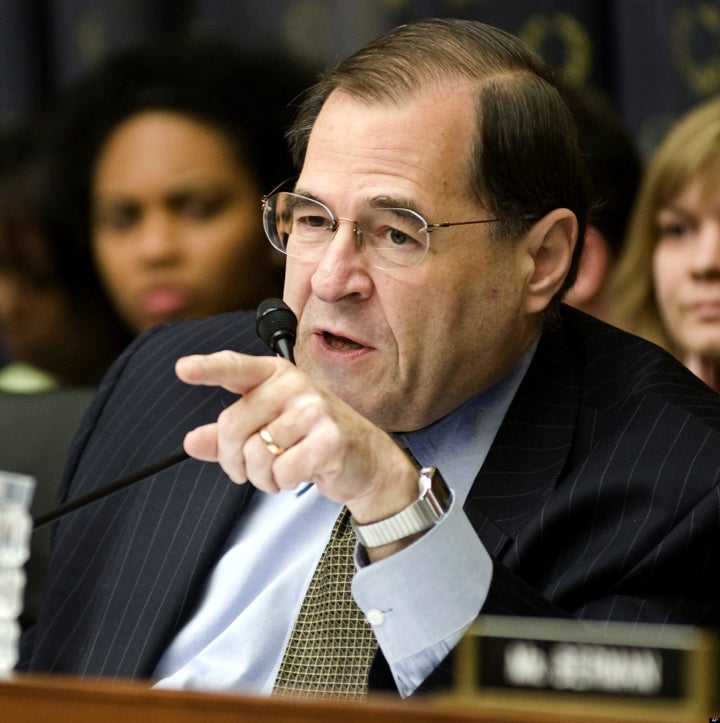 WASHINGTON -- In light of the Obama administration's decision to drop its legal support for the Defense of Marriage Act on the grounds that the president considers it unconstitutional, Democrats will be launching a renewed effort to formally overturn the federal gay-marriage ban through congressional action.
Rep. Jerry Nadler (D-N.Y.), a senior Democrat on the House Judiciary Committee, told The Huffington Post that he will be introducing the Respect for Marriage Act, which would repeal DOMA, "very soon" and with "quite a few cosponsors."
The idea is to take advantage of the headwind created by the Department of Justice's Wednesday announcement and push for a permanent solution over the legality of laws that prohibit gay marriage. Until Congress acts, or the Supreme Court issues a ruling, DOMA -- which prohibits federal recognition of same-sex marriages performed in states -- continues to be enforced.
"The president's move is another step in the increasing realization that there is no conceivable justification for DOMA, that it is motivated, was motivated, purely by irrational considerations and fear and that there is no rational basis that will stand up to a constitutional challenge," said Nadler. "Hopefully, that will make it somewhat easier to pass legislation in Congress."
But the climb remains steep. House Judiciary Chairman Lamar Smith (R-Texas) criticized the administration's decision not to defend DOMA in a statement shortly after the announcement was made, calling it "irresponsible." And as chair of the committee, Smith has wide latitude over what bills get a hearing.
And yet the reaction to the DOMA news within the Republican Party has been fairly muted. House Speaker John Boehner's office put out a statement that skirted the substance of the issue, instead hammering the president for trying "to stir up a controversial issue that sharply divides the nation." And while Smith himself offered strong support for the philosophical foundation of the law, his office said it did not have ultimate say as to whether they'd step in to defend the law in court -- that would fall on Boehner.
UPDATE: Sen. Dianne Feinstein's (D-Calif.) office emailed The Huffington Post to note that she plans to offer similar legislation in the Senate to effectively end DOMA.

"As a Member of the Judiciary Committee, it is my intention to introduce legislation that will once and for all repeal the Defense of Marriage Act," Feinstein said in a prepared statement. "My own belief is that when two people love each other and enter the contract of marriage, the Federal government should honor that. I opposed the Defense of Marriage Act in 1996. It was the wrong law then; it is the wrong law now; and it should be repealed."
REAL LIFE. REAL NEWS. REAL VOICES.
Help us tell more of the stories that matter from voices that too often remain unheard.