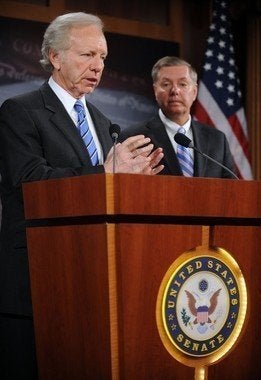 House Democrats are insisting on hearings before they even consider signing onto the Senate's move to suppress detainee photographs, House Financial Services Committee chair Barney Frank (D-Mass.) said Monday night.
The Lieberman-Graham amendment, which would empower the Pentagon to block the photos for up to three years without review, has sharply curtailed House support for the congressional war supplemental, as has a $108 billion line of credit for the International Monetary Fund. The Huffington Post confirmed Monday night that Lieberman-Graham had been removed from the bill in conference. Antiwar Democrats who oppose the IMF funding can compromise on that issue, Frank said, but Lieberman-Graham, which would supersede the Freedom of Information Act, is different.
"I believe it would be possible to get people to switch. I'll switch, others will switch. But not if that FOIA thing is in there," he said. "This is a bill that nobody's had a chance to debate."
The detainee photos bill sailed through the Senate appropriations process with a simple voice vote just before the Memorial Day recess. Frank deemed hypocritical those Senate Republicans who complain that the Democratic majority has flouted typical approval processes.
"I'd like to hear the case why they think it's a problem, I'd like to hear from some opponents," he said regarding the potential release of detainee photos. "This has got nothing to do with the Appropriations budget. The IMF does. The IMF's spending. Whatever happened to procedural regularity?"
Sens. Joe Lieberman (I-Conn.) and Lindsey Graham (R-S.C.) said in a joint statement late Monday morning that they would take any steps possible to pass the detainee photos bill, and Graham said Monday night that he and his fellow senator remain committed to that scorched-earth policy.
"People can't believe that this is a reality, a possible reality that the detainee photos amendment will be taken out of the bill," Graham said, shortly before The Huffington Post confirmed that it was. He and Lieberman are not just open, but determined to vote against the war supplemental without the photos amendment, he said, "and I think we'll carry a lot of people with us."
Sen. Ben Nelson (D-Neb.) said he agrees with Graham's contention that the photo bill has broad support in the Senate, and that he would be willing to keep voting with Graham and Lieberman until the photo bill becomes law. He did, however, add that he supports the IMF funding and will weigh those priorities closely. "Let's just see what kind of support there is before we make those decisions," Nelson said.
"To me, it's a life and death bill," Graham said, after confirming that a filibuster is on the table. He said the White House has not only been supportive, but hands-on in the crafting of the FOIA exemption. "They had us write the language," he said. "They've been very, very helpful."
Popular in the Community