WASHINGTON -- Senate Majority Leader Harry Reid (D-Nev.) predicted on Tuesday that if the House voted on the Employment Non-Discrimination Act, it would pass. The problem, however, is that House Speaker John Boehner (R-Ohio) won't let it come up for a vote.
"I was also stunned when the speaker said today he wasn't even going to bring it up for a vote," said Reid in a speech on the Senate floor Tuesday morning. "Yesterday he said he just didn't like it. Today he said he's not even going to bring it up for a vote. If it came up for a vote in the House, it would pass."
ENDA would make it illegal to discriminate against someone on the basis of sexual orientation or gender identity. It is already illegal to discriminate on the basis of race, color, sex, nationality, religion, age or disability.
"The Speaker believes this legislation will increase frivolous litigation and cost American jobs, especially small business jobs," Boehner spokesman Michael Steel said in a statement on Monday. Somewhat contradictorily, Steel also said Boehner has "always believed this is covered by existing law."
Twenty-one states and the District of Columbia have laws prohibiting workplace discrimination on the basis of sexual orientation, and many corporations have their own fully inclusive policies in place. But workers remain subject to discrimination because there is no federal law protecting them.
In July 2013, the Government Accountability Office issued a report concluding that in states with lesbian, gay, bisexual and transgender workplace protections, "there were relatively few employment discrimination complaints based on sexual orientation and gender identity filed."
"If there was one federal law protecting all Americans from discrimination instead of a patchwork of ineffective and inefficient state and local laws, it would be simpler and less confusing for businesses and employees alike. ... Not only is Speaker Boehner's claim that ENDA would hurt business untrue, it is also callous. It fails to take into account the heartbreak and suffering -- not to mention lost wages and productivity -- that workplace discrimination causes every year," said Reid.
On Twitter, he also hit Boehner for his concern about "frivolous lawsuits," since he used taxpayer money to defend the Defense of Marriage Act, which banned federal recognition of same-sex marriages:
Before You Go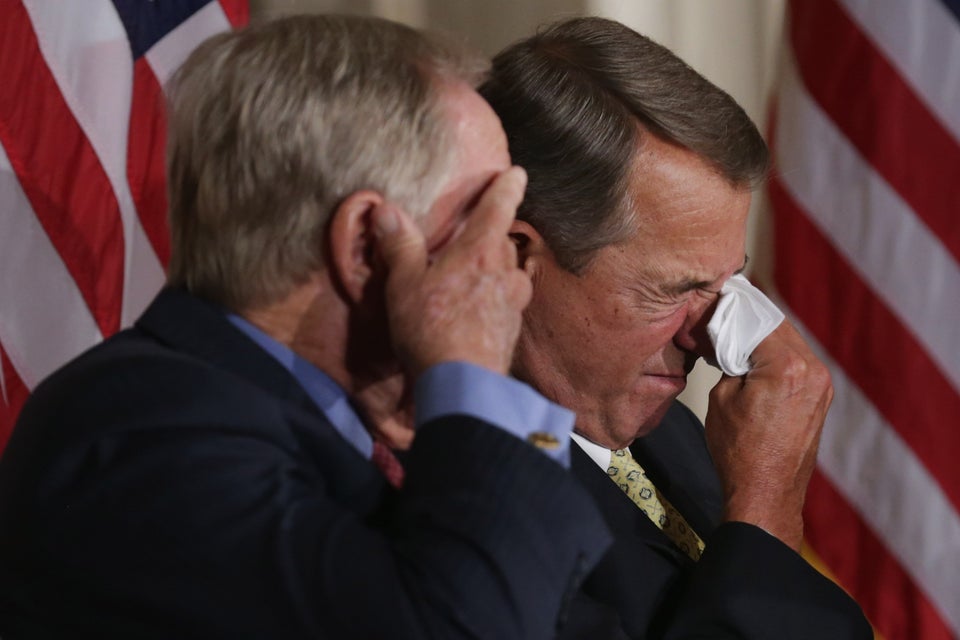 John Boehner Cries
Popular in the Community