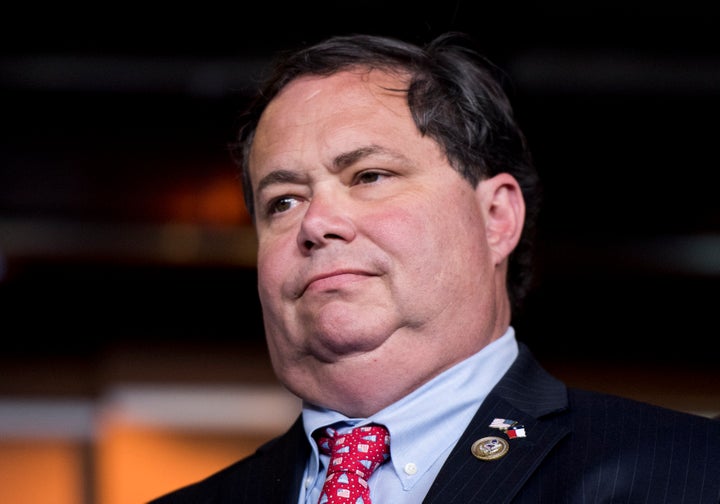 The House Committee on Ethics voted Thursday to investigate Rep. Blake Farenthold (R-Texas) over allegations that he sexually harassed a former staffer and then used $84,000 in taxpayer money to settle her claim.
The decision follows a report by Politico last week that identified Farenthold as the legislator behind the payout, which came from a little-known congressional fund that can be used to settle lawsuits filed against lawmakers.
The Ethics Committee will investigate the claims, which were filed by Farenthold's former communications director, Lauren Greene, in December 2014. In the lawsuit, Greene said her boss sexually harassed her and created a hostile work environment. She also levied accusations of gender discrimination against him.
Another Farenthold aide told Greene that the congressman said he had "sexual fantasies" and "wet dreams" about Greene, she said, and when Greene complained, she was fired.
Greene's case was settled and the lawsuit dropped, Politico reported.
The Ethics Committee said it would investigate the claim and other allegations that Farenthold made "inappropriate statements to other members of his official staff." However, it noted that "establishing an investigative subcommittee does not itself indicate that any violation has occurred."
In a statement to HuffPost last week, Farenthold said he could not confirm that his office was behind the $84,000 settlement.
"While I 100% support more transparency with respect to claims against members of Congress, I can neither confirm nor deny that settlement involved my office as the Congressional Accountability Act prohibits me from answering that question," he said.
Two of Farenthold's colleagues, Reps. Barbara Comstock (R-Va.) and Mia Love (R-Utah), and have called for him to step down following the reports.
A growing number of congressional lawmakers have undergone intense scrutiny over allegations of sexual misconduct, including Sen. Al Franken (D-Minn.), who announced Thursday that he would resign in the coming weeks. Rep. John Conyers (D-Mich.) also announced his retirement this week amid allegations of impropriety, and Rep. Trent Franks (R-Ariz.) said he would leave the chamber over allegations that he discussed surrogacy with two female subordinates.
REAL LIFE. REAL NEWS. REAL VOICES.
Help us tell more of the stories that matter from voices that too often remain unheard.