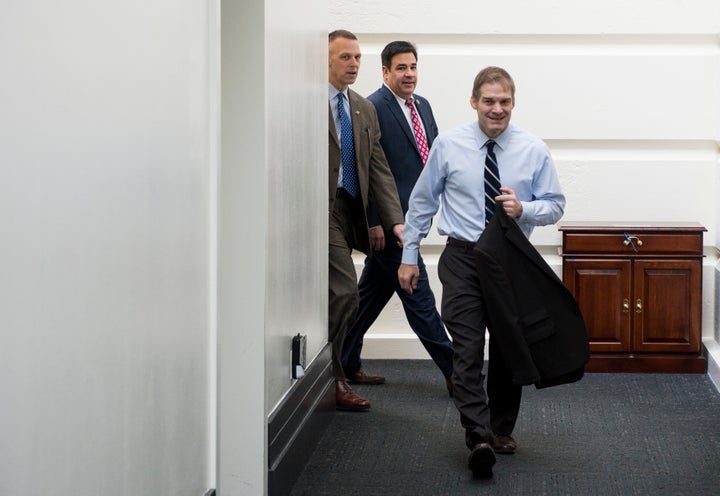 Just a few hours after Speaker Paul Ryan came before a Heritage crowd to ask for unity, four prominent members of the House Freedom Caucus went on the very same stage and delivered almost a direct rebuttal to Ryan's call of coalescing behind a common Republican vision.
"When you come up here, they want you to join the team, and be part of the team, and you got to be a team player," HFC board member Mark Meadows (R-N.C.) said at the outset of the panel. "The problem is, for me, my team is in western North Carolina."
House Freedom Caucus members will tell you they started the conservative group because many Republican members felt they were getting pushed around by GOP leadership, and they felt they were forced into supporting deals that were against much of the red-meat rhetoric they were hearing -- and tossing around -- in their districts back home.
While HFC Chairman Jim Jordan (R-Ohio) said the group's job was not to offend, he made it clear they weren't in Congress to get along with everyone either. Jordan began his remarks by recounting a scene from the movie "1776."
In the scene, one Declaration of Independence signer stands up and says the those gathered should change a sentence in the Declaration because it's too strong. And John Adams rolls his eyes, but moves on. Then another says the wording in one spot is just too offensive and they should change it. And then another stands up and says they should delete a certain paragraph entirely because it could jeopardize deep-sea fishing rights off the coast of New England.
"And," in Jordan's telling, "Adams can't take it any longer, and he says, 'It's a revolution, dammit. We're going to have to offend somebody!'"
That worldview may be coming into sharper focus as Republicans work out how exactly they'll deal with a topline budget number that conservatives insist is $30 billion overweight.
In October 2015, all but two Democrats voted with 91 Republicans to support that higher budget number, meaning 152 Republicans voted no.
Now, as Republicans prepare their budget, many House Freedom Caucus members are pushing GOP leadership to go back on the new number and support the slimmer spending level set under sequestration in 2011.
Speaker Ryan privately insists Republicans have to go along with the new higher number if they want to do appropriations bills, which Republicans seek as a way to work out spending legislation on the House floor rather than in a backroom.
Rep. Mick Mulvaney (R-S.C.) said he thinks there's a way out, because the current path of just doing an omnibus spending bill at the end of the year isn't good for anybody. "Most specifically, Mr. Ryan," Mulvaney said.
Mulvaney added that his plan was simply to disregard the current budget deal and adopt a spending blueprint at the lower topline level, "a number we can all rally behind."
"And if that causes difficulties for the Senate down the road, so be it," Mulvaney said.
Ryan has resisted this idea till now because Senate Democrats refused to pass appropriations bills last year in large part over the disagreement on a topline spending number. For conservatives like Mulvaney, that's the Senate's problem. He just doesn't believe the Senate is going to do appropriations bills anyway.
As he told The Huffington Post Monday night, "If there was any credibility on the other side of the building, that argument might carry a lot more weight."
Yet another founder of the Freedom Caucus, Rep. Raul Labrador of Idaho, said Republicans couldn't just be about saying the right things -- "and we heard Paul Ryan today talk about his vision," he said -- but Republicans had to actually do them.
"That's why the Freedom Caucus exists," he said.
Labrador mentioned that Republicans had to look at their own spending priorities -- namely defense -- and figure out what they could cut. "What are we doing in the Pentagon that is bloated?" Labrador asked, advocating that Republicans "practice what we preach" on fiscal conservatism.
And if that's the HFC line on the budget -- if they are willing to go that far over $30 billion -- it could make the budget debate quite interesting.
"Like Jim said, 'It's not easy to have a revolution,'" Mulvaney said, referring back to Jordan's "1776" riff. "You will, invariably, upset people, which is probably what's going to happen with all of us over the next couple of days."
Popular in the Community