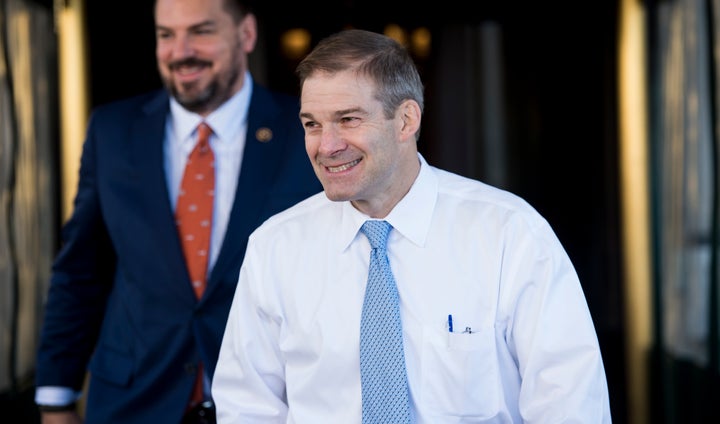 WASHINGTON -- On Monday night, for the second time in 10 months, House Freedom Caucus members unanimously elected Jim Jordan to serve another year as chairman of their contentious conservative group.
The Ohio Republican was first elected HFC chairman in February 2015, shortly after the Freedom Caucus was created, and Jordan has taken the HFC from a barely known group of conservatives meeting once a week -- usually in the "Rio Room" of Tortilla Coast, a cheap Tex-Mex restaurant on Capitol Hill -- to a powerful right-wing lobby with outsized influence in Congress.
Originally, the HFC chairman position was supposed to be a one-year term. But members said they desired some continuity in the chairman position. "Changing a chairman in the middle of a term is probably not the best thing," Raul R. Labrador (R-Idaho) said Monday night.
The Freedom Caucus also made some slight tweaks to its nine-member board Monday night. Under HFC rules, three board positions come open every year. This year, the positions of Jordan, Labrador and Ron DeSantis (R-Fla.) all went up for election. Only Jordan ran for re-election, providing two openings on the HFC board. Steve Pearce of New Mexico and Jeff Duncan of South Carolina won those open positions, beating out Scott Perry of Pennsylvania and David Schweikert of Arizona.
Members said DeSantis wasn't running so he could focus on his Senate run, and Labrador told The Huffington Post on Monday that he wanted other members to have a chance to serve on the board. "So I saved myself $5,000 in dues," he joked Monday night, referring to the $5,000 it costs to be a regular member of the HFC and the $10,000 it costs to be on the board.
"There were three seats that were rotating," Labrador told The Huffington Post earlier Monday. "I was one of the three. We want to make sure that Jim continues as chairman, but we also wanted to give other people an opportunity to run."
Labrador noted he would still be a non-voting, ex officio member of the board -- "as an ex-officio member, I'm sure I'll have a voice" -- and he said he would continue doing communications do for the group.
But Pearce and Duncan will now also have a more significant voice in the conservative caucus, as the nine-member board often tries to act as a Freedom Caucus within the Freedom Caucus, meeting on its own and often trying to reach consensus before full HFC meetings. "The board sort of sets the tone and the policy and brings it to the whole caucus," Labrador said, also noting that the board often meets privately with leadership and other factions in the GOP conference.
Since its inception, the group has been a near-constant pain in the side of GOP leaders. It has forced House leadership to pull bills from the floor. After Oversight and Government Reform Chairman Jason Chaffetz (R-Utah) took the subcommittee gavel of HFC member Mark Meadows (R-N.C.) for voting with other Freedom Caucus members against a procedural motion on a trade bill, members threatened mutiny if Chaffetz didn't reinstate Meadows as a subcommittee chairman. The group has even taken some credit for forcing former Speaker John Boehner (R-Ohio) out of his job. It was Meadows, some members are quick to point out, who offered a resolution to vacate Boehner's position.
Calling all HuffPost superfans!
Sign up for membership to become a founding member and help shape HuffPost's next chapter